What sad news tonight. I admit, I don't think I really know more than that song from Sinéad O'Connor and yes, I know it's a Prince song originally. But she made it her own. I just read her obituary on the BBC and learned so much about her. Her memoir is still on my "to read some day" list. I might do that sooner now. RIP Sinéad, I hope you're at ease now.
Mental Health Podcasts | I use this as a very general term here. Some times I'm worried that I'm listening to too many of those and that I should branch out a bit more. That I should find other interests and I did look into some history centred ones and I do have many episodes downloaded from a comedy (host & guest) podcast I like. At the moment though, I still learn so much from those mental health podcasts – some in German (one recently recommended by my therapist), most of them in English – about mediation, mindfulness, mental health strategies and such. Reminder, refresher or extension of what I've learned in therapy. Or what I've learned from books written by the people who are now doing the podcast. Here are the ones I've subscribed to at the moment, though I'm doing a lot of pick'n'mix when it comes to which episodes I actually listen to
Achtsam – DLF Nova (German)
Psychologie to go! (German)

Mayim Bialek's Breakdown
Ten Percent Happier
The Way Out is In – Zen and the Art of Living
Struggle Care

Then there are those podcasts or rather podcast episodes from any genre I only listen to because I'm fan of the guest who's on the show and said guest shares it on their socials. Happens with Frank Turner a lot as I am a fangirl after all. Today on my way to work I listened to Bryony Gordon on the "On the Mend" podcast, where she talked about mental health, addiction, but also lot of other stuff. In her usual open, lovely, funny and a bit inspiring (to me at least) way. I had thought to use the last bit of this quote for the title, but "Nothing Compares 2 U" works just as well:
I'm done with making myself small or not allowing myself to be as dazzling and bright as I know I can be, because I sometimes worry, that it might upset other people or I might annoy other people or it might dim other people's light. But we're all capable of so much and we're often operating on like half the dimmer and I'm like: Let's all operate on full fucking beam. That's what we're here for.

Bryony Gordon
Physical Health & Running | Still going strong. I did go out for my run this morning, which I usually don't do when I'm heading into the office as I need to leave the house shortly after 7 and that's early to squeeze a run in before. But I did and I'm glad that I did. Go me, operating on full beam.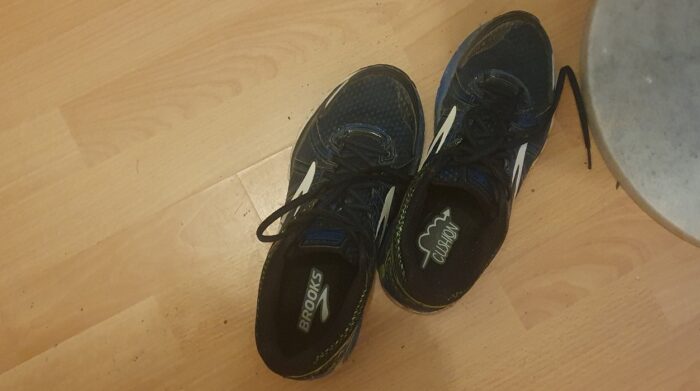 I also made mostly good, healthy, sensible choices food wise as in "not get something quick to eat out while running errands after work" but get home, prepare some food there. Due to the running I could even allow myself some unhealthy treats after.
The last good choice today will be about my mental and physical health and go to bed very soon, because I'm knackered and I'm grumpy when I don't get enough rest.