Lyrics: "I Am Disappeared" ~ Frank Turner, 2011
This might become a trend and I'm not sure what to think about that yet…
At some point this morning I woke up and vividly recalled the weird dream I had. Nothing bad and I fell back asleep quickly after, but so freaking weird. I was acting as some kind of mediator / counsellor for two people who had been romantically involved / hooked up, but now were at odds with each other. The mediation meeting took place in my mum's old dining room. The weird thing though was that this woman and this man – both people in my home town I knew – would never ever under no circumstances had hooked up with each other. But in this dream it seemed so normal. So freaking weird!
Not much more to tell about my day. I slept in. Had a late breakfast. Stay hooked reading "The Restless Dead" the 5th book in the David Hunter series by Simon Beckett. I remember having devoured the previous ones years ago. For some reason I lost my interest in crime novels / thrillers over time. I had bought this one years ago, but never felt in the right mood. But as I made this vague pact with myself to read a non-romance after every romance one I read, this one seemed interesting enough. Parts of it are a bit too gruesome for my taste and I also wonder if that has changed as well. I doubt the stories got more gruesome over time. I might just become more sensitive. Anyway, it's a good fast-paced crime novel and I've already ordered the next one as well. Might have something to do with the potential romance starting in this one. I can't help it!
At some point in the early afternoon I made myself leave the couch though and head out into the sun for a bit. Just a stroll around my home city, as my Bro3 recently had mocked me for driving all the way to a Japanese Garden 45 minutes away, when I could take photos of cherry blossom right here. So I did.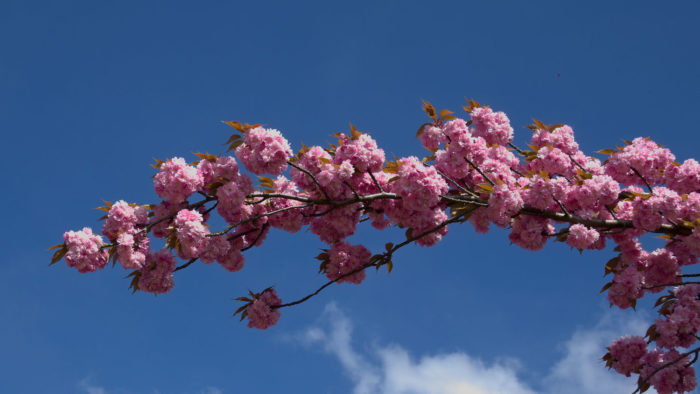 I stopped by an ice cream parlour on the way home (where I read some more, because I DID pack the book), before walking home. Where I kept reading. Interspersed by ordering more books. And now writing this post. Followed by some dinner and then finishing the book.
Proper relaxed Sunday as it should be. And tomorrow is a public holiday, so it's another day off. Yay!