Lyrics: "I Knew Prufrock Before He Got Famous" ~ Frank Turner, 2008
It's my birthday today. I wasn't sure I'd mention that in a post about today, because I was worried it might make me look like I was "fishing for gratulations" and attention. Might make me look needy. But it's basically a fact. It IS my birthday today, so why should I not mention it? Ugh, my mind is messed up sometimes. A lot of times still.
Last year's birthday I spent with friends in the UK celebrating another birthday (which had happened a few days earlier). While I was there I had my first therapy session. Online obviously like all the rest of them since. It's weird to look back on where I have been then; emotionally and mental health wise. And where I am now. Not 100% ok, and I don't know if I ever will be and that's ok too. But I'm definitely so much better than a year ago. If you're struggling, seriously, talk about it. Try to get some help. Frank Turner said it so well in song these past few years: 
And maybe, just maybe, I'll admit that I could use a little help.
I haven't been doing so well.
Anyway, today as such was kind of low-key. Monday is not a good day for a birthday as everyone needs to work and they need to work on Tuesday too. Though I have to admit that I've never been one for a big birthday bash anyway. These past few days I wasn't even sure if I would be up for company, because sometimes I'm not. I probably should make myself go out and meet friends and do stuff with them a bit more. And not just do things on my own, even though I'm ok with being on my own. I'm not sure it's always the best choice though. Enough of this psycho / existential stuff.
It was only a half-day for me as we get the afternoon off on our birthday and the hours at work were filled with the typical Monday morning stuff like mails and to-dos and then a videocall with my boss and the weekly team-meeting and the occasional birthday phonecall and message and then I was done for the day.
I started the afternoon with watching another Mrs Maisel episode of the new and final season. This third one was the first that felt mostly like good old Mrs Maisel in all it's absurdity and good mixture of fun and emotions. I'm still not a fan of the foreshadowing of 20 or so years later, but that's just me and it was only that one scene here. By the time I was done with that the rain had finally stopped and I could go through with the plan I had tentatively come up with for my free hours: Drive to a Japanese Garden and take some more photos of lovely cherry blossom.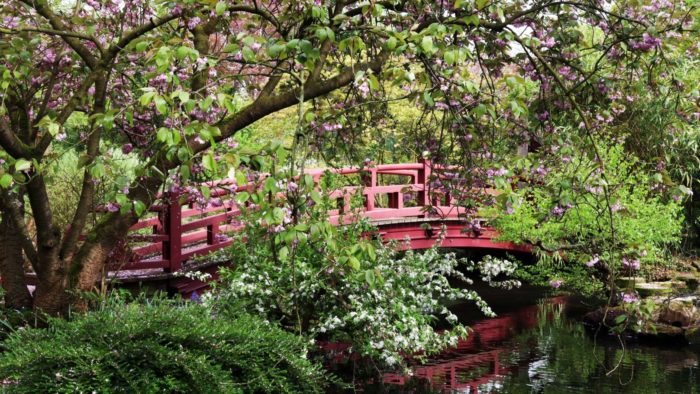 The rain and wind had already started to scatter some of the petals, but all in all it was still nice to look at. The sun even came out for a bit. I splurged on some food on the way home, unpacked some presents (which I completely had forgotten to do early in the day as if this was my first birthday and not the 48th) and will probably head of to bed soon after posting this. Sensible decision like a proper grown-up. Sometimes…