Lyrics: "Polaroid Picture" ~ Frank Turner, 2013
It's two o'clock on a Saturday, the regular crowd shuffles in…
No wait, that's not how this is supposed to go. But once I wrote down the time to start this, I couldn't help myself from having these lyrics in my head. So, it's two o'clock as I start typing this and I have spent the morning and noon doing nothing in particular. I notice myself doing my best to just accept that as a neutral fact of life and not berate myself for being lazy and not doing chores or being more organized and productive in any way. Berating myself for wasting the day away. Because who decides what kind of activity actually is a waste? Who decides what is a good use of (my) time? It should be me, right? I'm doing my best to mute the nagging, criticising voice in my head. I mostly succeed and I'm so grateful for that. I see / read of people all around me (neighbours, friends, family) getting shit done today or being active in any way and again, a tiny voice in my head is nagging that they are all better at "living your ('productive') life" thing and I'm failing. But also again, the louder voice manages to say "So what!?! I don't have to be / live like everybody else" Or what I perceive everybody else to be. Quite existential today, right?
Two days ago I wrote how I might do better with some structure set by myself for myself. I thought about doing the same yesterday, but was thrown off by news early in the morning: Operation Mincemeat released two more songs and they extend their run at the Fortune Theatre till mid-August. Two happy news which threw all thoughts of structure out the window as I needed to listen to the songs a few (ehm!) times and also have a good look at my calendar if another trip to London this summer would be doable and if I wanted to afford it. I spent quite some time scrunching numbers yesterday after work and came up with a plan, I wanted to sleep on. Spoiler alert: a very revised plan was formed this morning, which might cost more money upfront, but will save me a vacation day and will definitely leave me with more energy at the end of it. But it's save to say that I will hop over the channel on a Thursday evening to see Mincemeat on Friday and then come back to Brussels on Saturday to drive for an hour to a festival where I'll see Frank Turner as a headliner that Saturday night. Crazy? For sure! But fun, I hope.
Two days ago I also wrote that I might be heading out with my camera yesterday. I had planned to catch some of the cherry blossom around here. Which I almost didn't do, because the rain was on and off and I had work out details for exciting trips this summer. But then I got sad news from a friend and I realized I needed to get out a bit and "out of my head" so to speak. The original plan to visit a Japanese garden would have taken too long so I opted for another park which I knew had those Japanese cherry trees. I think the full blossom will happen tomorrow or Monday, it felt like a bit too early. But still.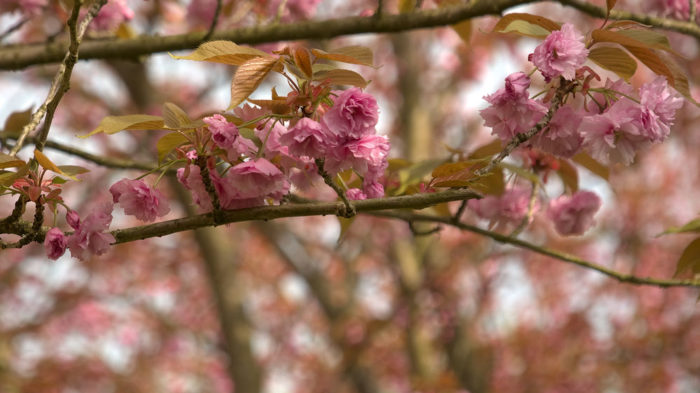 Bringing it back to the existential bit from the start: In a workshop with people from my field of work from all over Germany I realized that at some point during the last year or maybe the past few I've transitioned from being a participant who is learning from this workshops to one who is more on the sharing / teaching side. I've done this job for over 10 years now so of course I've got loads of experience, which I sometimes don't give myself enough credit for. I don't mind sharing my experience with other, it just sometimes feels a bit weird. There is the self-doubt, low self-esteem part of me again. I'm working on it.
And now I'm back to more coffee, my book, but maybe also some planning for my trip to Scotland which will happen in about 4 weeks. I feel under-prepared at the moment 🙂