Awake from a nap in a – as usual – decent bed in my Travelodge, I can give a quick update from the first half day in London. I will still need to catch up on some sleep tomorrow morning, but that's mostly due to a first crappy night here (not the bed's fault, but my brain's).
Train travel has been mostly fine, except for the one hour the train from Cologne to Brussels had to wait for ONE HOUR outside of Aachen main station. There was a police emergency which closed down the station for that long. I was glad that I opted for a over 2 hour layover in Brussels, which usually is more than enough time to get on the Eurostar even for my anxious mind. Due to the delay the ICE terminated in Brussels North and I had to switch to the local train to get to Midi. Nerve wrecking, but it all went fine in the end. A few more stressful moments when I opted for the quicker, but a bit more expensive route out to Wimbledon, where I'm staying this time. Switching from tube to train and finding and getting on the right train at Vauxhall. There was a moment where I thought I might be going in the wrong direction as I jumped on the one in a hurry, but it was fine.
Back when I made day plans for the various days here I had actually wanted to walk another section of the Capital Ring Walk today, but last night I knew this would not be happening. I went for a stroll along Wimbledon High Street up to the Village and Common. How did I not know that the Village is up a hill ;-)?
One thing I've learned to do over the past few months (I think?) is to not rush, when I walk. I used to rush a lot wherever I was going for no apparent reason. Sometimes it might be necessary, but often it's not. Yes, I might get there quicker, but why should I? Just because other people pass me by with a quicker pace, does not mean I have to copy them. Especially not on a relaxing vacation. Yes, part of the reason today might have also been, that I was still quite tired. And another reason to go slowly was to look for interesting things to take photos of.
At the Common I spent some time sitting on a bench by a pond in the sun. Not doing anything. Staying with my thoughts isn't always easy, but at least I didn't pull out the phone to read or scroll past social media. Except for posting in my Insta story. What can I say? I'm not perfect.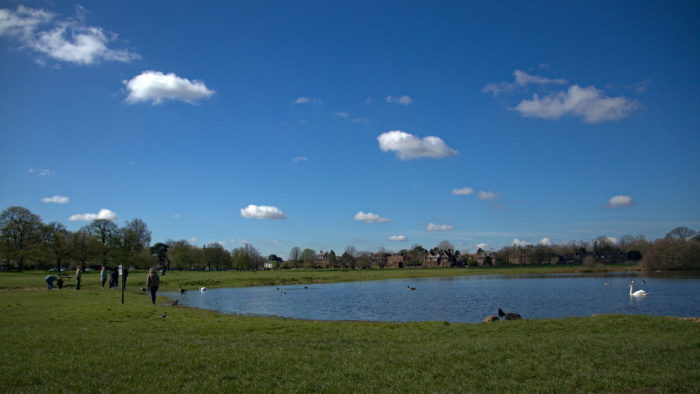 For the first time ever I tried taking photos with my lens ball and to get an idea of how to best do that will take a while. But it's fun to dabble around.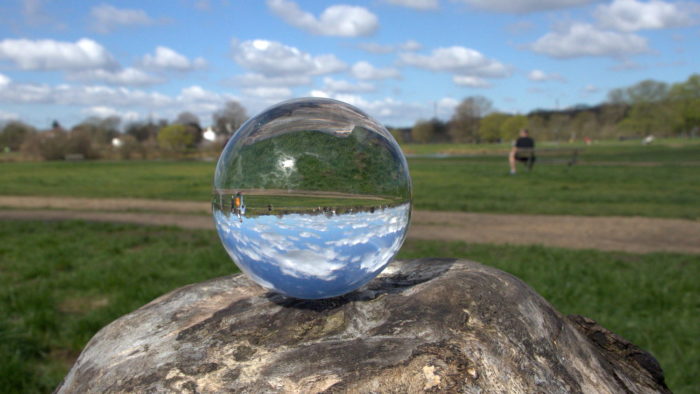 Because I then really felt in need of a nap, I opted for the bus back down the hill, grabbed a few things at the supermarket, had a quick lunch in my room and lay down for about 2 hours. Heaven.
After finishing this post I'll get ready for some early dinner and then heading off to the Southwark Playhouse for "Berlusconi". Why that and not one of the big shows in the West End? Because I'll see Operation Mincemeat in the West End tomorrow. And the Southwark Playhouse were such and integral part of getting Mincemeat ready for the West End, so I thought I'd honour that by seeing another show there.