I tried to take a good photo of the fog on the hill across from my window. The image looked as crappy as this weather makes me feel. Ugh! Here is a better one from the zoo yesterday The giraffes are all inside, because it's freezing over here, so this one will have to do. And look: there is a blue sky! Not the grey mush visible here today.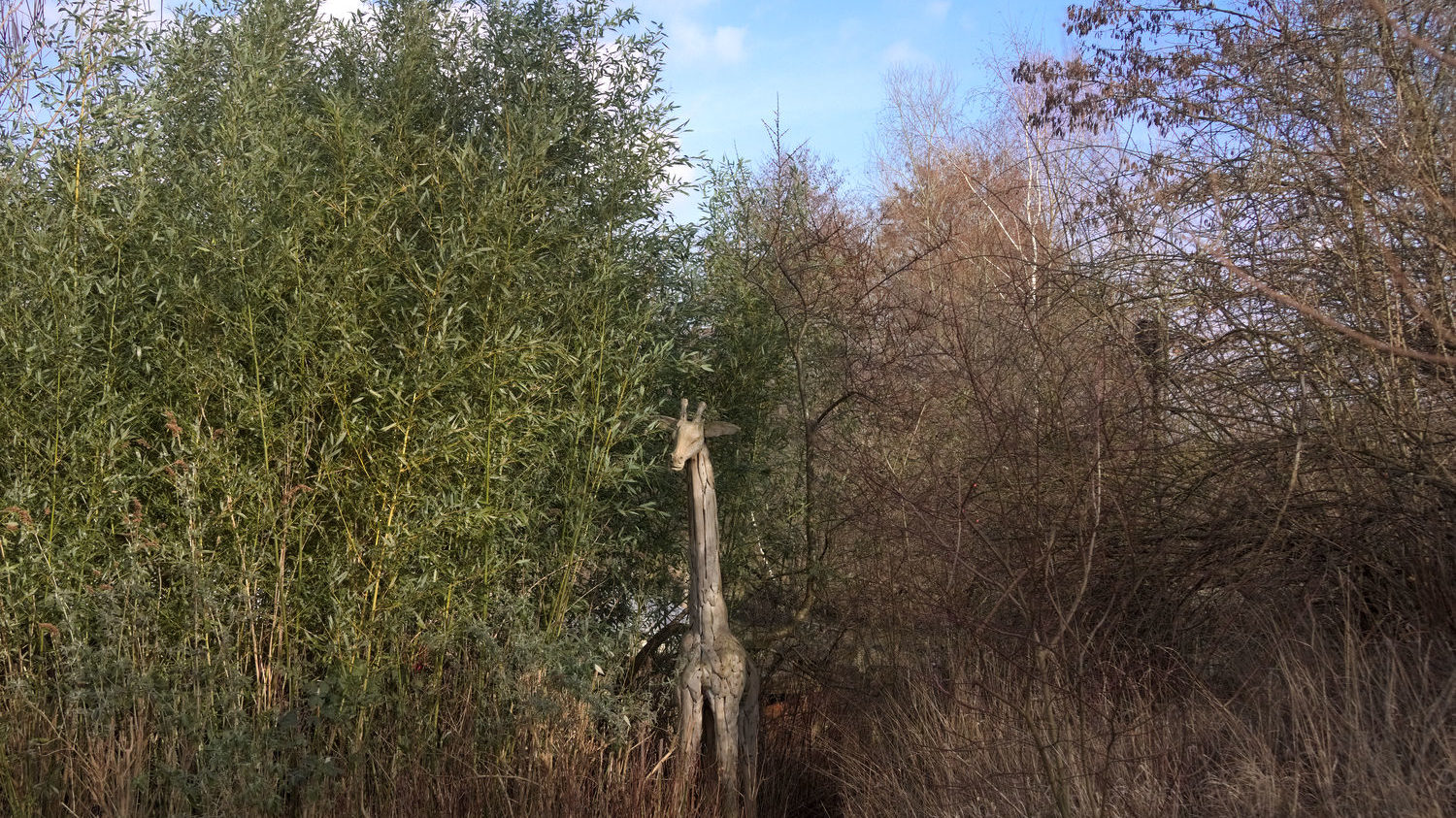 Work | In 2019 I've been assigned to be head project manager for developing a new strategy and action plan. So many things derailed the process. The pandemic. Change in personell on higher levels. Sometimes suboptimal project management at the hired consultant firms. Human resources department on our side. The last few weeks have been busy with getting it through all necessary committees and such. On Thursday evening we got the final green light. Almost two years after we had planned to get it originally. But… we got it! I got it!
It still feels a bit weird to have brought this big project to a close. What shall I do now? I'm only half kidding. Our new supervisor asked each of us for a work project plan for the year, based on previous years experience. I did THIS for the last three years. It's now done. I had turned over other projects to other / new colleagues to be able to focus on this. I have no idea what I'll work on this year. I'm kidding this time. I have some idea what to work on. It's just that it's going to be all new and not based on experience with previous projects. My supervisor understands, of course.
Fangirling | While I was watching the final committee meeting to vote on "my" project on Thursday, people gathered in London to see Frank Turner play the 10-year anniversary show for Tape Deck Heart. It was the album (tour cycle) through which I had discovered him. I should have been there. I also should have been at the UK tour the days/weeks before. Alas… work. See above. I was sometimes quite sad about missing out.
On a rare occasion I dreamed of how I could make a trip to one gig on the weekend possible after all. Even late in the game, like mid-January I had a moment and thought about Brighton. And I might have been able to pull it off, but it would have stressed me and it would have cut into my much needed rest time on the weekend. Because with a busy work week I do need my rest on the weekend. So I acted as the sensible adult I sometimes need to be. Like the sensible manager for a project that will provide my team with a much higher budget and will also bring in about 8 new people over various departments from this year on.
Knowing that there won't be any regular Frank gigs this summer, only festival gigs, I did buy at least one for a festival in Belgium, because I am in dire need of my Frank Turner & the Sleeping Souls fix. I AM a fangirl after all.
Global Events & Mental Health | Sometimes I feel a bit guilty for consciously ignoring news on horrible global events. Earthquake in Turkey / Syria. War in the Ukraine. Climate Crisis. And all the other sad and horrible things going on all over. Almost a year ago, when Russia started the war on Ukraine my mental health was at the lowest point. I knew I should be enraged about Russia and sympathetic with the Ukraine, but I realized I didn't really feel it. And the lack of empathy scared me, because I consider myself an empathic and engaged (in social and political issues) person. This realization was the last bit to make me seek help for dealing with my mental health. And I'm so so so glad that I did. I'm doing much better now, though I still struggle with some stuff.
It might be a self-defence mechanism, but I'm afraid once I get sucked into the devastating details of the big things that are going on in the world right now, I won't be able to shut it off and it might drag my mental down health down to a level I don't want it to return to. I know it's privileged to be able to wilfully tune out of the news. But I think I still need to focus on my inner world a bit more than on the outside world at the moment.
Yes, I'm also well aware that I sometimes use various means of distraction to not have to focus on my inner world and that I'm a hypocrite by doing it. Still. I'm doing the best I can. I hope. After the busy weeks at work I will hopefully manage this weekend to chill and not worry. The foggy weather dampens my mood quite a bit, so I've decided to make this a nice, relaxing, worry-free weekend. And not worry too much about household chores, which can wait till next week. Wish me luck…