Lyrics: "Reasons Not To Be An Idiot" ~ Frank Turner, 2008
Third time is the charm, right? This is the third time I sat down this weekend (incl Friday evening) to write a post. On Friday I realize early on, that it would turn into another boring – because not newsworthy – recap of a regular day. Work. An aborted attempt to snap some photos, because rain set in. Errands. Vegging out on the couch / in front of the TV. Bed.

In the absence of new / recent photos to edit (aka dabble with) and share, I worked on a few older ones, once I realize they don't have to be shot in RAW. It just makes it a bit easier to save the original unedited one. I have a few in store now to pop on any blog posts in the future. But this afternoon I decided to go with one from my trip to Wales – and up a mountain – in the summer of 2018 for two reasons.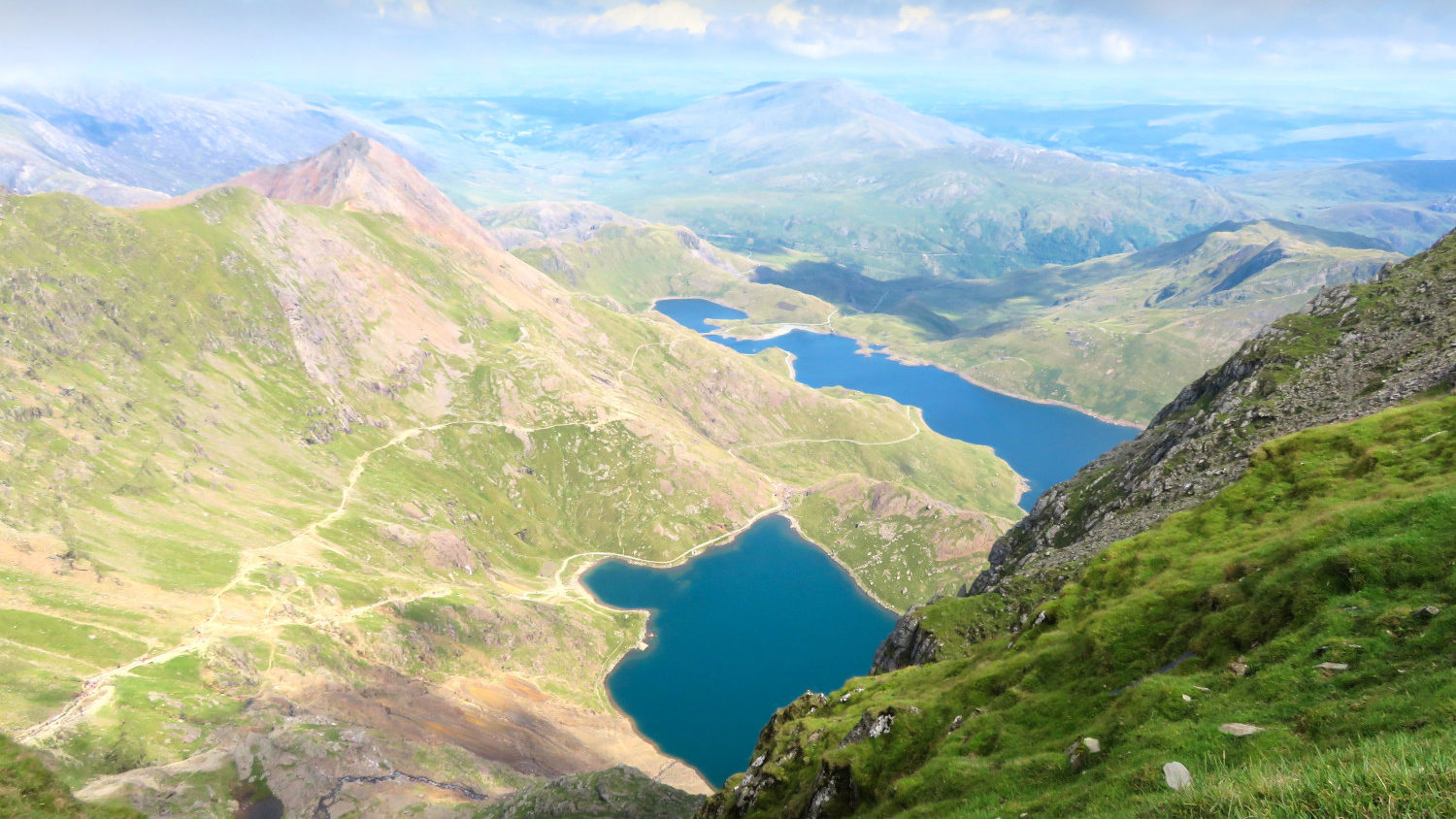 #1 My Peak Challenge (MPC) | I must have mentioned this training and nutrition (and so much more) program – founded by the Scottish actor Sam Heughan, who plays one of my favourite fictional character – before. I've been to the annual MPC gathering in Scotland twice already. I've used this program to train and get into much better physical shape than ever before in 2017/2018. Afterwards I let it dwindle off my radar and I fell back into a more inactive and unhealthful life style. The start of the COVID pandemic in early 2020 and everything that came with it and came after for me, didn't help to get me out of this rut. On the contrary. I'm still working on that. I don't want to say I'm struggling with getting active, because to me "struggling" feels jugd-y in a way. Like I'm just not trying hard enough. I am. My mind just doesn't always cheers me on the way I need it to. So, yeah. I'm working on it.
The new MPC program started a few days ago and I'm determined to get back into it. I looked at the material, downloaded stuff, watched some of the videos. Personally I wish they'd put more of the content in written form and not in videos, because I prefer to read stuff and not watch. But I guess I might be an fossil in that regard in this 21st century internet age. I don't know. I don't think I'll be hiking up mountains like Snowdon, when I'm on holiday in Scotland in May/June. But I'm determined to do some hiking and really want to be in a good physical state to enjoy it. Wish me luck! And perseverance.
"Spare" | The other reason I went looking for a photo from my trip to Wales was, that I'm reading the autobiography (yes, penned mostly by a ghostwriter, we all know, but still…) of Captain Harry Wales, aka Prince Harry. Why am I reading it you might wonder? I don't think any of my friends at school or later really cared about the English Royal Family or any other European royalty. And I don't really care in the proper sense of the word either. Can I call it an interest of sorts? I don't know.

I do know that I blame my mother. Kidding, when I call it blame. But she was interested in the Royals in good-natured gossipy kind of way, like so many people all around the world are. I recall watching royal weddings with her on TV as a child. All the weddings and Jubilees or whatever. I kept doing it even when I was teenager, young adult, proper adult. Maybe because it was one of the few things we did actually share any kind of interest in? Because it was one of the few things we actually did together? I'll never know. She would probably roll her eyes and say something rather disparagingly about me reading Prince Harry's book. She was not a fan of Meghan and Harry. I guess it might have been a generational thing? Again… I'll never know.
I'm about halfway through the book now and am surprised how much Harry and I do have in common, besides the obvious: losing a parent unexpectedly at a young age (he was close to 13, I had just turned 14) . But there is so much more: Not being able to talk about that loss or that parent with anyone for years after. Suffering from so much self-doubt and worry all the time. These words I read this afternoon – about his flight training – hit home so much
It also takes a kind of self-love, Nige said and this manifests as confidence. Confidence, Lieutenant Wales. Believe in yourself – that's everything.
I saw the truth in his words, but I couldn't imagine ever putting that truth into practice. The fact was. I didn't believe in myself, didn't believe in much of anything, least of all me.

Spare, Prince Harry, 2023
And if you now think "what does a super rich, super privileged person has to worry about", try for a moment to put yourself in his shoes. Being born into a family which almost never display any emotions or actually talk about stuff that matters. A family that put duty before a lot of other things like a warm, loving, emotional upbringing. Being paraded in front of the press and public – the people – on so many occasions. To read about how William and Harry were shaking hands with the mourning public only days after Diana's death broke my heart. I very well remember my state of mind the days after my dad had died. I was not ready to face anyone except close family or family friends. I was in shock! And I assume the Wales boys were as well. And still… Something else, I can't relate to, but can very much understand how it messes you up, is the constant worry about whom you can trust. Your friends? Your bodyguards? Your teachers? When there is constantly stuff leaked to the press from someone. Or as it turned out – the press hacks into your phone or into the phones of people close to you!
In short: I understand why Harry for a long time had all kinds of mental health issues and was on a course of self-destruction with impulsive and plain stupid behaviour. And I applaud him for being so open about it ever since that interview with Bryony Gordon. I admit I haven't even listened to it then or yet, but have definitely read excerpts of it then. I don't know if I knew of Bryony as mental health advocate then or if she appeared on my screen with this. Either way, Bryony has been important in my own journey to a more healthy state of mind as well through various books and/or podcasts and Insta stories and such.
My state of mind | Ok, this feels like a really bad segue now. But I'm doing good. And that alone is worth stating and putting down here. To remind myself when my mood plummets again, which I'm sure it will every once in a while. I'm still not doing all the things I had put on my to-do-list each day, but I manage to do more of them. And life is not about checking off things on a list, right? So, yes, I'm doing alright. And will now go back to one of the following / or some of them simultaneously
make / eat some dinner
continue my Big Bang Theory sort of binge watch
continue reading "Spare" and / or the +1000 non-fiction about the history of the sea
go to bed at a reasonable hour to be well rested for a Monday at the office