Lyrics: "Choose To Be Me" ~ Sunrise Avenue, 2006
I slept for over 10 hours last night. It was pure bliss and I knew the decision to come here to this rather isolated spot for a whole week was the right one. Like I mentioned last night, it took me a while to get here, because I stopped for photos so many times. Like for this view…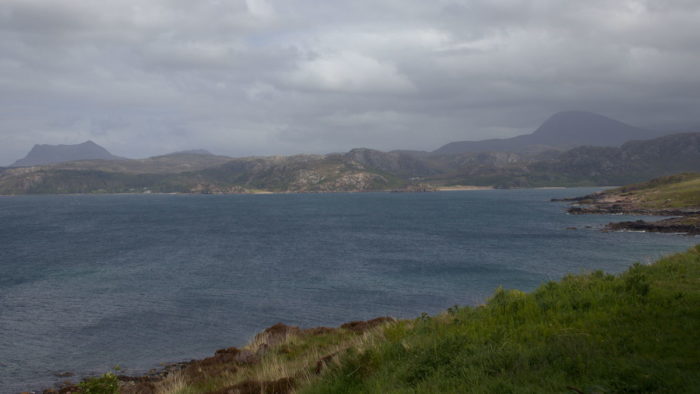 One of the reasons I picked this place was my vague idea to use the time here in this remoteness for some introspection. Part digital detox (though I brought my phone and tablet and there is WiFi; it's a glamping site after all). Part proper soul searching about some things. Plus lots of sleep and some walks / hikes. And also just sitting on the deck, staring across the sea and doing nothing.
Could I have done all that during time off at home? Or at least closer to home? Maybe. But I decided a change of scenery to this beautiful scenery would help. And I think it will.
Part of my frustration with some of my vacation so far, was the incredibly annoying voice in my head telling me that I was doing it wrong. I spent so much money on this trip and then didn't do all the hikes or visited all the places I marked down as options for me to do. I only did half of them and on Friday actually had to make the conscious decision to at least leave the flat and read somewhere outdoors in Inverness. I admit part of the reason for that was the constant traffic noise (day and night). But back to that annoying voice in my head telling me I'm not doing this vacation the right way. I mean WTF?!?! Who does she think she is to judge me for the way I'm vacationing? Rhetorical question of course, as this voice is one of the messed up parts of my mind. But seriously, why do I think there is a right/wrong way of doing this? And why do I judge myself so hard for not living up to … who's expectations exactly? I caught myself thinking about how to tell others about my vacation and which excuses to come up with for: the things I didn't do. The money I spent on it all. The things I did do (buy books, oh so many books). How to justify it all to others. Once again: WTF?!?! Why? Why can't I just be confident in the choices I make?  
Hence, the soul searching aspect of this stay in this remote space. Rather by chance I picked a fitting podcast for the last part before the single track roads (there I needed to focus on the road): "The Way Out Is In Episode 41: The Art of Laziness" and before that I listened to one of the few Bialik Breakdowns (with the wonderful Mayim Bialik aka Amy from The Big Bang Theory) episodes I had downloaded: "Melanie Chisholm – The Discipline of Girl Power". The title is a bit misleading, I think, they talked a lot about Mel's mental health issues (depression and such) and even though it's nothing new, it always helps to hear that those successful women are plagues with the same demons as I am. This morning I bought Mel C's autobiography as ebook. I can't help myself.
Talking about books: I also brought a bunch of books to help me with that soul searching and do have lots of time to read here obviously. One is "The Gift of Imperfection" by Brene Brown, which as been on my shelf for ages. The other one, which I had planned to buy for a while, but actually only did buy in Inverness is "Stolen Focus: Why You Can't Pay Attention" by Johann Hari. I've only read the first 60 of about 300 pages and already had quite a few "lightbulb moments". 
And when I don't want to search my soul any more I currently turn to the fictional: "Everyone In My Family Has Killed Someone" by Benjamin Stevenson and I'm having a blast. It's so so good in my eyes. Like the "Knives Out" movies but in book form. I love it. I'm about half-way through and have no idea who the killer is. Which is as it should be in a murder mystery, right?