More than half-time to be honest. I'll be here two more days, then it's off for the second stop of my vacation. Up north. Further up north, I should say. I'm still a bit overwhelmed at times and tend to berate myself for not "doing this vacation thing right". I need to sit down and write down what exactly I mean by that and why it's annoying and why it shouldn't bother me. Who says what the right way to "do a vacation" is after all. Anyway a few thoughts
Stay | I've rented a flat for the week, which has a lot of upsides. The space. The flexibility about how and where to spend my time. It's always a bit weird to stay in your room in a hotel or B&B during the day. That's what it feels to me at least. Not to say the limited space in a regular hotel / B&B room. So this is all lovely. There also are not set breakfast times. I just make a coffee when I like and have some muesli when I like. Or toast or anything. The same goes for eating out in the evening. I bought some groceries when I arrived and have been cooking – simple meals – for myself each night. I feel like I should get eat out in an Indian restaurant once while I'm here though. One of the many things I love about the UK is the abundance of Indian restaurants. Not up further north though probably. The one thing that's bothering me in this flat is the traffic noise. All day and night. Some online reviews mentioned it, but I didn't think I'd mind as much. On the surface I seem to get used to it, but I don't sleep as restful as I could, I think. Earplugs, other white noise and all don't help as much as I'd hope. So the peace and quite of a small remote space by the west coast is something I look forward to.
Drive | I got a free upgrade for my rental car, because a smaller automatic wasn't available for my time period. I'm now driving a very sporty Audi A3. On the inside it feels much smaller than my Seat Ibiza at home. Who designs / drives these cars? I'm making do… no, it's fine really, it's a good car, but it's a bit weird to drive it. It also misses a few features I would have expected in such a high-end car, but it's fine. Still getting used to all the levers around the steering wheel four days in. I can proudly state that I hardly ever go to the wrong side of the car to get in. I'm acing the two lanes roundabouts (if I may say so). And I've also finally figured out the – mirrored to my mind – buttons on the steering wheel. Try and error for a bit. It's fine.
Do | I've been out and about some. On Sunday I went to the beach for a bit after I had picked up the car. It was nice, albeit windy and cloudy. On Monday I went for a short hike near Loch Ness. I had looked up various hiking routes in advance as I wanted to be active on this trip. I'm not in the best of shape though, which meant I came back from that trip – uphill for a long time and then downhill again – with some soreness in my calves. Rookie mistake.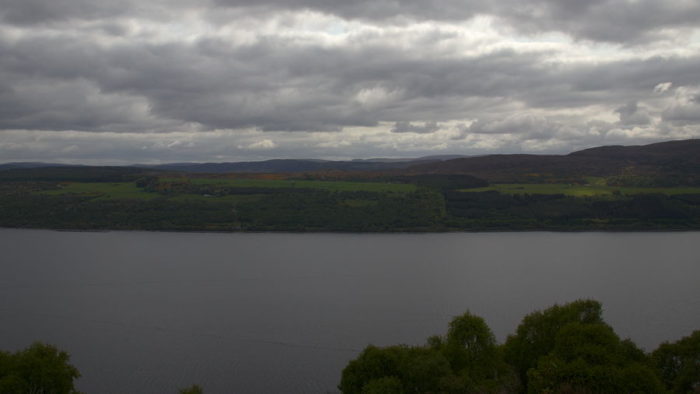 After that hike I drove further on to Urquhart Castle. I've been before and it was nice, but I somehow recalled it a bit more impressive? I don't know…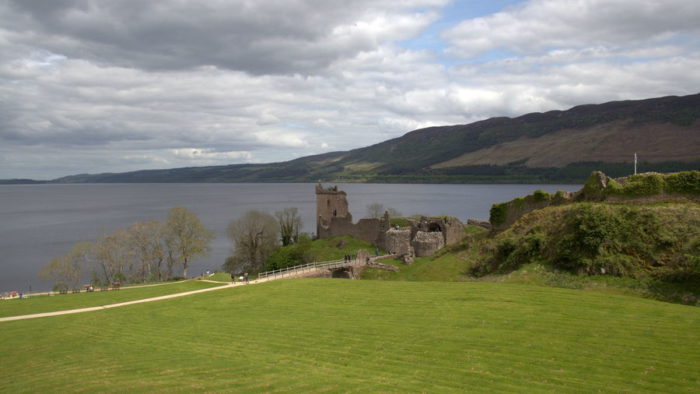 Tuesday was another cloudy day with partial rain, so my sore legs and I stayed home. In Inverness anyway. In the afternoon I walked into the city centre, bought some postcards, aimlessly wandered into the Waterstones (bookstore) at the mall. A bookstore always draws me in. One of the staffers approached me and asked if I might be interested in a talk with an author which would start soon: A female cyclist from Inverness – Jenny Graham – who pedalled around the world solo and unsupported. Sure I thought, why not. It was around noon, so sadly there weren't too many people in attendance, but it was still very nice. I asked a few questions, had a lovely quick chat with Jenny's mum 🙂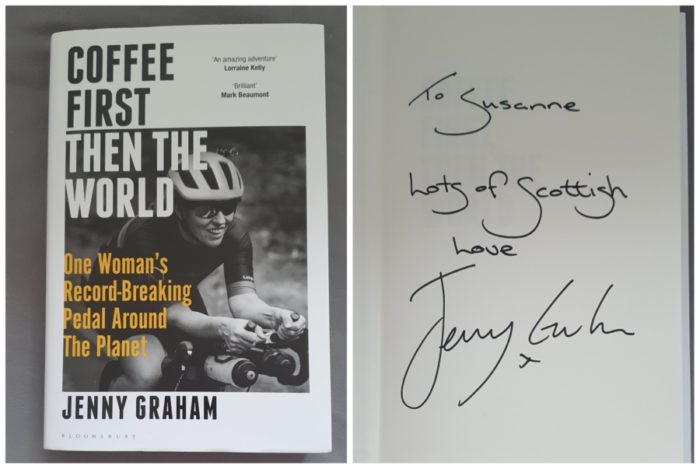 Yesterday – Wednesday – I drove up to Cromarty for another one of my pre-planned hikes. It was supposed to be 100 steps to the top, but it felt like more :-). Plus regular paths in between as well. I was a bit afraid my sore legs would trouble me, but it was fine. The hill also was only half the height of the one from Monday. The sun was out, I stored my jacket in my rucksack after 20 minutes and it was just a lovely day. I went for coffee and cake after and also spent some time just sitting by the shore enjoying the sun. Just the way a vacation is supposed to go. Here are a few photos and here is an Insta Reel about it