Lyrics: "God, That's Brilliant" ~ Operation Mincemeat, 2019
Musical | My favourite musical – "Operation Mincemeat" – is being transferred to a stage in the West End in London next year. Holy shit! To be honest, I have no idea how the process works of getting a new-ish musical to be performed on a stage in one of the two most renowned theatre areas in the world (Broadway being the other one, of course). But I'm pretty sure that it is a BIG deal. Especially as this one was written by "Spitlip" an absolute newcomer in the business. It's their first ever musical.
A lot of people in the theatre / creative art scene helped them get there. But none the less. They made it to a West End stage. I'm so excited for them, because I just love their work and from my own experience of meeting them after shows in the past and their interaction on social media, I think they are just bloody lovely people. And yes, of course, I'm going to be there to watch it. Multiple times. In April 2023. Probably again in June. We'll see. I've been a fan of Felix Hagan's music since Frank Turner (him, again!) took "Felix Hagan & The Family" (Tash being one of the 'background' singers) on tour as support in 2016. This clip gives you a good idea of what wonderful glittery glam-rock their music and shows are
I started following them on social media and got excited when I heard about the musical idea in 2018. Watched all the "work in progress" YouTube videos, was there for one of the first shows on their first run in April 2019 and was blown away right away. They reworked and refined parts of the show since then and it was super interesting to see the different versions of this show (in early 2020 and then again last summer). And I can't wait to see it again next year.
Work | Has been sooooo busy this week. Two long days at the office on Monday and Tuesday. I was glad I was working from home the rest of the week, as it meant I didn't had to deal with jammed motorways in the dark in the morning or evenings. I hope next week we can finally 'celebrate' reaching one big step in one of my biggest projects for the last three years. Still lots to do, but this would be super important. And maybe by then I'll be able to actually acknowledge myself and the tons of work I put into it so far. Parts of me still feel like I didn't work / try hard enough, but that's just me.
Social Media | My usage – as in mindlessly scrolling through feeds and liking / replying – definitely switched quite a bit from Twitter to Mastodon and also Instagram again as well. I'm fine with that. I still quickly check my curated Twitter lists a few times a day, but I mostly keep my scrolling for interesting new stuff on the other apps. Or not at all, which is progress as well to be honest.
Health | Wednesday was a long day because I had to go for a regular (every 1-2 years) MRI check up to see if my MS is progressing or not. Good news, it's not. The meds work and I'm fine. But it was still a hassle this time, because even though I was there on time it took about40 minutes until I was called into the MRI room. Two rounds of MRI (skull and neck) and both once more, though much shorter, with contrast agent in my blood. A quick check in with the doctor afterwards. Still… too much time. Psychotherapy is still going well and providing me with insight and strategies. I just need to find or rather make the time to actually apply all this to my everyday life. I'm working on it.
Books | I've been reading quite a lot recently as well. Sometimes while streaming old / new TV shows in the background. I don't know what that says about my (lack of) focus. I really enjoyed "Tomorrow, and Tomorrow, and Tomorrow", which was a detour from my regular "rom-com / historical fiction / contemporary romance fiction" genres. But a good one. At the moment I'm reading a regular rom-com "Better Than Fiction", which is nice. Nothing spectacular, but interesting enough characters and plot so far. Whenever I browse the sale / recommendation sites of my regular big chain book stores I get recommendations for two very successful female authors from the contemporary romance fiction genre. SO many recommendations because they've written so many books so far. I read one of each and I didn't enjoy the one and the other I aborted before the midpoint mark. Every once in a while, I contemplate giving either one another chance, because they obviously must do something right to sell as many novels as they do. But then I can't bring myself to do that and just pick different authors instead. A bit peevish maybe.
Fun | After the quite busy and stressful week I was glad to be able to relax with friends on Saturday. Playing games, chatting, enjoying time with each other. We really need to do that more often.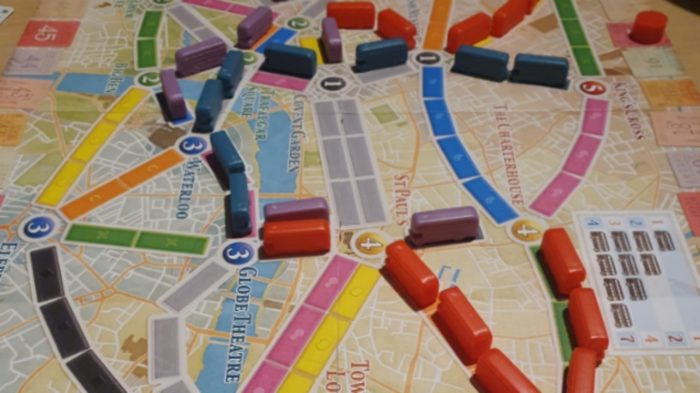 And now…. off to the sofa, with a coffee, (e)book and a blanket, because winter made a first quick appearance here this weekend.