Yesterday I had for a while considered going for a run this morning before the rain was scheduled to set in. But my bed was so warm and comfy and I just couldn't bring myself to get up. That's okay, it was a public holiday after all. I didn't really do much all day either. But again… Public holiday and lots of rain and stormy weather outside. Proper autumn all of a sudden.
Sleep | I feel like I'm still catching up a bit, but at least I don't have troubles falling asleep when I go to bed or when I wake up for a short time during the night. It feels like I'm doing that more often than I used to, though it might just be that I'm more aware of it? In a book I read recently there was a section on sleep and the trouble with going to sleep or sleeping through. One interesting statement I took away from it, was that from a biological / evolutionary point of view, it's normal to not sleep through the whole night without any waking phase. There were too many threats during the night to just sleep through. And that somehow made sense to me. There are no threats in my bedroom of course, but you get the gist.
Books | Quite some time today was spent with trying to update my Goodreads lists, which are in no way exhaustive re the books I own or have read. But at least the lists of books I have bought and not yet read are more or up-to-date. I can be a bit pedantic about that as well as over adding all those books to my "want-to-read" list and to buy more books than I'll probably ever be able to read in my lifetime. I mean I have about 120 screenshots from TikTok, Instagram, photos from reviews in magazines and else on my phone of books I might add to the long long list. But there are worse "vices" right?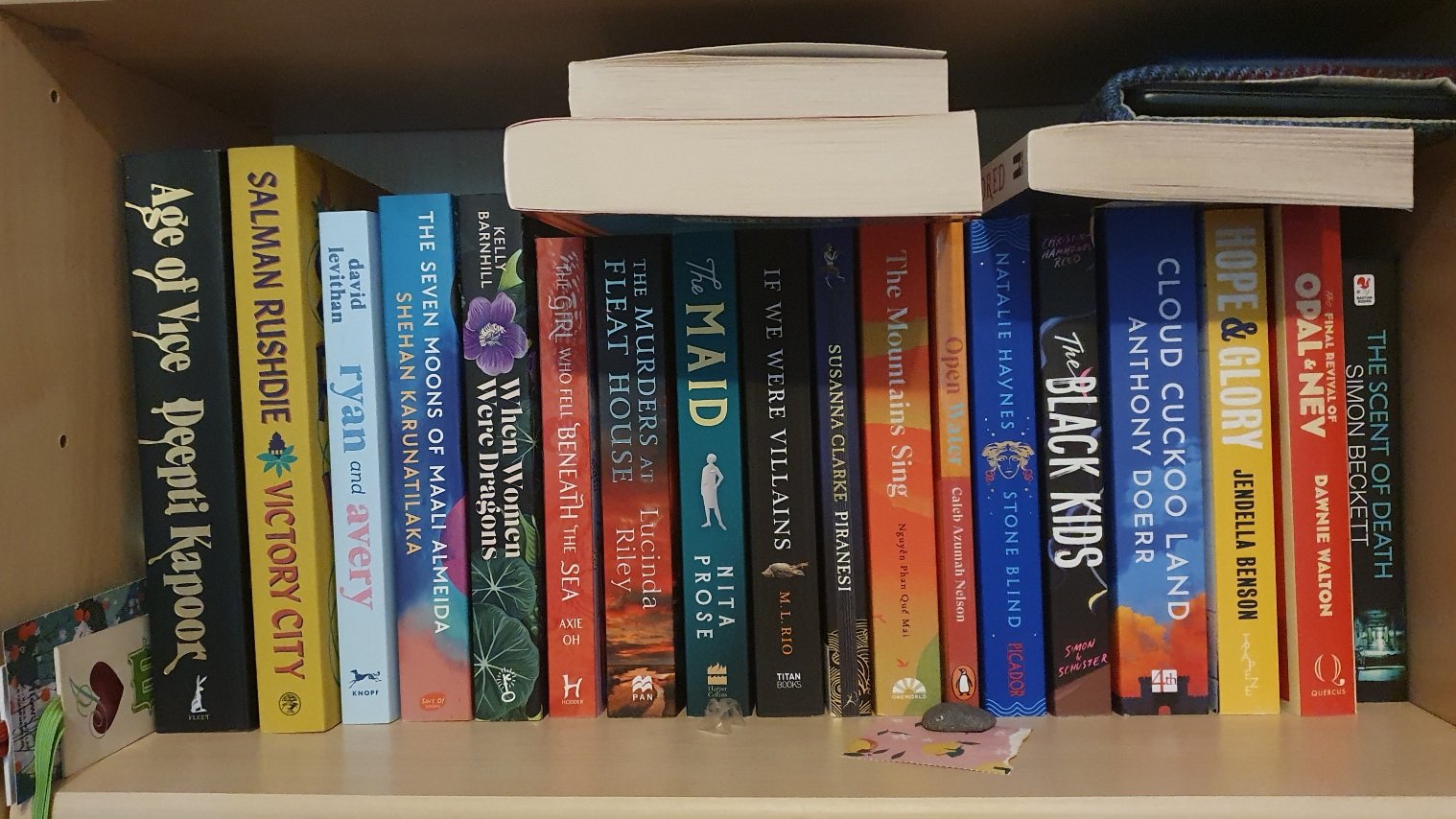 TV shows | I'm almost at the end of my "The Rookie" (on Netflix) binge. It's the right kind of entertainment for me at the moment. Not too suspenseful, not too emotional (for some reason I don't think I can deal with sweet and cutesy at the moment), not too complicated to follow. Some of the storyline and backstories make me roll my eyes a bit, but that's ok. Though seriously: Is Nolan's girlfriend Bailey's firefighter unit the only unit working in LA or why is she always on scene *g*.
No idea what 'll start after that one one. I still haven't watched season 2 of "Heartstopper", but like I said, I'm not sure I'm up for cutesy at the moment.
Doodling/Zentangling | I still haven't found the right term to use for this "draw some pattern and maybe colour them in" activity. Zentangle actually is trademarked and in the actual sense of the term is limited to a certain kind of drawings (size and form wise). I'm not doing that, I'm mixing it up a little. So I don't know. It's not really doodling either, because that's what you do while focusing on something else, and the point here is to focus on drawing the patterns. Anyway It's relaxing and I like doing it either while having a TV show in the background or listening to a podcast or longer mediation. Yes, I know that makes me sound like a hippie. Again. I don't care. Again.
Bubble | At the moment I very willfully try to tune out quite a bit of the political, social and environmental crises going on in Germany and globally. I'm aware how privileged I am to be able to do that and it also often makes me feel a bit guilty that I'm not keeping up with the news and everything as much as I could. But so much of all that is going on equally fills me with rage and despair and overwhelm and I don't know how to channel that into something useful. I might want to start with writing some of my thoughts and emotions down. But even thought I know I did a lot of that in the early days of my blogging life, I don't quite know where to start with it all yet. COVID (yes that's still thing!)? Climate crisis? The rise of fascism in Europe? Division of society? Misogyny? So much that I could get enraged about. But just being enraged won't help make progress on any of those issues, right?
Happy thoughts | Enough of these gloomy thoughts for now. 26 days until I see Frank Turner play a show. It will be only my 2nd show of his this year and as he's only touring Down under this year, there won't be a third. In 10 years of going to his shows that's only the 3rd year with only 2 shows. The first one was 2013, when I had just discovered him. The other was 2020 (for obvious reasons). No shows in 2021 again for obvious reason (pandemic, my personal situation). He will release a new album in spring / early summer 2024 and I expect there to be a UK and a EU tour and I plan to be there for both of those. But first… 26 days till Copenhagen.