My days by the sea are almost over. Tomorrow is my last full day, I have to vacate the apartment till 10 AM on Saturday. I didn't do as much or as many different things as I had liked, but that's fine. I slept. I sat on the beach. I took some photos. I read. I ran.
5K run by the sea | On Wednesday morning I did it. I ran for 5 kilometres without walking breaks or anything. It went fine. My legs were a bit wobbly once I stopped after the 3 minutes cool down walk after the 5K. And they felt a bit leaden when I had to walk up the stairs to the apartment afterwards, but all in all: Go Me!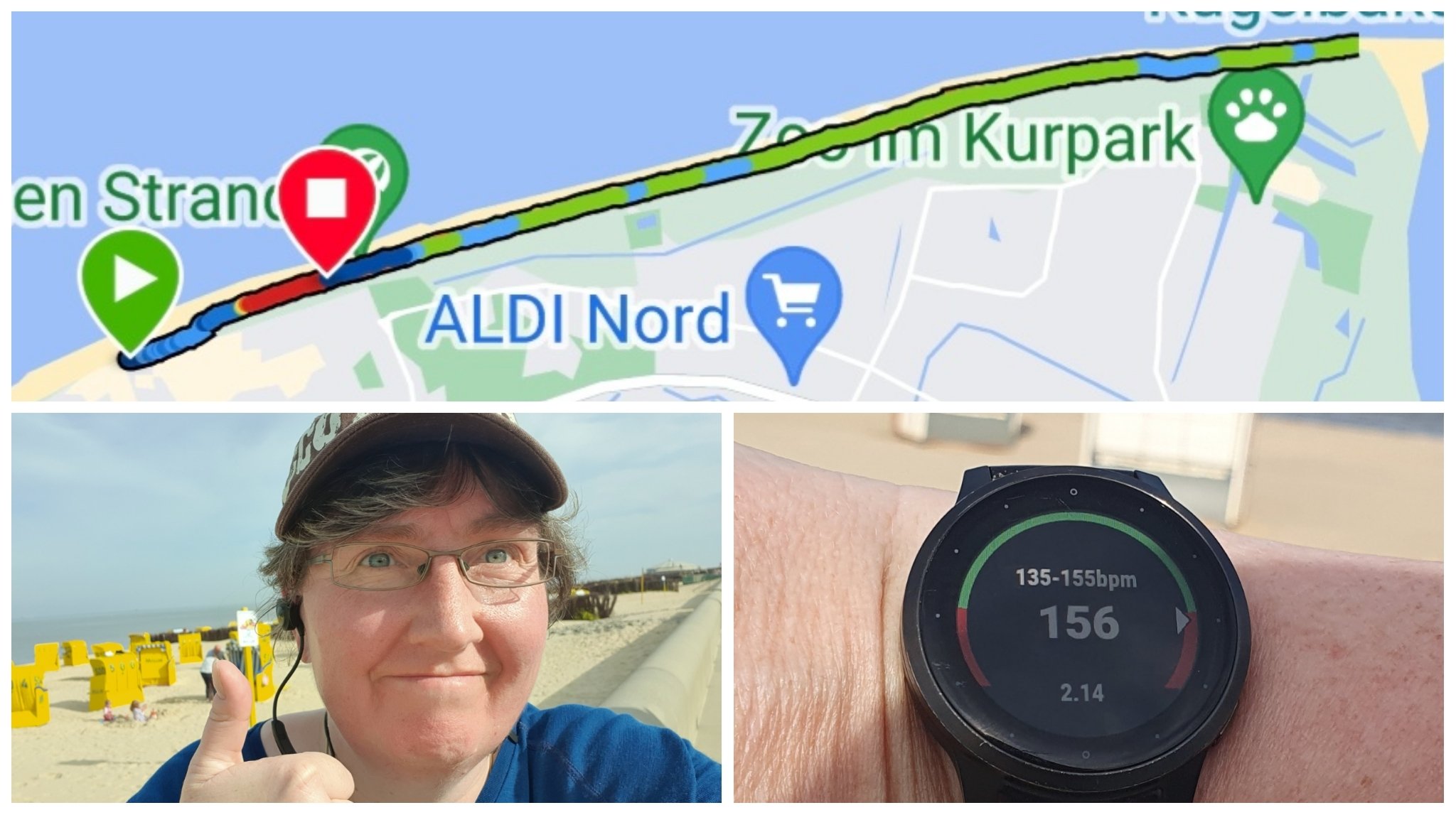 My first impulse when stating this accomplishment is still to put a apologetic qualifier to it like "but I ran it really slow". Ugh! It really bugs me when the self-deprecating part of me rears her stupid head. It shouldn't matter to me or anyone at what pace I ran this. I did run it! But unfortunately the impulse to sell myself short is still strong. After the first 2 kilometres I was so sensible to switch my smartwatch from the stats face (running time, pace etc) to the bare heart frequence, because to stay in my moderate range there was the only thing that should matter to me.
Emigration Exhibit | Tuesday I spent most of the day away from the beach in the city. I had read about a guided tour through the emigration exhibition and as that included maritime history stuff, I was interested enough. I'm a bit of a nerd about that kind of thing and it was definitely worth a visit. The place here in Cuxhaven isn't as elaborate as the one in the bigger German cities with maritime history, but still interesting and informative enough.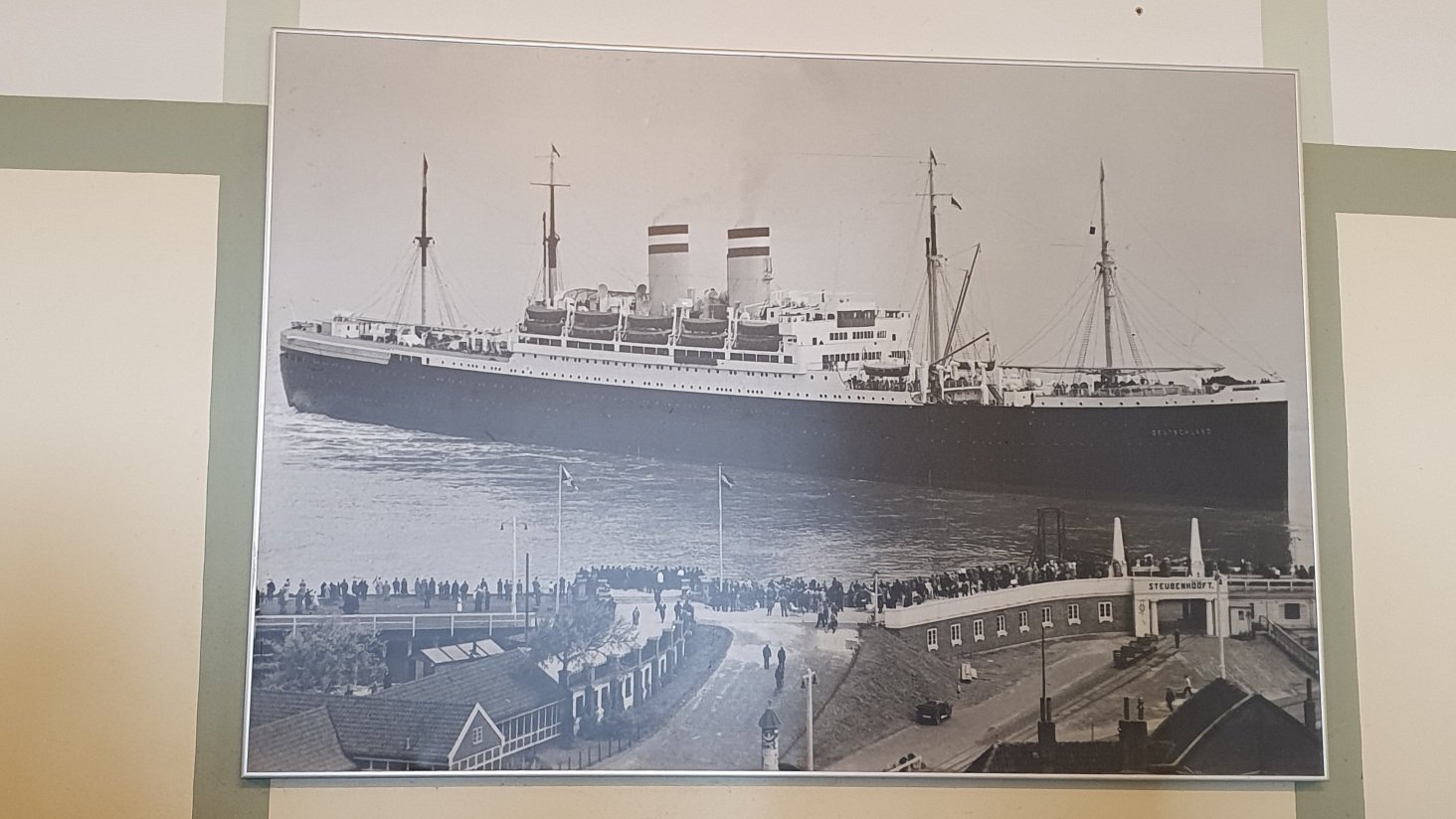 I decided to take the bus into the city and not my car, because I've got the Deutschlandticket and it's situations like this when to use it, right? I still had to walk quite a bit from the bus station to the exhibition and back and from the bus to a pharmacy and a supermarket and all. But that was ok. I hadn't ran the 5K yet then 🙂
Entertainment | I'm a creature of habit. Sometimes more than might be good for me, possibly. I wasn't sure I was in the mood to continue with "The Rookie" Season 4 while I was here, so at first I turned on vintage Gilmore Girls as background entertainment while I was having breakfast / lunch etc. I did try the regular linear TV program as well, but I'm so not used to that anymore. I mean… what is all that shown there? Seriously? I did pick up with "The Rookie" today though and still enjoy it, even though some of the storylines and backstories are not the most elaborate and I have to roll my eyes quite a few times about how unprofessional – in my eyes – they sometimes do their job. It's still just a TV show after all.
Book wise I'm back at working my way through Clive James "Cultural Amnesia", 2-3 essays a day. I've also picked Zadie Smith "Swing Time" (out of the four novels I brought to choose from) and I'm sort of enjoying it. Not as much as I had hoped though, because sadly I feel indifferent about the narrator or any of the other characters. And I'm not a fan of switching timelines (almost from chapter to chapter) without a qualifier like a year in the subline of the chapter number. I know that's a silly objection to raise, especially as the time period of the chapter becomes obvious in the first few sentences. I still don't like it all that much. Same goes for alluding to some or even several big clash / fight / drama moments, without actually telling what happened. I'm halfway through the book and I haven't gotten a clue yet. I guess that's the way it's supposed to be, but I'm not a big fan of that technique; at least not here anyway. It's still quite beautifully written and I guess that's what keeps me going with it.
Blog & Social Media | I still haven't quite figured out how or to what purpose to use this space in the future. Sometimes my impulse is to chronicle more of the introspection and awareness about myself I go through at the moment. But then I also don't really want to share all that personal stuff in public. It's rather boring for any outsider, isn't it?
I'm trying to cut down on my social media use, less successfully than I would like to be honest. I don't post all that much own stuff on Twitter, but a few times a day I check on about 80 accounts, compiled in two lists and scroll a bit in my feed. I admit I check Mastodon even less, there it's down to the one list of people I know / accounts I consider important. I've got a bluesky account by now as well and check that about every other week. I only made use of an invite code to make sure no-one else grabs my handle. Instagram was the most time-consuming so far until I now try to limit it to check only the up to 50 accounts in my favourite tab and with still too many stories I watch. Little changes and all that.
Photo of the day | No more words needed. I will miss this next week…