Lyrics: "I Do Like To Be Beside the Seaside", Mark Sheridan, 1909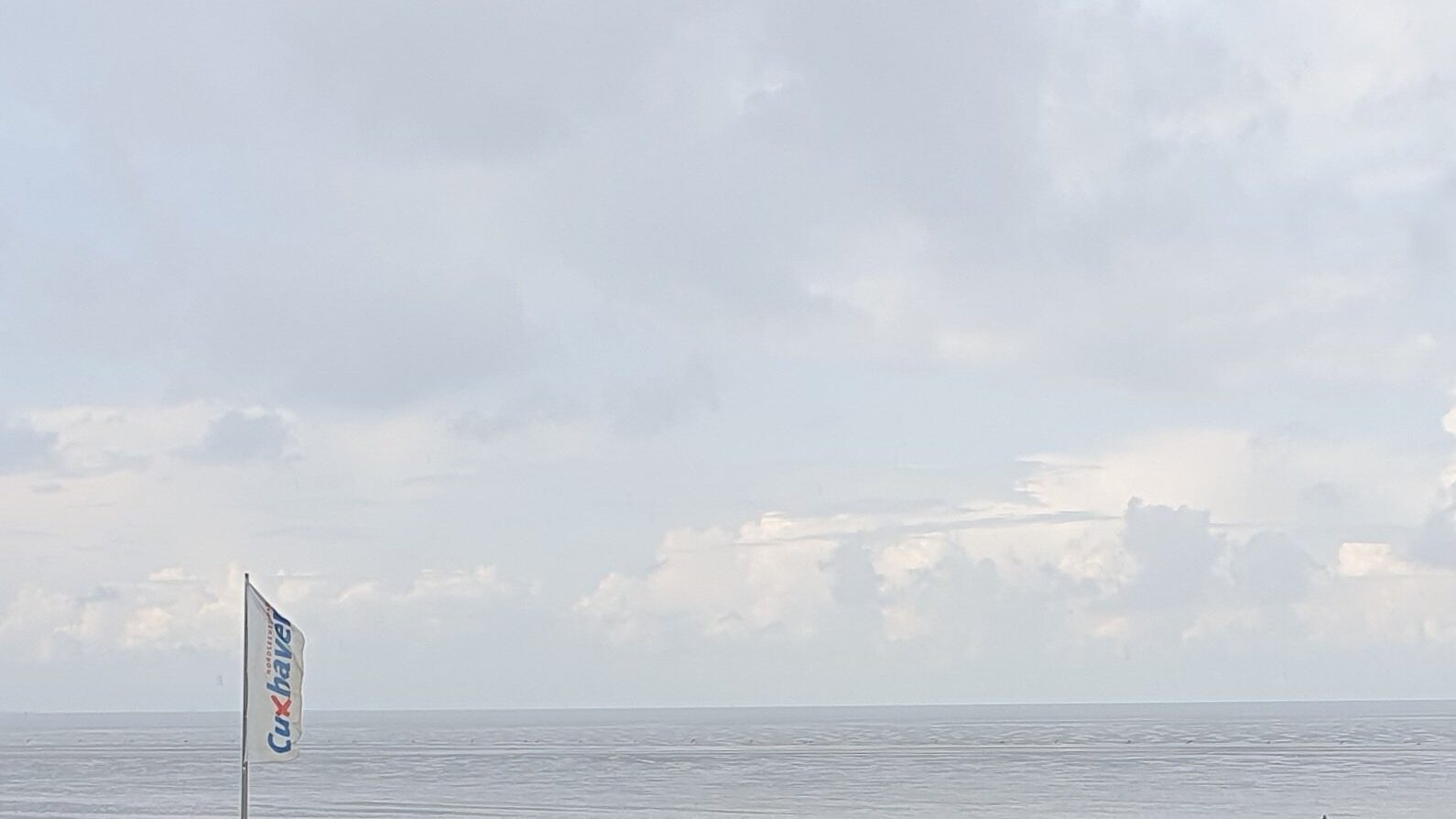 At home I would have turned on Netflix on my TV or Tidal on my phone to have some background noise while typing this post. As one of my (few? many? who's to say…?) intentions for this vacation was to cut out distractions and try to focus on what's really going on in my mind, I neither turned of the TV in my vacation home nor any music on my phone or laptop. Today's background noise is the humming of the fridge and the rhythmic ticking of the analog clock on the wall. The occasional car outside. A distant murmur of other residents in this building.
I made it to the sea! Yay! I always am more relaxed by the sea. The drive up was a bit of a hassle, especially as just a few minutes after I left my flat I realized I had forgotten to pack some food from my fridge, that I wanted to pack, before it spoils at home. I had stopped at Bro3's to borrow his cooler and had put all the stuff I remembered to bring. But I was in no hurry, so it wasn't a big deal to drive back home once more. The bigger hassle was that a section of the motorway was closed of for repairs or something this weekend, which led to a detour along country lanes. I didn't really notice official detour signage, so I followed my satnav, which to me seemed to send me on a longer detour than necessary. I don't know. I got here with plenty of time anyway.
I'm in the same apartment that I had been two years ago. What can I say, it's comfortable to know my way around and it's the right size for me. I hope I'll get through this week without too much of the sad stuff from two years ago cropping up. My mum had been transferred from the short-term care to the rehabilitation centre that time two years ago. We still had been so hopeful that she might be able to recover some more from her stroke. It's hard to believe that already two years have passed since that summer. I better not dwell on that now.
Anyway, I was lucky to be able to unpack all the stuff I brought from the car before the rain set in this afternoon. Under the watchful (but harmless) eyes of a senior citizen in the ground floor apartment. I had just parked my car in front of the building, when he opened the window and started talking to me. The funny old anxious part of me immediately raised her hackles, as she expected him to tell me that I couldn't park there for whatever reason. I did not want to park behind the building, because two years ago I had scratched my car in the narrow passageway. But, of course, my hackles were raised for no reason. He just wanted to congratulate me that I was able to get a free spot in front of the house, because he did not like having to drive through the passageway either. I met him again in the stairwell on one of my many trips to carry all the stuff upstairs and in my defense (hackles, again!) I told him about all the shopping and books for a week long vacation. Which prompted him to ask me what kind of books, because he had many books he wanted to give away and I was welcome to them. Which I thought was equally sweet and a bit creepy. Let's see how the rest of the week will go with him and his wife (I think) downstairs…
The rain kept me from a visit to the beach at first, so I decided to lie down for a nap. Or at least a bit of shuteye while listening to my audio book. I think I dozed off for a bit indeed. After an early dinner I finally went out. A tiny part of me is a bit bummed that I forgot to pack my tripod and also forgot to pack a headband or woolen hat, because the wind was and will be a bit fierce by the sea in the autumn. But a bigger part of me realizes it's no big deal. I can take photos without a tripod and I can buy (another) headband. So all is well.
I can't be bothered to edit photos from my camera, so this one's from my phone. Decent enough, right? I'm so glad I decided to take this time off work. I need(ed) it.