Lyrics, well Album Title from The Counting Crows, 1993
Let's try this again. Maybe a weekly or maybe monthly post is the right option for now. But don't worry, I won't recap my week in detail here now. Like I stated in the last post: my life is a bit boring in the vagueness in which I'm only willing to share part of. It might be an option though to just collect a few anecdotes / thoughts and collectively share them when I find the time and motivation.
Running | I went out for another scheduled run (2.4 km) yesterday morning. Last week it became clear to me that I do run better / prefer to run in the morning. My previous run last week was a 1.6 km one on Thursday after work. And while it had been the fastest I've run in a while (average pace of 09:23), I also knew that I started and kept running too fast. My heart rate was way too high for far too long. I tried to pace myself a bit better yesterday, especially as it was a longer run and voila. Still slow as a turtle, but who cares, right?
People out on a Sunday Morning | For the longer runs I prefer the rail trail to the pavement of a street or inner city (but often still paved) paths, so I drove to the closest one. It was around 7:45 on a Sunday morning and from the car I noticed a few dog walkers. All women. So I decided to pay attention to who else would cross my path this morning. Probably anecdotal observations but: Only a few men walk dogs in the morning or at all. Men ride bicycles instead. The only female cyclist I saw was part of couple. Nordic Walking also might be a couple thing, though I don't want to draw conclusions from the limited data set that morning: one couple and one male. There were more male than female (me included) runners out there, but I'd say it was a 60/40 ratio, so not too bad. Walking seems to be a elderly couple thing on a Sunday morning. No parents with children about (yet).
Not people related, but I don't want to start a new prompt just for the observation that autumn seems to be on the way. At least the morning fog over the valley felt a bit like autumn already.
My day off | As mentioned in the previous post I had taken Friday off and spent it in Bonn and it was lovely.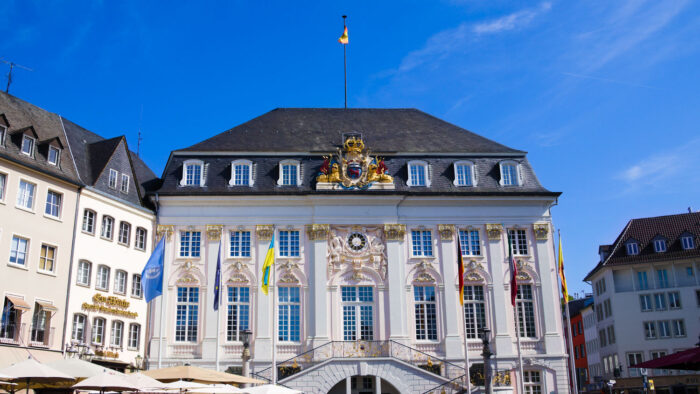 It was a city I had been to before a few times, but mostly for events and such and the venues never were in the city centre. I do recall a school trip with the history class in year 12 or 13, though I obviously misremember the museum we visited. I didn't have any recollection of the city centre. So all in all, it felt like a proper short holiday trip. As it as supposed to. I went to bed in the hotel early (21:30) and slept for over 9 hours. Obviously that's something I could do at home, but I rarely do because I let myself get distracted from Netflix on TV or just stupid bad habit routines at home. Ok, I did sleep just as long the next night at home, but you get the idea. On Friday morning I spent over 90 minutes in a cafe with breakfast buffet. Another wonderful vacation feeling.
I then hopped on the tram to get to the "Haus der Geschichte" (German post WWII history museum), where I spent a few hours. I thought this had been the museum we went to with the history class 30 years ago, but I did not have any recollection whatsoever of the building or exhibitions, so who knows.
Reading about and seeing exhibits from the final days of WWII or the years after made me feel quite humble and aware of my privilege of being able to have grown up in peaceful times in the 1970s to 1990s (ok we had the Cold War, but to be honest that felt rather abstract, didn't it?). As a bit of a politic nerd the whole "building a new nation" exhibit was super interesting. There also were quite a bit of stuff I didn't know about the long standing role of the allied forces in Germany even till the mid-90s.
The day in Bonn ended with some ice-cream and a stroll through the city centre, a quick visit to the book store; not for a book, but looking for stationary, which I had to buy in the department store afterwards anyway. The train ride back home was a bit of a hassle with delays and missed connections and thus some more waiting, but that was fine. I was on vacation and in no hurry.
Zentangle | I'm getting a bit more into zentangling (is that a verb?) as a past time. I do enjoy the creative aspect of it, but also the meditative aspects of drawing / colouring in the same / similar patterns over and over again. It also does help to fight my perfectionist tendencies, because of course I do mess up some of the drawing and that is fine. No big deal.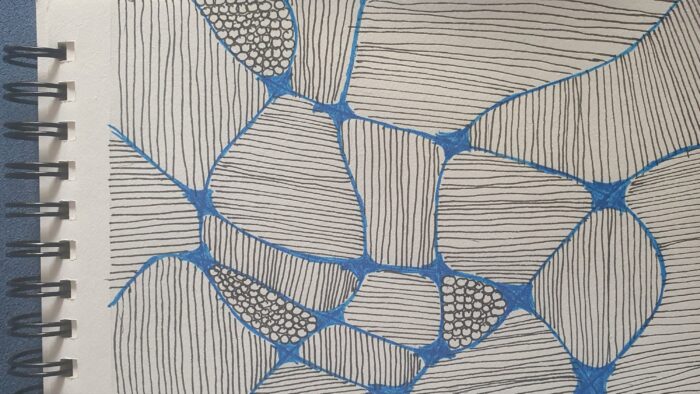 Neighbourhood Watch | This might be a new (regular?) prompt. I usually do get along well with my neighbours as far as I know them. I do know the people living in the other five flats in my building. Some have been living here as long as I have or even longer. Two have moved in last year. We don't interact much, but that's fine by me. The two couples, who are also the only two tenants who actually use the garden / backyard are in a constant feud with each other. I try to stay out of it. But if I had to pick sides, I knew which one I'd side with. That's all I'm saying. But this story isn't even about them.
While I was winding down my work (from home) last Tuesday I noticed voices from the garden / backyard through the half-opened window. Voices I didn't recognize, which didn't bother me at first. A few moments later I saw people I didn't know walk around. I'm usually not a busybody, but it's a private property. So I opened the window and friendly asked if I could help them? They came up the window and equally friendly explained: "Don't worry. We're police officers, back here for support", and then one showed me his badge. Usually hearing "we're police, there is something going on somewhere, but don't you worry" might make you worry even more. But I pointed to the left and said "Next door?", they nodded and I knew what was up. I mean I did not really know and not in detail, but you know neighbours and landlady's talk.
One of the new-ish tenants next door, who can be a bit noisy at nights, had already been visited by the police a few months ago. With a BIG operation. I still missed it all, because I was either working at the office that day or it happened quite stealthily. But I doubt it. Several officers, several cars, a tracking dog. I don't think they busted the door, but obviously they suspected illegal drugs and also that he was dealing drugs in the apartment. My landlady told me the details after. They didn't arrest the guy then, so I have no idea if they will bring charges. And I have no idea what happened last week either; the plain clothes officers were gone after a few minutes. A neighbour from my building who came home at the same time told me that there was a uniformed officer standing guard in front of next door's. When I put the bins out later neither of the police officers were still around. So who knows.
More adorable visits in the garden this morning, when I saw a squirrel examine the stairs and bushes around it. I don't recall seeing squirrels so close to the house in the past. I'll try to keep a look out in the future.
Entertainment | I've finished with the latest Outlander and stand by my previous sentiment: It all feels a bit rushed and disjointed. But good things to say about episode 8: I love that they kept in the meeting of Jamie and William and the whole "I owe you a hat" bit and I love that the Rachel and Ian vibes feel quite right. At least that's something. I did cancel my Prime membership for now and will only sign up again next year, when the 2nd half of the seasons airs. Possibly earlier if LOL – Last One Laughing returns before that. I'm catching up with "Lincoln Lawyer" on Netflix at the moment and like it ok, though the court case plot is dragging a bit. Or maybe I just don't care about it all that much. Which is a shame for a legal drama show. A friend recommended "The Rookie" to me last night, so I might give that a try after. And the new season of "Heartstopper" is out as well, which I should catch up probably before the rookie.
I'm still looking for new (to me) podcasts, preferably not from the psychology / selfcare / mindfulness genre, because I already am subscribed to a few of those. Two friends recommended a few and I gave those a try, but wasn't quite hooked yet. So the search continues. Any suggestions welcome: I think I'm interested in something a bit educational: history, feminism. Or diverse comedy. Or interesting interviews with interesting (public figures) guests. Not interested in two (white) dudes chatting about the week. If you've got recommendations (preferably not daily episodes, but weekly or just a run of a few) let me know.
Last night I went to a open air concert of a philharmonic orchestra play movie scores. With a bit of focus on romantic movies, but not exclusively. I mean, they played the wagon race theme from Ben Hur, which is not a love story as far as I know. But all in all it was al lovely evening. And it made me want to re-watch so many movies.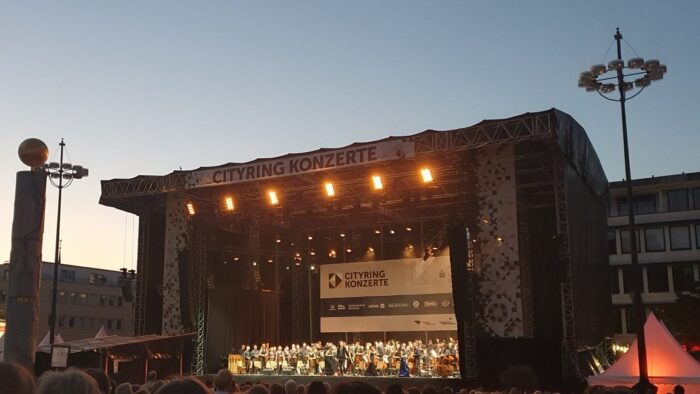 Self-Care / Mental Health: Sort of a catch-all prompt. Every once in a while I'm quite fascinated by my mind or the things I've learned about myself in therapy or helpful tools I acquired through therapy or other mental health help (books, podcasts). There was a bit of an uncomfortable moment earlier today, when I read a bit of snippy reply to a mail with some critical remarks I had sent earlier today. Local politics related stuff. My first impulse was to feel bad for having sent my mail with the critical remarks. The reasonable side of my mind still is convinced that my mail was justified, but the emotional side of course felt bad and guilty and not liked anymore. Cast out from the tribe, that kind of thing. The wonderful new reaction now was, that I did not immediately engage in bad habit type 1 – 5 to distract myself from that uncomfortable feeling. I sat with it for a while. I journalled a bit. I distracted and calmed myself with finishing my latest Zentangle Doodle.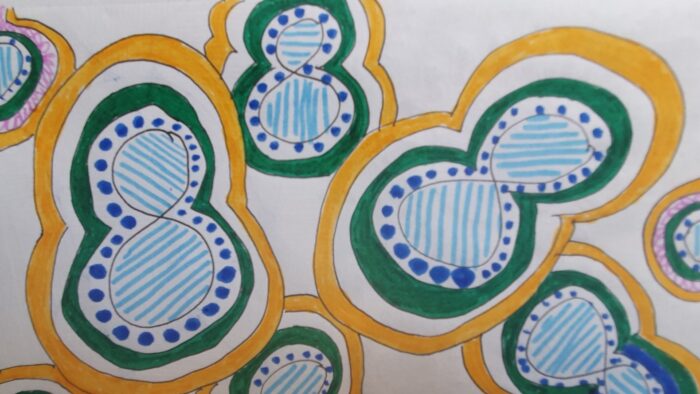 That's two healthy / good behaviours. Three even if you count "noticing and letting myself experience the uncomfortable emotion". I admit I still as well engaged in a bit of bad habit type 1 – 3 or something. I do not have my bad habits categorized this way (yet). Anyway, I'm quite proud that I did handle it all so much better than I used to.
Talking of handling things better: After a rather crappy night of not much sleep last night I plan to go to bed super early today and get lots of sleep. At home! Wish me luck!