Exhaustion | It might be interesting to examine if the sudden onset of exhaustion that hit me an hour ago on the drive home was caused by
my body still dealing with the small dental surgery I had yesterday
the extended human interactions I had at the office today compared to a day working from home
belated onset of exhaustion from the fangirl weekend
I have no idea how to find the cause for it, so I guess I'll just have to accept that some of the to-dos I had planned to tackle tonight (or at least start tackling) will have to be put on the backburner.
Weather | I left the house this morning all set for another gloomy / rainy day and didn't trust the "it's going to be sunny again" forecast. And it wasn't too warm, when I went out in my lunch break. On the way to my car and especially getting out of the car here at home: too many layers? It's a first class problem, I know. But I was glad when I could take of the shoes and socks at home. Summer is the time for bare feet, right?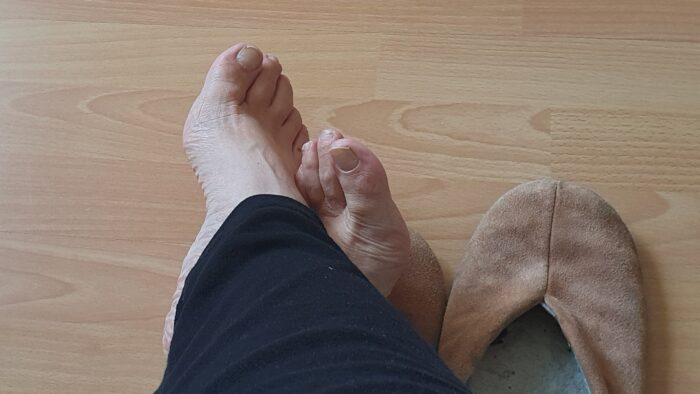 (Lack of?) Mindfulness | I don't know if I've actually been just a bit lost in my thoughts (mindless instead of mindful) or lingering early morning tiredness, but I caught myself being sure that I'd missed my exit and took the next one, thinking I'll just take the long way back to the office. It turned out I didn't miss my exit. I took one too early. I could have driven from there to the office as well, but it was still quicker to turn around and head there over the motorway. I felt a bit embarrassed about this mishap, but at least quickly turned it into a "be more mindful in the future" lesson for me. At least that's what I'm planning to take away from it. And to b fair: The changed the lanes in this long stretch of construction on the motorway since I've driven this route last week. So a bit of confusion was warranted. Maybe. In other ways I have been more mindful of certain habit (thoughts) loops today and tried to notice more about triggers and effects and such.
Teeth | The surgery site (aka my cheek) is still sore to the touch or movement – don't expect me to grin widely for a while, but otherwise I'm feeling fine. Even the light "shame over bad teeth" emotion dissipated, after I heard from a coworker my age, that they already had three implants done last year. They did try to go back to work too early and had to call in sick the day after after all. So… I've done everything right.
Media | I tried a new podcast for the drive to work today, a 20 minutes news podcast that comes out three times a week. I follow that person on Instagram as well and I'm not sure I need the double dose of news the way she presents them. One or the other, maybe.
Reading wise I went back to a book I had discarded a few months ago as I hadn't been in the right mood or at least I thought I hadn't been. "From Bad to Cursed", the 2nd installment of "The Witches of Thistle Grove". So far I've reached the section, where I abandoned it last time. Wish me luck…