I'm not in as much of a fangirl blues as I expected after this weekend. I'm just tired. And fed up by the constant rain. I'm glad I was working from home today, though this morning I put on a pair of leggings under my trousers. And put a hot water bottle on the floor under my desk for my feet. I refuse to turn on the heating. It's August! It wasn't as bad in London. In England, where it's supposed to rain much more than here in general. I know, I know it's just a cliche. I think.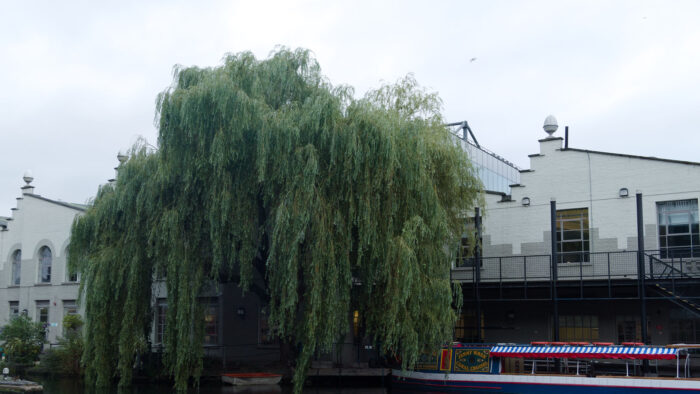 Because of the weekend away I didn't have much in the way of groceries at home, so I had to use my (early) lunch break to drive to the supermarket. For some reason I thought 11 AM on a Monday would be a good time to go. I was clearly wrong. Why are all those people shopping for groceries on a Monday around noon? It felt a bit weird. When the old lady in front of me at the cash register started telling me about her bad back while she was slowly putting her shopping out my first impulse was to be a bit annoyed, because I really wasn't interested in a chat. But when I noticed her being equally chatty with the cashier, I thought that maybe this is the only human interaction this old lady has all day. Or all week maybe even. What a sad thought, but it's quite possible. My late mum didn't go out much in the end, even when she was still able to do so on her own. We came by and chatted with her and so did a few neighbours. But when you're of old age and don't have any family living close by when and maybe a lot of your friends have moved into a nursing home or have died, life can be lonely and quiet. 
Sorry for bringing the mood down. I'll definitely try to be more patient with the elderly people in queues and in shops and such from now on.
There is not much more to tell today. Work was as usual, but I haven't been as motivated as I could have been. Like I said: Tired. 
Frank Turner (yes, him again) posted on social media, that it's been 8 years since he released the album "Positive Songs For Negative People". Which made me not just remember that time back then, but also made me pull up my review on my old blog. Which then also made me re-consider the idea to import all the posts from the old blog into this one to have it all in one place. My lack of impulse control and possibly the tiredness as well made me think: "Let's do that RIGHT now!" So I spent an hour this evening prepping post on the old blog, exporting a file. Started to import it until there was a "gateway timeout" and I ended up with about 1/3 or so of the posts and media and such imported. Not having it all would have been stupid, so I spent some more time deleting all the so far imported posts and photos on this blog. I guess I won't import the old posts after all. Yeah, my attention span isn't always the longest either.
On the long drive and train ride this weekend I finished re-listening to one of the Calm Masterclasses about "Breaking Bad Habits". It feels like I need to listen to those classes a few times over a span of few years to let some of it sink in. I don't know. I pondered quite a bit of it yesterday – again on the long drive – and this time I feel like I'm at least slowly venturing on the right path to make a few changes. Maybe. I'll need to keep watching myself for a while longer now. 
Hours after I've typed the previous paragraph I'm now able to finish it, after coming back from the weekly Green Party meeting. These past few weeks or even months I've not attended those meetings as diligently as I used to or that I am supposed to as council member. Things change and lives change and I could now end this train of thought with another Frank Turner lyric, but you're probably all quite tired of my Frank fangirling by now. So I won't.