Lyrics: "Little Changes" ~ Frank Turner, 2018
It's another > 30 °C weekend over here and unlike the previous one two weeks ago, I'm being sensible today and staying in. My apartment usually stays at a comfortable 24-25 °C, if I remember to close the blinds in the morning and that's a temperature I can deal with.

My way to 5K | There was another run scheduled for today and yesterday evening I was determined to get that done first thing in the morning. Like 6-ish, before the heat set in. My bed was quite comfy though and my mind was going back and forth about it. In the end the fact that I needed to make a quick trip to the supermarket anyway at some point today, preferably also before the heat set in, was the push I needed. Drove to the supermarket and drove on to a rail trail, where I would feel more comfortable running than on the sidewalk / pavement paths in my neighbourhood. It was 8:45 and in the few sections not covered by trees and their shadows, it already felt scorching. But I'm glad I did it.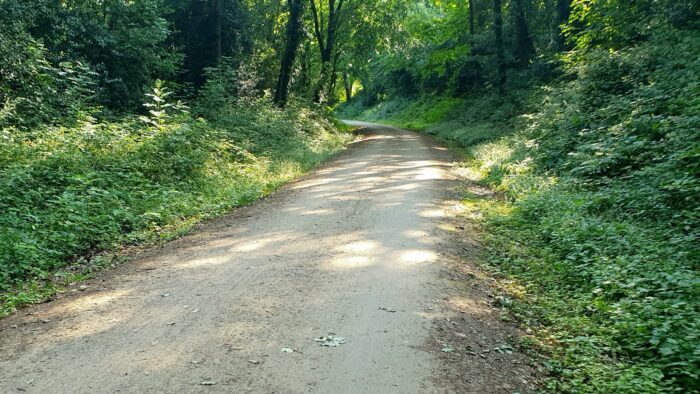 Music | I listened to songs of Bad Cop Bad Cop while running, trying to get familiar with all the songs before I'll hopefully catch them at the only music festival I'm going to go to this summer: Brakrock Festival in Belgium. Frank Turner and the Sleeping Souls will be the headliner of day2, that's the only reason I got a ticket for that day. I'm not a festival person for a variety of reasons. One is that my musical taste isn't that extensive. I like a few bands / singers a lot. I like quite a lot to some "enjoy on the radio / streaming service, but not buy tickets for" degree. There also are a lot of acts I am only vaguely aware of and to be honest often have no interest in diving into their back catalogue. Most festivals have one of the first, a lot of the latter and sometimes some of the in-between. Anyway, BCBC have been on my radar for a few years, as they have supported Frank in the US in 2018/2019? I never felt the urge to check them out before though and girl, was I wrong to wait so long! Maybe that will teach me.
Yesterday I made a playlist of the few "most popular" songs of the few bands on stage before Frank and also BCBC, who will be on a different stage, but at an earlier time slot. As I had expected: neither of the other bands did anything for me. These BCBC women though: Wow! I'm not the biggest fan of pop punk as a genre, but in general I like it fine and in this case it's the absolute badass feminism in the lyrics that got me hooked. There is not enough of that in any genre or the music world in general.
Books | The rest of the day so far has been… sort of lazy. Shower, breakfast. Reading. Quite a lot of reading. Which is not a bad thing as such, is it? My current novel "A Marvellous Light" was a bit of a slow start and the magic or at least the underlying plot seems a bit sinister. Which is not a bad thing as such, just not what I had expected. I thought "that magic would be more fun?" (just as Edwin, the magician one of the two main characters at some point replies to a similar question from the non-magician Robin.) The prose is lovely though, which makes up for the plot moving forward a bit too slowly for my taste.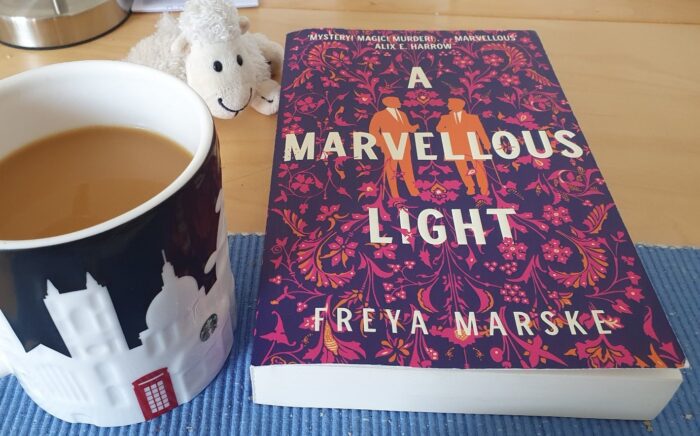 Social Media | I've finally sort of banned Twitter from my phone and yesterday and today so far have only checked in via the computer 2-3 times a day for a very short period of time. Morning, noon, night, that kind of thing. Always logging out of the website after to make it more of a hassle to get distracted by it. I don't feel like I missed anything yet so far. I want to keep using Twitter to keep up-to-date / in touch with people (friends / artists etc.) to whom Twitter still is the social network they use most. To make that easier for me I've a long time ago started using lists on which I've added those handful of people. I still – way too often – have checked in with the regular twitter feed though. Over the past few days / weeks I realized I do have to drastically limit my exposure to the regular feed, because following the debates over various issues or news on various issues are taking up too much of my time and energy and are not good for my mental health.
Whether it's the question of how to deal with the rise of right wing parties in Germany or the debate on cutting parental allowance for parents who earn more than a certain income or any other debate at the moment. I feel like I should have an opinion on all those issues or at least form one. And I do, but the issues aren't as clear cut and black and white as a lot of people on social media consider them to be. Or want them to be, I don't know. Everything is complicated and even I – who has been praising the positive "connect people" aspect of social networks like Twitter for many many years – have to admit that this time is over. The debates as I see them are not bringing people closer together. On the contrary. I know, other people said that about Twitter years ago and I also did see it back then already (the election of Trump and everything), but it didn't seem to affect my version of it. But it seems to now so I need to stay mostly off it for a while.
I should use the time not on Twitter to read more proper news pieces about the whole issues to help me make up my mind about those issues. I also should find a way to limit my time on Instagram, because that's the next social media I spend too much time on. One step at a time though, right?