I started typing the first half of this post yesterday on my phone, while sitting on the ledge of a fountain in a city centre waiting for my movie to start. Watching a movie on the first night of a work week is a bad idea. I should have known better. But: it was Indiana Jones. In English. In my part of Germany movies are mostly only shown in the original English during the first week and as I had only this weekend decided I'd like to see the movie, Monday seemed like the best choice.
It didn't help that I got up early-ish yesterday morning to get the first run of the Garmin 5K program on my schedule. I was supposed to do the 2nd run today, but ….. no way. Not this morning after too little sleep and not right now, because I'm afraid my tired brain will make me stumble.
Back to yesterday: Before the movie (at 08:00) I went to grab a bite to eat at a Mexican restaurant (franchise). On Monday they offered half price on all the food and happy hour for all cocktails (non-alcoholic for me of course) after 5. Which was quite nice.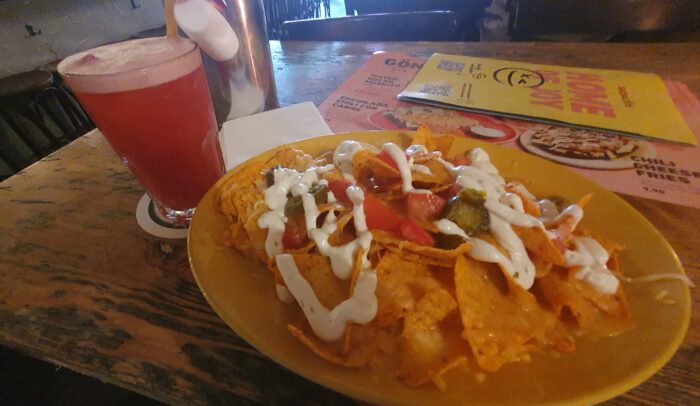 Not the healthiest, but I did run that morning, so…
While I was enjoying my food I realized that I might not be the right demographic for these kind of places anymore. Inside it was rather gloomy; meant to be atmospheric maybe, but I just found it a bit too dark. The music over the speakers also was turned up to an immense volume. You had to speak quite loudly to the waiting staff and all in all it was just annoying. Has that always been the case and I'm just now annoyed by it because I'm old? I don't know. It might be the age thing, I'm afraid. It's a similar thing with the music. I don't mind as much when I know / think it's new and original song I'm listening to. But why do they have to modern dance-beat covers of songs from "back then" (in 1995 when I was still young) Are they really just trying to piss me off? I also have no idea who I mean by "they". Is there a female equivalent to "curmudgeon"? Because I sometimes feel, I'm turning into that one. Anyway, here is the original, which I remember quite well and the cover version from the restaurant. Discuss. 🙂

I still had time to kill before the movie started so I was looking for a place to just sit for a bit after dinner. That is another thing that I think has definitely changed in the last two decades. The lack of free of costs available space in city centres. The movie theatre is situated in the "entertainment district" so it's no wonder there are bars and restaurants and cafés with lots of outdoor seating. For their paying costumers. I didn't want to eat/drink anything the anymore. I just wanted sit down for a bit to play the games on my phone I hadn't managed to play in the morning. Hence typing this on the ledge of a fountain. I studied urban & regional planning and if I'd put my mind to it I could possibly right a long essay about why turning cities into basically outdoor malls with a food court or even worse just food, booze and fun spaces is a danger for our society and democracy. But… I'm sooo tired. And I need more time to think about that properly. Anyway, it's sad and troublesome.
But back to the main event of the evening: at some point it was time for Indy!! What can I say? I enjoyed it. It was proper, classic Indiana Jones. A mean baddie (Nazi), a few new and old sidekicks, a young (seemingly) orphan boy who just trecks along. Lots of crazy chases, fights and explosions. A complicated story about a weird historic artefact, which makes you tune out of the plot a bit after a while, because it's too complicated to follow. Some might have possible just be lost to me because some dialogue got lost in the noise of it all? It was still all good fun and I'm glad I watched it.
Something to laugh about: When the film opens with guys in WW II military gear and I heard German dialogue I thought for a moment: Wait a minute? Am I in the wrong (German dubbed) movie? It took a few seconds for me to realize: No, it's the right movie. It's the Nazis speaking in German! And also: I did SO not recognize Antonio Banderas and was baffled to see him in the credits.
Right now I need to remember how much I enjoyed the movie, because the lack of sleep clearly threw me off a bit. Like mentioned above: I did not go for a run this morning or afternoon. I sat down to start working a bit later than planned, but still in good time around 8 in the morning. And then I was quite busy all morning and noon with scheduled video calls. And unplanned video calls. And quite a bit more unplanned stuff. I ended the my work day with some boring, but necessary admin tasks. It wasn't a bad day, just thoroughly disjointed one and I don't like those when I'm knackered and not of sound mind.
I might go to bed super early today to just mess up my internal clock even more. I don't see the point in staying up and a nap after 5 in the evening is counter productive as well.