Yes, there also is Frank Turner song with this title, but it's just literally my state of mind right now
My priorities seem to have shifted a bit recently. That's partly a good thing as it's got me focused on something (new), but I'm afraid I also use this "let's start a new thing" to distract myself from chores / projects / final therapy homework and such. Work in progress…
Activity | I got up before 7 this morning, because the forecast correctly had predicted some rain from 8 – 10 and I wanted to get the 3rd run of first week of C25K out of the way. Unlike the first two runs I started with a bit of a proper (led by Youtube) warmup in my kitchen. The run was alright, but when I was home I decided to switch to one of the programs I can access via Garmin watch/app. They can take my personal state of fitness and progress more into account and adapt the training accordingly. I'll start with that on Monday.
On Thursday I also got up and left home a lot earlier than I usually do on an office day. Because I checked out the early swim time at an another pool, which is situated on the way to work. Once again I only did 10 laps a 25m, and spend more time in the changing room / shower and such than in the water. But that had been the plan, because I wanted to check out how long it will take me all in all compared to the pool in my home town. The pool on the way to work wins. Just like here at home there also were quite a few people in the pool at the earlier hour, but it still worked fine for me. So I will definitely try to do that once a week from now on and hopefully work up to more and more laps.
When I casually mentioned it to my office mate and our supervisor, they went "You did WHAT this morning already?" in a very nice acknowledging way. Which made me feel good, I can't lie. But to be honest my experience showed: If I don't do it at the start of the day, I won't do it at all.
Focus | I finally finished reading "Stolen Focus" this week after having read most of it on my vacation in Scotland. I might / should go through it all to write down key aspects of it all to remember it and try to incorporate more if it in my every day life. Because you do not want to know how often I let myself get distracted by random stuff since I sat down to write this post.
Wistful Moments | I don't want to call it "grief", because it's not that specifically, although it all is part of the grieving process, I guess. I still catch myself remembering moments about my late mum or experiencing moments I would usually have told her about when I visited her. I see other elderly people, with similar mobility restrictions as she had in the last few years out and about and wish she had have more time to do that. I just now today deleted the app of the mobile phone carrier we signed her on for, when she went into hospital in May 2021 and the hospital didn't have any phones available anymore. She was in her 80s, she didn't have a mobile phone before as there really hadn't been the need for it.

This morning I drove to the electronics store in acity close by and at some point missed my turn, so I ended up driving a different route. This one took me past one of the many hospitals my mum was transferred to in the early summer of 2021. All those memories came flashing back. The limited visiting hours because of COVID. The required proof of negative tests. The hassle of finding parking nearby. And of course the constant worries as well, the many phone calls to the doctors and our GP and the decisions we had to make. I'm not sure I've properly processed all of that (yet) when just writing this all down, makes me well up a bit.
Entertainment | I can't think of a good segue from the previous melancholic passage to any other topic, sorry. Let's just do a rundown of what I watched / read this week. I do read much more than I watch TV these days. I watched the latest Outlander (Season 7, episode 2) and parts of it made me cry (as intended obviously) but other also left me rather indifferent. I finally managed to finish with "Superstore". I'm still not the biggest fan of having the COVID pandemic incorporated into storylines on TV. Maybe because the pandemic and lockdown and worries and all that messed me up a bit. And I don't need a reminder of that in the distraction I'm looking for in my TV program? Just a thought. Anyway, I had a first look at "Colin from Accounts" which I rather accidently found on Prime. My big "girl crush" Tash Hodgson recommended the show a short time ago on Twitter and I was sad to read then that it was an BBC iPlayer show. But now it's also on Prime. I watched the first episode and enjoyed it a lot, but really wanted to finish Superstore first. Which I did. So "Colin from Accounts" is what I'll be watching next.

I've read / finished reading four novels this week. What? I basically just stated above that I read a lot. But I admit I also use books as a form of procrastination, which sometimes can be a bit of a problem. My latest reviews are here on Goodreads as always. It seems I was only in the mood for contemporary, easy-going, fluffy romance this week. I tried a few other stories, but they all felt too heavy or complex for my current state of mind. I had a good look at all my non-fictions, as I thought maybe I need to read that for a while. But the subjects of those often are quite heavy as well. For now I've opted for Hannah Gadsby: "Ten Steps to Nanette" even though it explicitly comes with a trigger warning for the heavier stuff. And on a hopefully lighter side: "A Marvellous Light" which some call a queer historical fantasy story. I've read the first few pages and it seems interesting enough, so let's see how it goes.
Self-Care & Well-Being | Between the "being active" (that works well) and trying to be less distracted (not working so well) I am doing okayish on the nutritional side of things. I even began to cook more than I used to. Or at least try new / different recipes.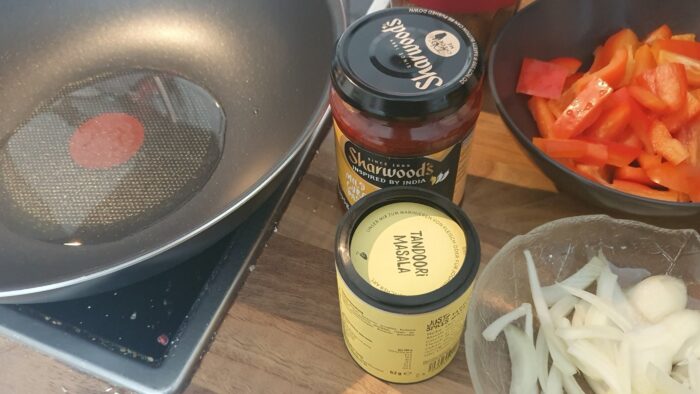 Not eating / snacking between 7-8 at night and 9-10 in the morning still feels less hard than I expected it to be. In the mornings the oatmilk in my coffee might actually be "breaking the fast" earlier than I should, but I can't drink the coffee without it. I just can't. At least I've switched to the oatmilk brand with the least carb/sugar I found so far.
I lay down for a nap this afternoon and I did not care what anyone might have thought of that. I mean, nobody knew, but still. I usually don't nap. Not because I think it's an indulgence, because I don't; far from it. For the longest time I didn't fall asleep easily in the evenings and even less so for a nap during the day. But I do sleep well at night these days. I think the early morning today just made me extra tired today and so I napped. For a long time. The body obviously needed it, so why not do it? In fact, the body still seems to need some more time in bed, so that's where I'm heading soon(-ish).