Lyrics: "Loch Lomond" ~ Traditional Scottish Folk Song
There are two half-finished blog posts in my drafts: One from before the trip. One from the first day of the trip. My mood today is a blend of both, which won't mean to much to you, as you don't know the mood of either. I'm a tiny bit of a mess right now, because I seem to feel a bit overwhelmed with being here. Away on vacation. Without any responsibilities to anyone. No structure to the day, no schedule; only options and choices I have to make about these options. And then there is the guilt for not having made the choices yet and for not really having "done" anything yet. I know this is the wrong, ridiculous, harmful (to my psyche anyway) way of thinking. I'm glad and grateful that I am able to notice that and acknowledge it and talk myself down from the ledge.
The one half-finished post (from before) also is more of the introspective, working through some stuff kind. I might finished it at some point. Let's keep it a bit more substantial now and let me tell you about my trip up north.
While packing my bags on Thursday and checking if I really have all the relevant information (bookings, tickets etc.) I used the train app to set an alarm to notify me if the first train I had to take that day would be delayed or cancelled or something. When my brother drove me to the train station on Friday morning he asked if I had checked if the train would be on time. "No need", I said. "I set an alarm in the app and I haven't heard anything". Oh stupid me. Because of course the app alarm did not tell me that the train had in fact been cancelled. I had another option to get to Cologne, so there was no need to worry. But I would have prefered to not start my long trip with such a nuisance.
The trip from Cologne to Brussels went without a glitch, not like the last time in April, when Aachen train station (half way to Brussels) was closed for a while because of a bomb threat, which caused a delay of about an hour. Thursday was a public holiday in Germany and most schools were closed for Friday as well. I assume that's why the train conductor brought his ~10 years old daughter to work, which was really cute. She checked our tickets and later also was allowed to make some of the announcements.
I was in London hours before I could board the sleeper train and couldn't be bothered to pay to store my luggage to go stroll around a bit more. So I just joined the masses of people sitting outside Euston station, waiting for their platform to be announced. Even years after I first started using trains in the UK their way of conducting rail services still slightly amuses me. Because in Germany it's organized very differently. I don't know how it's coordinated, but basically at the start of each year each station has a plan about which train arrives/departs at what time and what platform all year round. As most of the trains run daily, that doesn't change, so they can announce the departure time and platform in advance. The information can be found in display cases (often very old-school printed on paper) all around the station, but also of course on the digital board in the main hall. The thing is: as a passenger you glance at the board, see that your train will leave in 45 minutes from platform 6 and then just spend your time till then however you like. On the platform itself the display might inform you about current changes on occasion, which means you might have to hurry elsewhere, but in general that's a reliable system and helps disperse the passengers all through the station.
I admit it still baffles me a bit to enter Euston or any other big UK train station and see the hall crowded with people all staring up at the board to find out the platform of the next 3-4 trains leaving. And to then see swarms of people rushing off to get the train in time to get a good seat. Or any seat, I don't know. For a time I wondered if it can be organized differently in Germany, because we don't check the tickets before entering the platform? But that can't be it, can it?
Anyway, enough musing on how to organize your national rail service. Finally the time had arrived for the big adventure part of my trip. Going on a sleeper train for the first time in my life. In a cabin with a bunk bed, not just a seat to sleep in, because…. well, nope, the age where I could or willingly would spend the night in seat has long passed. Before I booked it months ago I had read a few reviews and watched clips online. Some said it was horrible, some said it was amazing, so that was no big help at all. I was still willing and determined to give it a try and I'm glad that I did. Partly maybe because it once again confirmed to me that I tend to worry over nothing. Which might be a weird thing to take away from it and should possible be content for the other – introspective, mulling over stuff – half-finished post in my drafts.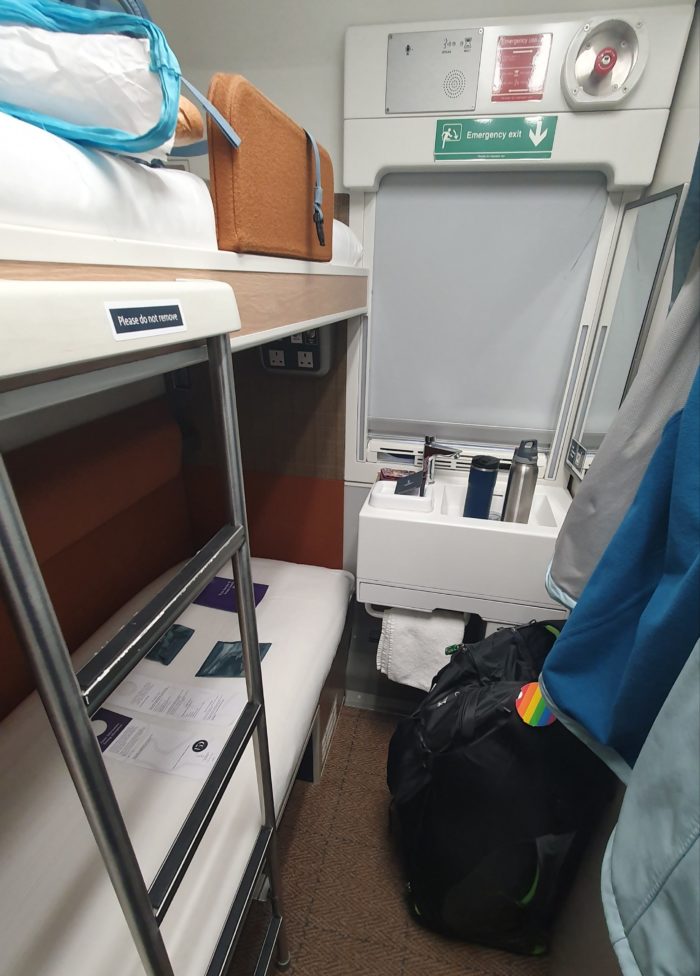 Yes, the cabin is small and can feel cramped. The bunk is small and I did not get all that much sleep. But I can't only blame the bunk or the train noises. I hardly ever sleep well the first time in a new bed. Plus I was so excited to be going on this vacation. So all in all, the night was fine, just a bit short. But it was kind of cool to wake up and watch the Scottish landscape pass by my window. For some reason seeing the hills and trees made me remember my trip in 2016, when I went out of my way to get to the location of Craigh na Dunh (in the Outlander TV series).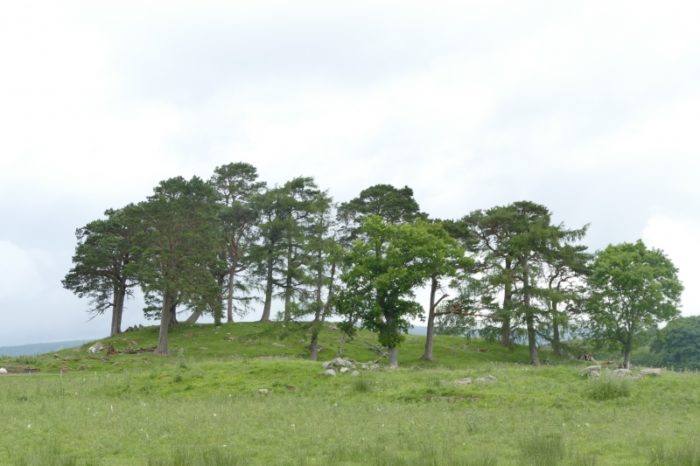 I can't believe I went to all that trouble back then, because this spot really was in the middle of nowhere. I still like the books and the TV show; the books more than the show to be honest, but I don't know if I will ever get to that kind of fangirl level again.
But back to the sleeper train. I brought my own food, because I hadn't found too many options for me on the menu and as a classic cabin passenger I knew I might have to wait to get a seat in the club car to get served at a table. And why order room service to the cabin, if I can just bring some food?
Once we left Euston station the train slowly made its way out of the city. When we entered a tunnel I wanted to switch on the lights at the window, but accidently pushed the call button next to the lights button. Ooops. When someone knocked on my door, I opened and immediately apologized. In the broadest (to my ears) Scottish the young conductor told me to not worry about it, "that happens all the time" and that he wasn't even there about it, but just wanted to check my ticket and that I'm in the right cabin, get my breakfast drink order and such. Phew. 
The train kept moving slowly. Very slowly. I followed it on Google maps, because I wanted to be aware of the moment we came up to Watford to send a message to a friend who lives there. The thing is, the train never made it to Watford. It slowly inched up to Wembley. Then stopped. Then reversed back into the city. What the fuck? What was happening? Had something broken down? Did we need to go back for different locomotive? I watched the progress (regress?) on Google maps and it looked like we'd be heading for Kings Cross. I saw the signs for Finchley Park station outside my window. And then the train moved forward again with speed. Up north. I later found this on Twitter.
I knew I might not get much sleep after 5 AM, as from that time on the train would stop at various stations every 30 minutes or so. So around 22:00 I lay down and tried to get comfortable for the first time. Only to then have the fire alarm going off just minutes later! No kidding! When I opened the door the conductor was already hurrying down the aisle and told all us passengers standing in our opened doors "Don't worry, there is no fire" while he rolled his eyes about this stupid stuff he had to deal with. The rest of the trip was uneventful until we stopped for a long while about 20 km outside of Inverness. At some point the announcement came that "The train has decided to stop working" (I admit I liked that phrase), but that they were able to fix it and we moved on towards Inverness with about 20 minutes delay.
I walked out the station, got into a taxi and around 9:30 – about 24 hours after I got on a train in Germany – I was able to enter the flat I had rented for the week in Inverness. I'm so glad I was able to check in early, because I was quite tired by then. The rest of the day was rather dull compared to the previous. And as mentioned at the start of this post I haven't "done" anything yet: except to shop for food (including a walk to the city for the M&S Food Hall and the Tesco), take a nap. Read my latest historical romance novel. Listened to songs from Operation Mincemeat way more than a sane person. Still.
It was raining lightly yesterday and it's also a quite gloomy day today. I see people with umbrellas outside and also hikers with rain covers over their rucksacks. So I'm not really tempted to head out into the city before it's time to hop on the bus to the airport to pick up my car and then head over to a beach for a bit. Hopefully not in too much rain. At least the fog has lifted and I can see the hills south of the city. And something that might look like slivers of blue sky behind all the clouds. Fingers crossed…