Intro | While I was starting to type this the Coronation was on in the background. Why? I don't really know. Part might be tradition, because my mum and I (or rather I with her, she also would have done without me) have watched all royal events for as long as I can remember. My mum's not around anymore, so I was picking up the torch? I don't know. In my own defence I wasn't really focused on it. The whole ceremony dragged a bit (from the entertainment point of view). But the parade was kind of cool too watch. All in all it was a kind of entertaining spectacle. It didn't feel real to me to though be honest. I don't live there and it does not really affect me in any way.

Anyway I want to use this time and space to also finally write about other stuff on my mind. I tried doing the daily recap post yesterday – as others in Germany do on the 5th of the month – but I was so tired once I got home and just couldn't be bothered. My regular days are rather boring as well, so what's the point, I thought.
Work | Th work week was okay this week. When I hear from friends who are legitimately stressed over work, because of stressful work environments and such, I count my blessings. I do stress over work, but to be honest 80-90% of that is self-inflicted and stems from my self-doubt and such. I'm still getting used to being one of the senior people – not just in age, but also experience – and thus be asked for advice / help / sort of mentoring. My imposter syndrome flairs up every once in a while as in "Why are you asking ME? I don't know anything", which is not true. Like I said, I've done this job for a while now.
COVID | Life feels pretty normal again, doesn't it? I still haven't made up my mind what to think of that. I often still carry a mask in my bag pack / purse when I'm out to be prepared for the moment I might feel safer with one. But it's been a while, when I was actually wearing one. I think I'm well informed about herd immunity and that most cases are mild by now and so on. And I don't worry about myself all that much, because my anti-bodies have been through the roof in March 2023. But being worried about the ramifications of this disease and also the pandemic as such have been such a huge part of my psyche for so long, that it now feels a bit weird to have let go of that. I don't know if that makes any sense.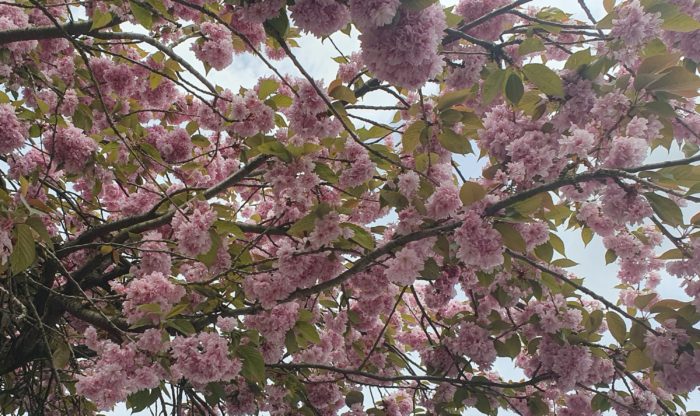 Doing Alright | Earlier this week I took a different route through our small town to the motorway than I usually do. One of the streets had quite a few cherry trees in full bloom. I hadn't know about that before, or it had slipped my mind? I vowed to tell Bro3 about it in a humorous way, because he made fun of me taking photos in a Japanese Garden a 45 min drive away. Next time I met him I had forgotten about it though, but funilly enough he brought it up, because he as used this street unplanned this week as well. Today I decided to walk to the DHL lockers at my regular supermarket to pick up a book and buy a few items instead of driving there. It's a 20 minutes walk one way, uphill, so the lazy person that I've become tends to avoid walking it and takes the car. Or at least combines the stop there with other driving.
Today I grabbed my camera and walked along the cherry blossom street. Only to realize once I've got there that the battery in the camera was not charged. Ugh! These past three years and maybe even before that, this would have put my mind in a downward spiral of negative thinking. About how stupid I was and how useless all my plans and ideas were and that it was typical for me to mess up even the tiniest things. Not today though. Of course I was a bit annoyed by myself, but that only lasted a few seconds. I then just shrugged it off, pulled out my phone and snapped a few photos with it instead. Probably a pretty normal reaction for normal people. Still, it felt so good to not having to fret over those things.
Aspects of my life I'm not doing quite so alright? Focus! Seriously, I got distracted so much today while writing this by planning the details of my trip to Scotland or other random things popping up in my mind or on my screens. It's not so bad, as it's a weekend and I hadn't really planned anything special, neither to do (chores) or to experience. These days I need my weekend to recharge body and mind and that's fine too.
Scotland Vacation | At least I'm getting somewhere with my planning. I've picked various walks / hikes I might want to do and have already downloaded the GPX to my phone. Keeping my options open and there is – as always – so much more to do than I spend days there to do it all. Which also means, that I will have a good reason to return there, right? Right!