Lyrics: "Riot Song" ~ Frank Turner, 2014
One of these days I might actually use my free time during the weekend to write a post and not push it to the Sunday evening, when I'm also watching a quiz show on TV. I thought I could easily do it while the show is on in the background, but for some reason I'm more hooked on the show than last week. Anyway…
Earthquake Relief Gig | Friday I was at at punk rock show which aimed to collect donations for the Earthquake victims in Syria and Turkey. I was lucky to get a ticket at all and it was good night. In my eyes you can't go wrong with attending a gig of the most successful German punkrock band, die Toten Hosen.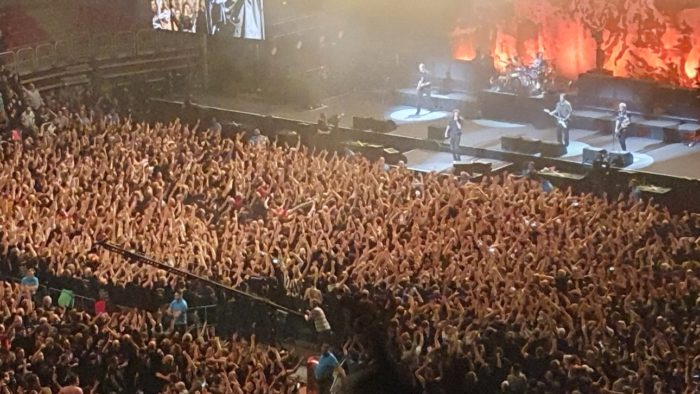 I know some people don't consider them punk anymore but mainstream and sell-outs. I don't know and I don't care about labels anyway. Some of their songs have become super popular in the last decade or so, but I don't think they wrote songs specifically to that aim. They started out basically as a school band 40 years ago totally DIY. What I like about them is that they've always been vocal supporters of a variety of social issues. And they and their crew pulled off a big gig like this within less than two weeks.
I admit that I'm still pushing away most news about this horrible disaster. Same thing with the war in Ukraine. I know I'm privileged to be able to do that. But I feel like I'm in a good and stable place, mental health wise and I'm afraid that details of the horrible stuff going on will drag me down too much. Again, aware of my privilege. Campino, the lead singer of the Toten Hosen found the right words all through the night though and I'm grateful for that. And grateful to actually be doing something by just being there and having donated by being a ticket, parking fee and I also donated some more afterwards. There is something to say for processing these events in a communal way. And live music is one of my communities.
Keep House (While Drowning) | I must have been going on and on and moaning about my inertia regarding some household chores. Or not even chores like cleaning as such, though I'm not the most diligent with that either. But with tidying up the mess of stuff on my tables and shelves and various corners of my rooms. I've read KC Davis' book "How To Keep House While Drowning" months ago and still haven't really started to incorporate her advice on a regular basis. Though at least I've managed to let go of the shame and guilt about my sort of messy apartment. Rooms don't have to be pretty or tidy, they have to be functional. That's the basic shift in my mind set, that I've been getting around to. And that has been difficult enough. But I did clear out most of my kitchen and living room table this weekend with a system adjusted from her's. I don't let laundry or dished lying around really, so it's basically the steps: Trash. Things that have a space. Things that don't have a space. And to maybe just start with a corner of the room. In this case I picked the tables. And what can I say, the system works fine. Go figure! I ended up with a box full of magazines and books to still have to sort through, but that's something I can on one of the evenings next week.
The End | I had edited a few photos from a 45 minutes walk I went on this afternoon, but I'm not happy with either pick / edit yet, so I won't share either. This might have been one of the most boring blog posts ever., I blame the quiz show on TV 🙂 Off to bed now…