Lyrics: "Polaroid Picture" ~ Frank Turner, 2013
Sharing the latest photo / photo edit might be a good way to create some content here to change it up from the "I Work. I Worry" litany. I don't worry that much right now either, but my life is rather boring. Every once in a while I think I should write about climate change and climate action, because it is an issue close to my heart and these days there is SO MUCH to say. About policies and strategies and protests and public opinion and science. All the science. But… I do work in the climate action field and I like that very much. But after 7-8 hours of it I can't always be bothered to also blog about it. One day…
After a work day at home – following an online conference for most of the time – I was on the way out the door for an impromptu trip to IKEA and a photo idea on the way back, when I checked my phone. I had forgotten to turn off forwarding my office phone to the work phone app, and thus saw missed calls from the speech writer of Big Big Boss office. That's a call you better return even when you're officially not on the clock anymore. I could answer some of their question and will need to follow up tomorrow morning but that's fine.
I then drove to IKEA, up the stairs, down the stairs, around the corner – shortcuts if you know what to get – and was in the self-service storage area. Just to get to the right shelf and find out that – contrary to what the website said – the item I wanted to pick up wasn't available at the moment. Bummer. I almost consoled myself with retail therapy, because right in front of that shelf and close to the cash registers they had lovely plates and bowls – factory second, so rather cheap. I hadn't taken a cart though and couldn't be bothered to go back and fetch one and had no intention to carry crockery in my arms out to the parking lot. I guess, it will still be available in a few days when I go back after I made sure they will have one of the items I drove there for in the first place.
So off to the 2nd item on the agenda for this trip: Giving light trail photos a try. I shot quite a few with a variety of setting on my camera to compare later on and to see which setting works in which way. I will need to look into this further later this week. Anyway, I tweaked this one a bit and it turned out all right, I think.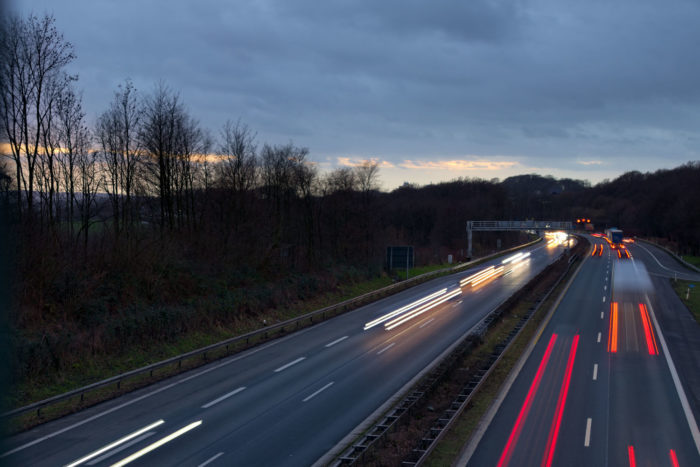 And now… finish the daily dose of my 1000+ pages non-fiction, jot down the small wins for today and go to bed early-ish. Because I didn't get enough restful sleep last night. I must have typed that here a thousands time as well, like a broken record. Sorry 😉