Lyrics: "Wanderlust" ~ Frank Turner, 2011
When I was hanging out with my brothers yesterday evening in our family home, I moaned a bit about today's weather forecast (rain in the afternoon) and how that prevented me from going to a illuminated park event in the evening. I moaned a bit about not know where to go for a (photo) walk . It's a wonder they didn't kick me out for all my moaning. I'm kidding. I'm sure or at least hope I wasn't too bad. Back at home later last night I came up with an idea and executed this idea this morning: Walking the rail trail in the nearby town and finally snap photos of the two "LEGO bridges" I only ever pass under while driving in my car.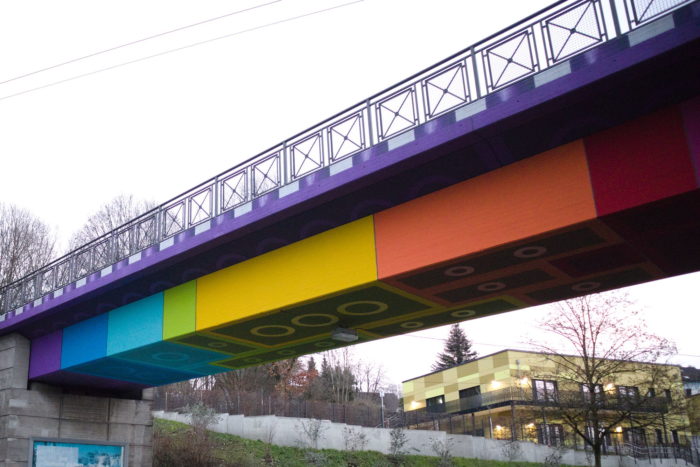 The rain set in earlier than I had hoped and I had to use the umbrella for the last 20 minutes or so, which is a bit annoying when you want to snap photos. I had planned to walk past the 2nd bridge, but cut the walk short in the end, hopped on the bus, back to the station, on a train, back to my car. Walked for about 7.5 km, which was fine. I'm not in a good shape, but not that out of shape. My legs felt slightly exhausted afterwards, but in a good way.
[click to enlarge, as usual]
[ngg src="galleries" ids="15″ display="basic_thumbnail" thumbnail_width="200″ thumbnail_height="120″ thumbnail_crop="0″]
My brothers have cycled the trail many times before – in full and further on – but I've never really been up there. Which is a shame, because it's interesting enough – even on a cloudy / rainy winter day with lots of local history explanation and all that.
The trail passed nearby one of the hospitals my mum had been admitted to last year and I was surprised how emotional that made me. Thinking back to these days. Once again raging – a bit, internally – how unfair life had been to her in the end. Being robbed of a lot of agency about her life, her body. Being moved from home to hospital to care home and hospital and back and forth and that she only had such a small window of being actually back in her home, before the final decline began. Her life had been hard enough, so this seemed unfair. And still does. I might need a few more years to come to terms with that. And my mum and I didn't even have the best / closest of relationship. But that's more of a topic for my therapy sessions.
Another downer post. Sorry!
Let's focus on the positive stuff for today:
I went out and was active.
I spent my afternoon with something I consider worthwhile and not wasting my time: editing these photos.
I also prepared some food in bulk for today and tomorrow, so I won't binge on too much junk tomorrow. I hope.
I solved the Operation Mincemeat Christmas riddle.
I really enjoy reading "Under the Whispering Door" (by TJ Klune) so far. I bought it ages ago, before my mum got sick, I think. For the longest time I hadn't been in the mood so far to read about death and crossing over to what comes after, even in the probably heart warming, inspirational way I remember from "The House in the Cerulean Sea". But I now dared it and like I said, I'm fine with it so far…