Merry Christmas everyone. I hope you're all having a relaxing, lovely time this weekend, wherever, however and with whomever you're spending it. Christmas has never been a big thing in my family, at least not since we were little as far as I remember. But we always came together at my Mum's for dinner and spending time together. My brothers and I will do that as well this time, which is nice.
Some random thoughts and observations from these past few days:
Sleeping (& Shopping): I still need a lot of sleep. I still am not sensible enough to go to bed early-ish to get all the sleep I can get. Instead I get distracted (aka worried) about stuff, e.g. my summer vacation planning. And then I go online again on my phone to look into it and watch reviews on Youtube and get out the tape measure to see if my large body actually will fit (comfortably?) into a sleeper train bunk. All that jazz. Glad to report that I've decided to go for it. More on that below. Anyway, that was the night before last. Last night I stayed awake for whatever reason and still had planned to get up early to beat the crowds to the the last trip to the supermarket / bakery to stock up on some goods, before they all close down till Tuesday. The alarm was set for 7:40, I woke up a bit before and was soooooooo tired. Still dragged myself out of bed and the house and was glad that I did, because the crowds had indeed begun to fill up the parking lot and the stores. Woah! I know how empty the parking lot usually is at that time of day. Today? Not so much! Anyway, I got in and out quickly, was back home a bit after 8 and decided to go back to bed for a bit and slept soundly for another 1.5 hours. Go me!
Shopping & Scotland | A segue from hell? Anyway… I spent about 30 minutes just now browsing online shops for a new hip / shoulder / sling bag to use in the future, especially on vacation. Besides my suitcase I will, of course, take a proper bag pack, which I use for day tours and such. For just a quick outing like a getting some dinner or just getting out of the rented car for a one hour walk to some place, I would usually also bring a small shoulder bag. But combined with the camera, which I also usually carry on a shoulder sling, that's sometimes a bit cumbersome. So let's see how this new setup will work out.
But: Scotland. Finally I'm travelling back to my favourite European country. Yes, I know Scotland isn't an independent country (yet?) it's part of the UK. But I like the UK as such just fine as well. Not the current government and politics and such, but that goes without saying, I hope. I digress. I spent a lot of time these past few day finetuning this trip and actually booking most of it. To the point of clearly using vacation planning as distraction from… something. I don't know. Or I think I might know, but can't quite put it into words. And at least vacation planning is sort of a productive distraction. On previous trips I often drove around a lot and stayed in a new B&B / AirBnB every few days. I feel I'm too old for that kind of vacation by now. I can't be bothered to unpack and pack every few days. So I'll be in one place – an apartment – in Inverness for about a week and then spend another week "glamping" by the sea in Assynt, which is in the North Western Highlands. About an hour south of Ardvreck Castle, which for some reason has stolen my heart – as far as castle ruins can do that – on my first visit in 2009. There will be beaches and hillwalking and more beaches and just bliss. I hope.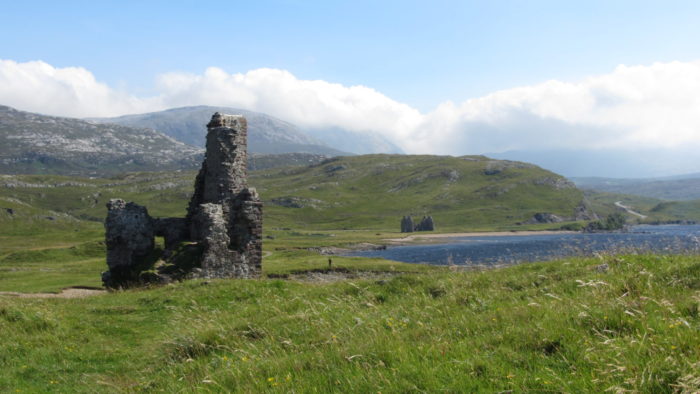 To make the most of the time and not spend two whole days (up and back) on trains, I decided to use a mode of travel, which I had always wanted to do, but always considered too extravagant or too expensive. But in 2023 I'll go for it: The Caledonian Sleeper, leaving London at 9 at night and arriving in Inverness 12 hours later. I've booked a single room (or rather a double with bunk beds for single occupancy) and I'm excited about this adventure. I've read quite a few bad reviews about the experience, which made me worry at first. But when I looked into a bit more, I could assess the validity of some of the critic better. Like mentioned above I was worried about the space, because the cabin will be a bit of a tight fit space wise. But after watching a few Youtube videos I'm feeling more confident about it. I know what to expect and am now really looking forward to it.
Privilege & Guilt | The whole 2.5 weeks trip will cost a lot. Possibly more than any other vacation I've taken in recent years. Taking the train (for environmental reasons mostly) is so much more expensive than just flying up there. I also plan to catch "Operation Mincemeat" one more time – after the two times I'll watch it at Easter – on the way home, so I had to stop in London for a night as well. London hotel prices are up so much from a few years back. Car rental in Scotland and anywhere in the UK is also so much more expensive than it had been 5 years ago. Brexit? Inflation? A bit of both? I have no idea, but I gasped a bit when I first saw the sum it will come to. And I still decide to go ahead with it. I can afford it and that makes me feel a bit guilty for some reason. I'm well aware of how many other people and families can't take any kind of vacation and indeed struggle with cost of living these days. This guilt – unfounded or not – also just now made me donate all of my "energy cost bonus payment" I got from the government to local foodbanks, homeless shelters and such. In the spirit of Christmas, maybe?
Sorry | This post somehow ended much more bleak than intended. But these are bleak times, right? Let's all just try our best to make 2023 a brighter year. And now… go celebrate (or not) and enjoy the weekend.