Lyrics: "Tracey Emin's Bed" ~ Pet Needs, 2021
Originally, I had planned to be in Hamburg this weekend to see a 2nd gig of Pet Needs first German headline tour. I had booked it at the end of September. I was down with COVID for the last three weeks of October. I cancelled the plans in early November, when I realized how much rest I still needed on the weekend and might need for longer. Today I'm so grateful I was acting like the sensible adult back then, because I am very glad about the extra time and rest this weekend. I've dawdled most of the time away with things like considering if I should switch my blog theme and getting overwhelmed, when I couldn't find a new one I liked. So I just changed the font and some of the design. I then felt a bit guilty for wasting my time with this, but what else is new? I'm a mess. At some times more than at others. Today my mind feels rather messy…
Pet Needs | I did see them play at least once this week, on Thursday in a small club in front of 80 or so people in Cologne. With crappy lighting for my small camera, which is why there are no people in the photo.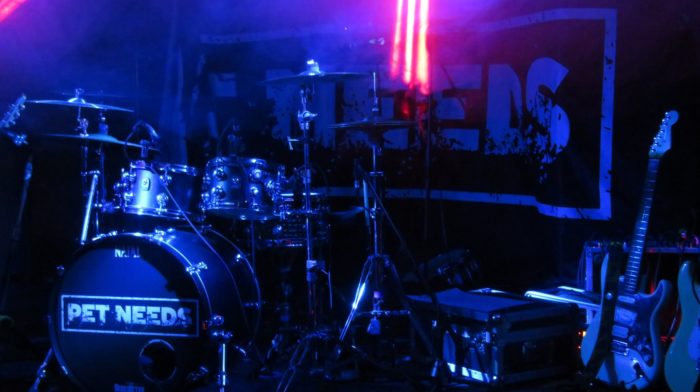 It's always nice to meet up with gig buddies and/or see familiar faces. I've met all those people through my love for Frank Turner over the years. Same goes for Pet Needs, obviously, because they've supported Frank for most of his shows this year. It's still a very, very small fan community. Still eerily similar to my experiences in the Frank Turner community. The good and the 'bad' and everything in between. I know I'm cryptic, but I can't help it.
I've been at the front row for a few Frank Turner / Pet Needs gigs in the spring and I'm someone who enjoyed chatting with the band when they're selling their merch. So I shouldn't be surprised if some of the band remember my face. But it's still always a lovely experience. I hope they'll make it back to the continent next year. I don't think I love them enough to travel a long way (like to the UK) to see them, but anywhere else around here… we'll see.
Work | I had a rather relaxed week at work, which is always nice. No deadlines, not many meetings. I wrote about the good day this week already. The one work-related emotion I had to get a handle on this week was guilt. Absolutely misplaced, unnecessary guilt for making use of the overtime hours I've accumulated so far. By contract I work 39 hours a week. The core time, during which I have to be at work, is 30 hours a week (8.30 – 15.30 / 12.30 on Fridays). We're employed with a flexible hour scheme. We can accumulate up to 70 hours overtime, but also miss up to 10 hours for an undefined time. Though I think the missed hours will be addressed by the supervisor quicker than the overtime :-).
Many of my co-workers use their overtime to take whole days off; basically, what is known in UK as TOIL (Time Off In Lieu). I have enough vacation days, so I usually don't use my accumulated hours for that. Instead, I sometimes work less hours a week, if I think my workload allows it. Still always more than the core time, something about 36 – 37 instead of the 39. I've earned the right to do that. I've worked the hours before. And still… I always feel a bit guilty for not working the full 39 hours. Ugh! Why?!? I wouldn't feel guilty if I used 8 of my hours to take a whole day off. But to work a few hours less a week makes me feel like a slacker. I'm worrying way too much about this. It's pathetic. Welcome to my messed-up mind. I've still got about 12 hours or more overtime left by the way….
Christmas Market / Funfair | The areal of the biggest summer funfair in our region has started hosting a Winter Funfair / Christmas Market combo for a few years now. I sometimes pass it when I drive home from work and always think, that I'd like to explore it with my camera some day. Friday afternoon was that day. I'm still only dabbling and learning but it has been fun.
[ngg src="galleries" ids="12″ display="basic_thumbnail" thumbnail_width="200″ thumbnail_height="120″ thumbnail_crop="0″]
Books | I 've started writing longer reviews for my Goodreads page and thought I could just as well share them as part of a post as well. (Why use the work I put into it for just one place, right?) . My thoughts on "After I Do" by Taylor Jenkins Reid:
This is the story of a couple who have fallen out of love, they think, after over 10 years in a relationship. They literally can't stand each other anymore. Instead of getting a divorce they go for a yearlong trial separation. I enjoyed this much more than I expected to be honest. I can't and couldn't relate to that specific relationship problem, but Lauren, the female lead and her family and friends were interesting enough to keep me hooked. I love that this story explored the variety of life and relationship plans. Without saying one is better than the other. Being married, being separated, being single, everything was equally valid, and I liked that.

Two things that bugged me a bit / a lot in this story though: The fact that Ryan – the husband – didn't play a big role. I would have liked to get more of his point of view. But much bigger issues I had with the way Lauren and Ryan "communicated" with each other in their year apart. Trying to keep this spoiler free, but that was such a NO GO for me. Ethically, but also practically. Let's just say I would write drafts of anything in a digital notebook. Word processor. Anything else, but what was featured here. But maybe that's just me.
I'll start with "Paris Daillencourt Is About To Crumble" next. I enjoyed the first one in the "Bake Off" series last year. I've read mixed reviews of this one, mainly to not mistake it for a simple, easy, feel-good romance. I'm warned 🙂