Lyrics: "Reasons Not To Be An Idiot" – Frank Turner, 2008
Two posts in a day? Don't get used to it. I was jotting down notes for a regular post of random thoughts / recap of my day for the last two days. Friday I was super busy with work and Saturday I needed to recharge from the week.
Work | Has been going ok so far. I still need to catch up with stuff from my time off. And I have to get used to our new supervisor, who started the day before I had to take the 2.5 weeks off with COVID. We get along well enough so far, but it's still a bit weird, because it's all so new. But it is also a good opportunity to set new rules for myself and how I deal with things and supervisors. Let's see how it goes. I have to remind myself to not feel to criticised or 'threatened' for what I'm sure is just regular enquiries / suggestion from someone new in the supervising position.
Friday afternoon my colleague and I gave a talk about our work for the council to a group of citiziens. It went fine, all in all, but as usual, people inquired or complained about other council issues, which are not ours to deal with or to solve. But council is council for a lot of people and I understand that. So we smiled, apologized that we can't say anything about that, but we'll pass on the concern.
Work / Mental Health | Can I just say how glad I am that I've got (some) colleagues I can talk to openly about my mental health issues and therapy, because they've had their own struggles with it. Or still do. Panic attacks, burn-out and the like. Previous and currently and I'm so glad I'm not the only one with 'issues'.
Waypoints | That's the title of Sam Heughan's memoir about his life / career so far and his walk on the West Highland Way last year. I enjoy reading it so far, because it's an interesting insight in his life before the Outlander fame. A life so many, many actors all over the world lead. Hardly getting by with a variety of non-acting jobs to pay the bills. Unsuccessful audition after audition and still not giving up on the dream. The West Highland Way part is super interesting to me, because a) it passes through areas in Scotland I have been before. And b) because there had been a time when I considered doing it myself one day. Back when I was in much better physical condition. Maybe some day.
Here is a photo of the West Highland Way path and the path up Conic Hill near Loch Lomond. I only did the 4 k Conic Hill walk, but I saw the signage for the long walk of course and had to smile, when I read how Sam decided to do the detour above the hill.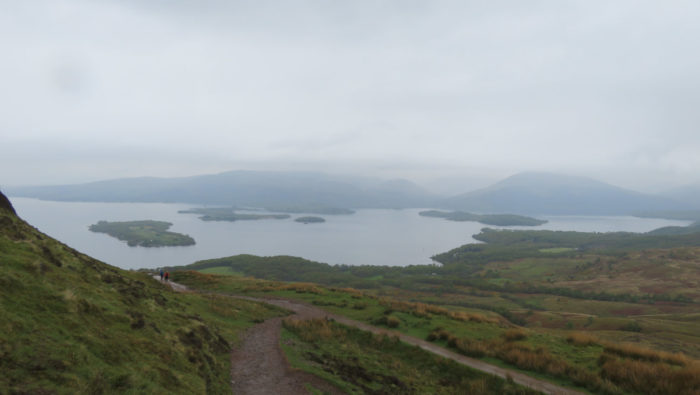 Outdoors | I'm glad that I've got a friend who's inviting me to do stuff outdoors every once in a while. I get out of the house more and see new spots and it's always lovely. Today we used the sunshine around noon to explore a part of the woods around here, which has in part turned into a memorial forest and resting place for ashes, instead of keeping them in a urn in a wall or bury the urn in the ground. Which are the only two options available in Germany. Besides being buried at sea, I guess. Anyway, it's a lovely idea and we had a nice time walking around that area and the memorial forest for a while.