Lyrics: "Dan's Song " – Frank Turner, 2009
Work | The 2nd day after COVID. Talked (on the phone) to a few more people, some who were off on Monday. Spent some time "swapping war stories" with a co-worker who was out with COVID shortly before me. I'm slowly getting a bit more on track with all my projects. Being annoyed (again) by the work ethics of some external contractors. Check your mails, will you? "Oh, I now see, sub-contractor X sent us something last week. Maybe we should have reacted to that!" Yes, you should have! Without my prompt! *sigh*
Healthy Routines | Not so much of it yet, but getting there. Maybe. Bit by bit. I listened to a new episode of my favourite "Achtsamkeit" (German for Mindfulness) podcast today and that always helps and inspires me.
Books & Geography| I did mention, that I ordered a book for pick-up within 2 hours on Monday and never got a notification about it for 2 days? I also couldn't cancel the online order anymore so I called costumer service. They couldn't really help me more than tell me that the order got in and asked me to wait another day. The notification came today, so I drove to the bookstore in the neighbouring town. Took me a while to find a parking spot, which was my own fault, because I wanted to be particular about it today. Don't even know why anymore.
Anyway, I will spend the rest of the evening skimming through the rather disappointing "Castle in Scotland" romance novel on my ebook reader to just get it over with. I could just abandon it, but I feel like I've invested too much time so far to do that. I enjoyed other in this "Romantic Escape" series, but this is just a bit boring. I see the plot "twists" from miles away and one particular pet peeve of mine, is when I think a writer hasn't done the necessary geographical research. At first there was no reason to be bothered. The Castle is set on the shores of Loch Leven. Here's a photo of that one from 2012…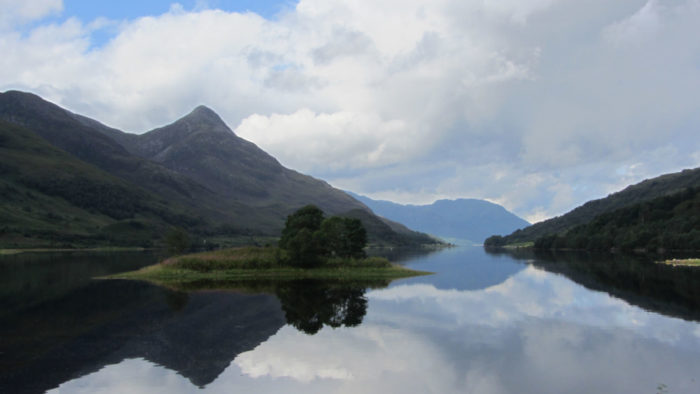 It all went downhill, when the main character traipsed around Edinburgh in the most haphazardly way, but at least the route gave the writer the chance to mention ALL the sights in Edinburgh. I just groaned and rolled my eyes. But she lost my goodwill when she used "a small town" or "left the lights of the town behind" when she wrote about Glencoe. Glencoe! It's a village, with less than 400 inhabitants according to Wikipedia. I've driven past it myself multiple times. It's not a town in any sense!
Phew, glad to have gotten that off my chest. But wrong or incomprehensible geography in novels really, really bugs me. Because I'm one of those nerds who pulls up Google maps to check on locations I don't know or can only vaguely place, whenever those are mentioned in a story. I hope it will all make more sense in "One True Loves" the Taylor Jenkins Reid novel I picked up this afternoon and will hopefully be able to start with tomorrow.