Covid Day 15 | I wanted to start this post with "I'm feeling better and on the mend". Again. And I did and still do feel better today than yesterday. But a few moments ago I've started getting really tired all of a sudden. Maybe just a lack of oxygen? Though I did spend some time reading in the sun at the open window this afternoon. Still housebound, because the test this morning was still positive. Just a bit, but it's positive nonethless and I might be still contagious, so I'm staying in. Anyway, I think I'm on the way to recovery, but I thought that about a week ago as well, so… fingers crossed.
While I was reading this afternoon I realized that I did have a bit of a hard time to focus on more complicated stuff, like "The Boundless Sea". It might take me another two years or so to get through this one. But it's still interesting enough. I really hope it's just the exhaustion, that's making it harder to focus at the moment.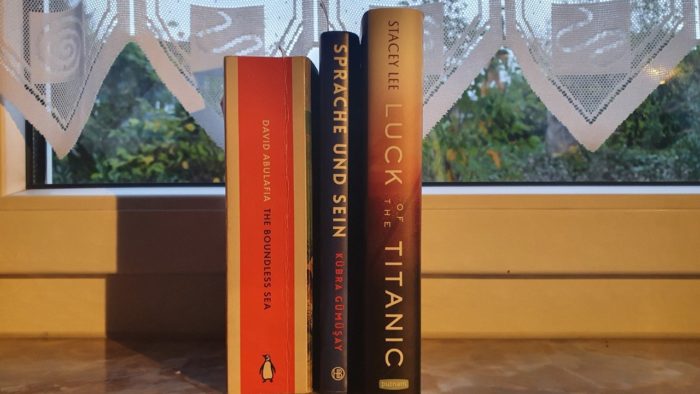 Social Media | I've (re)-joined Mastodon. I really, really don't like the idea of Elon Musk being in charge of Twitter; from as early as tomorrow probably. I most probably will still hang around there for a while longer. Less active and mostly cross-posting from Mastodon to there. But checking the Twitter lists I've curated and make up my mind if I really "need" to read those tweets in the future. I'm definitely determined to delete my old tweets as soon as possible and maybe at some point leave Twitter altogether? What can I say? I really, really dislike Musk and consider him an extremely dangerous person in regards to social discourse and democracy and so much more. And I don't want him to have access to all my tweets for eternity. I know, I might be exaggerating, because he doesn't care about me. But I do. Does that make sense?
TV vs reality | My casual Madam Secretary rewatch has reached the part in season 2 where the territorial / power struggle conflict between Russia and Ukraine gets worse and worse and it feels so weird to watch a fictional / alternative version of what's been happening there in the past few years. I will keep watching because the McCords and the staffers in the state department are my most helpful distraction at the moment. Distraction from real global problems. Distraction from how annoyed this ongoing bout of COVID is making me feel. It also distracts me from worrying too much about long term effects of this infection, so I won't apologize.
Therapy | I'm glad I went back to it today. I can't yet really put into words why, but it was a good session and that's all that matters. Hopefully I'll be in the mood – and have the brain capacity – to think about it a bit more in the next few days.
My life is boring AF at the moment I know. But it is, what it is.