COVID Day 10 | More symptoms are better, but they are not all gone yet. Far from it. I guess I'll have to live with the stuffed sinuses and the light cough for a while longer. I just hope my body will adjust to a more regular sleep schedule by the weekend, as I plan to go back to work next week. Fingers crossed that works out. I still saw a very thin line on my test this morning, so I didn't drive to the test centre to get another official test. My isolation period ends tomorrow anyway. I spent quite some time this morning trying to figure out if I need to upload a positive test to the German Track & Trace App to let it know that I'm over it. Can / Must I just delete the positive tests from it after the 10 days period? To be honest, I didn't really find conclusive answers to this question. 2.5 years in, it's still a bit of a mess. But nobody seems to care anymore anyway. I know more people than ever before with COVID or just recovered at the moment. I know it's a limited data sample, but it's not over and I'm a bit pissed that so many people say "Post-COVID" when they talk about where we are right now and not just "Post-Lockdown" or whatever. COVID is here to stay and by time it will hopefully be less prevalent and less to worry about, but not yet.
Break Up With Your Phone | This time home alone made me once again realize that I spend way too much time mindlessly on my phone. It's a bit pathetic, so I decided to pull the plug.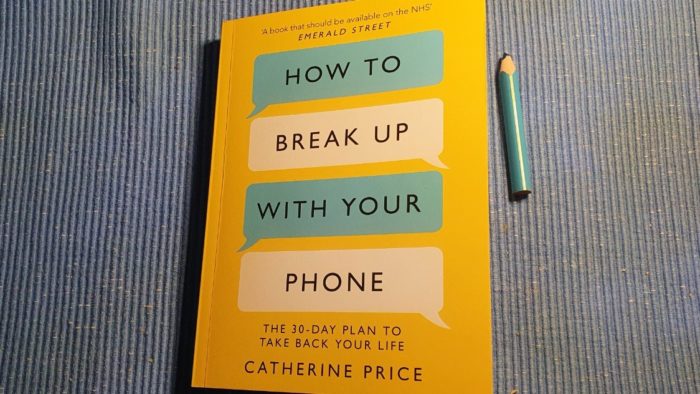 I'm not sure I'll do all the 30 steps or do it in 30 days. I haven't read the whole book yet either, but I logged out of Instagram on my phone, which makes it harder to check in. Deleted Twitter (which is my most time-consuming app, I guess) as well and am determined to log out every time I check it on a browser as well. There are a lot of other steps / tips in this as well, but I'll get there in time, I hope.
Books | I have a hard time getting interested in any story at the moment. I've started various fiction books; some I bought, some I just tried via the free extract and none can really hold my interest. Neither can't I quite focus on some of the non-fictions I have still on my shelf / list or started reading. I hope that will be better in a few days; I'd hate it, if it would be a COVID symptom that stayed with me longer. Not to mention that a lack of concentration / focus would make work more difficult as well. I guess I'll see how that goes next week.
TV | It's a similar thing with TV shows. I've decided to rewatch old Madame Secretary episodes, because I hadn't watched them ever since they first aired. Nothing too exciting, nothing too complicated. I probably will make myself watch some German political comedy shows later as well.
Vacation 2023 | I'm considering travelling back to Scotland next May or June. It's been too long! No real detailed plans yet, other than that I will take the train and stop in London and Edinburgh (duh!) and probably take the Caledonian Sleeper on the way back down. Not quite sure where to make my "home base" in Scotland for this trip as in from where to rent a car and where to go. But I'm definitely interested to get back there.
Global Issues | I follow it all (Iran, Ukraine, China…) and I have thoughts. But I admit I also often try to block it all out a bit, because it's all just sooooo much! I try to stay informed, watch and even more read the news, but it's dragging me down and my mental health isn't the best to begin with. I'm well aware of the privilege, that I don't have to worry about loved ones in either of those states and that I'm not affected directly. I try to maintain my empathy and still keep my sanity, with feeling too guilty, because that's not helping anyone either. The world sucks. Mankind sucks! Sometimes.