Lyrics: "Machines" – Biffy Clyro, 2007
I had been looking forward to this long weekend, with a bank holiday today: German Unity Day. But for some strange reason I've been weirdly indecisive and wound up and feeling just "off" for the last two days. Yesterday was particularly awful as I started and gave up on various activities, because I just couldn't make up my mind and I just couldn't get my mind to calm down. There wasn't too much negativity on my mind, thank God for that, but it was still a mess of jumbled thoughts. I went for a walk in the end, which seemed to have helped and I started building the LEGO Fender Stratocaster guitar, I had bought many months ago. That also seemed to have helped to get my mind to slow down a bit. Still need to build the amp, but I'm not sure if I'll keep doing that this week.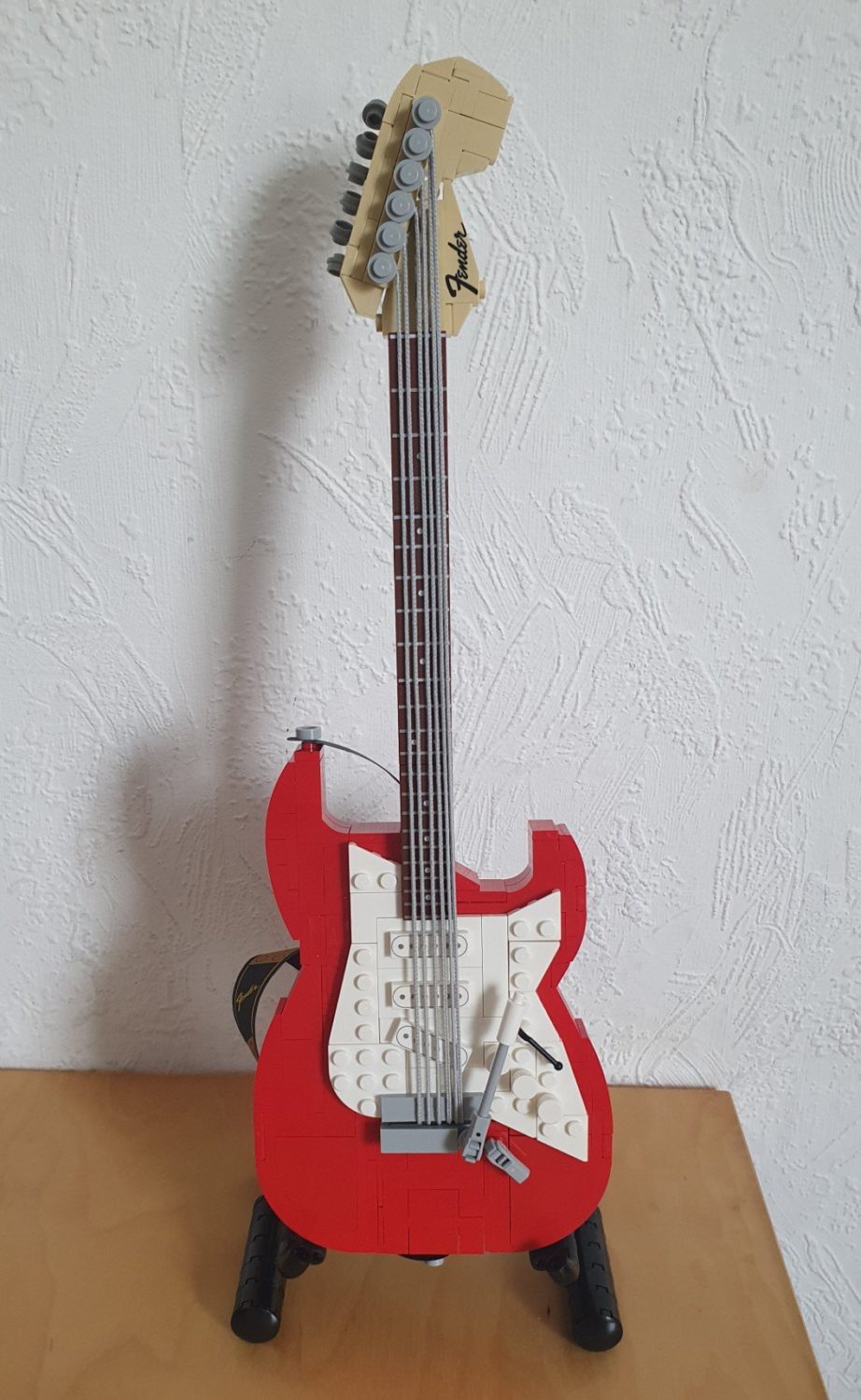 This morning I was awake around 6, got up before 7 and was worried it might turn into yet another weirdly restless day. But it hasn't so far. I still feel like I should sit down and write a few things down by hand. Just for myself to work through them. I know it will do me good, but there is always this roadblock to get me started for some reason.
Work | Busy as usual. We were / are on a deadline with a few steps in various projects, but it seems to be going okay so far, after putting in some effort these past few days. It might feel weird this week with these big chunks of the workload out of the way for now. Our new boss (team supervisor) starts tomorrow and that will be a big change for all of us. Half of our team is out on vacation or some sort of sick leave at the moment, so we'll start small, which might be a good thing for getting to know each other. It's going to be interesting either way.
Therapy | Is going well still. We've only got six sessions left of the amount of sessions approved by my health insurance, but my therapist and I agreed that it would be beneficial to do about 10 – 15 more in addition to that. We both don't think I will fall into a well of depression without it and that I'd probably be okay short-term even if we start phasing out the remaining sessions. But in general, I would like to delve a bit more into various of my issues to get a better understanding and get more tools and strategies to handle them. And to practice handle them with an expert still by my side. My therapist is very optimistic that the insurance will agree to an extension. Once again, I wish I would have had the idea, but also the mental and emotional capacity to take that step of starting therapy years ago.
Klutz | Friday afternoon I drove to pick up some stuff I ordered to a store about 15 km away and decided to stop a a bookstore to finally pick up the latest of "The Thursday Murder Club." Unfortunately I managed to put a dent into the right backseat door of my car while I parked a the curb. Ugh! Stupid, inattentive. Klutz? I don't know. I try not to beat myself up too much about it but at the same time started to worry that I'm not mad enough about it and if that might be a bad sign of lethargy / depression….? I thought about taking it to the shop to have it looked at and get an estimate tomorrow, but as I'll be at the office Tuesday / Wednesday I might not be able to get back home in time to take it to the shop. It probably can wait another week. I'm very relaxed about it. It's a bit… unusual for me to say the least.
Envy | I started listening again to a German podcast about mindfulness, I might have mentioned that one here before: "Achtsam" (Dlf Nova). I was going through back episodes I hadn't listened to before and found one on envy and picked that one. I know I sometimes am envious of people for the wrong reasons. There are not really right reasons to be envious of someone, are there? Anyway, this came much closer to home than I had expected. Seriously, I felt caught out. Which isn't a bad thing in the long run, I learned a few things about myself. One of the many things I might need / want to journal about.
Grief | Comes in waves. Still. Again. For the rest of my life probably. My brothers and I went to the funeral of one of Bro3's old friend's mother. It's still a bit weird to be the generation who's (starting to) burying their parents now. We're not that old, are we? Don't answer that. It was a lovely ceremony; non-denominational, which always feels a bit weird for this lapsed Catholic. The religious rituals are just so ingrained in my cells, obviously. But, of course it brought back memories of my mum again. No surprise. I also miss my dad, who's passed away over 30 years ago, a bit more these days, but for different reasons. I'll be in Coventry, UK, this week for a Frank Turner gig (of course) and I've got enough time during the day to visit the Cathedral (ruins). I have a vague memory of visiting them with my dad, when I accompanied him on two-weeks teacher training course in 1986. Long story. I consciously have not pulled out the photo albums in our family home now to check. I'll go and see if anything there jogs my memory. All those tiny, shared memories partially lost when the person you share them with is no longer around.
World Events | I don't feel confident or informed enough to comment on any of those. Or am too overwhelmed to gather my thoughts into anything coherent. Ukraine. Iran. Climate Crisis. Let's support the people and amplify their voices at least.