I well remember the time when this date had such a huge significance for all of us. And I know it still should have and I know it will / does for the people in the US and everyone affected by the terror from that day. But… the world has been on fire in so many other regards in the last few years: Climate crisis, COVID pandemic, war in the Ukraine. It's a lot and if you're inclined to worry over many, many things, living through these days isn't easy.
9:30 | I had a bit of a weird night. Woke up quite often, but the audiobook trick helped to get me back to sleep quickly most of the time. Around 2 I heard some strange beeping from the living room and thought the batteries were low in the smoke alarm. Weirdly enough it came for another (alarm)clock which I had put away to throw out and the batteries had been down for a long time. I thought. But that thing was beeping anway. Took the batteries out and went back to bed.
After waking up I remembered there had been a new podcast out with Frank Turner, which were interesting 20 minutes to listen to before finally getting out of bed. Bathroom. Coffee. Meditate. Wordle, Heardle, the NY Mini crossword. Catching up on my socials media feed. Booking some extra train tickets for the long-distance train to and from Berlin next week. After I had booked it months ago, they cancelled that train or said it didn't go till Berlin central station but due to construction ended in Berlin-Spandau, so that's the trip I booked. As it turned out the train now does go to and from the central station, but my long-distance ticket is only valid till Spandau. I could probably risk going the last 10 minutes without a valid ticket, but I'm a coward, so I booked those extra. It will be easier to get to my hotel from the central station, even if it's not going to be quicker.
I'll be at my first (of five within a week!) Frank Turner shows tomorrow and weirdly enough I'm not as hyper / excited for it as I usually am. I guess worries about work and stuff are overshadowing the excitement. I hope I'll feel it when I get in my car tomorrow afternoon.
I'm excited for Lost Evenings though and all the gig buddies I will hopefully meet again and maybe even make some new friends. I used the "Clash finder" to get an idea of my schedule and sadly there are events "clashing", but that can't be helped. I'm a bit wary to be honest of the setup of the venues and the lack of more places to eat / have a coffee around that area. There will be food and drinks available at the venues, but the lovely thing about the Roundhouse in Camden, London, UK, was that there was so much available on its doorstep. I know there will be more places down the road in Berlin, but it will probably still feel very different. We'll see. And yes, that is obviously the anxious, worrying, "Oh it's going to be horrible" voice in my head talking. I'll try to shut her up a bit more till next week.
But now… breakfast. And then: booting up the computer to do some actual work. I know, I know I'm not supposed to work on the weekend, but it's so busy at the moment and as I'm away half the week next week I'd feel bad for not getting a few more things done.
14:30 | Worked from 10 – 11.30 and got quite a chunk of stuff done. Nice. Spent some time on the Goodreads website (not the app) to get some order in my book lists. Get rid of duplicates. Nothing that really had to be done, but it still feels good to have gotten around to it. I've had a bit of a hard time finding the right fiction book for me recently. I started several and never really got hooked and put them away again. My shelf and eBook readers are full of unread stuff. I thought the only thing I could stomach these days is easy going fluffy harmless romance. Last night I spent about 30 minutes browsing the shop on me eBook reader and gave up because nothing appealed to me. The same with my Goodreads lists this afternoon. Then I saw someone I know posting about having started a novel, which seemed interesting enough to me as well, so that's what I've started and a few chapters in I'm still interested enough. Which is an accomplishment these days.
I thought I'd turn on the TV as some background noise and follow the Queen's final journey to Edinburgh. I saw the cars moving and choked up, not because of the Queen, but because it reminded me too much of my mum's funeral last year. Which didn't involve a coffin draped in flags and transported in a car. Just a regular hearse and coffin bearers next to it and us walking behind it. But, yeah, I think I'll pass on that one yet. Maybe I'll tune in later, I don't know. I was surprised myself to be honest how emotional this all (still) makes me.
On a happier note: I'm in the process of choosing my shirts for next week and that's not as easy as it sounds, if you have several shirts for some of the support acts and then of course the main act. But it's fun…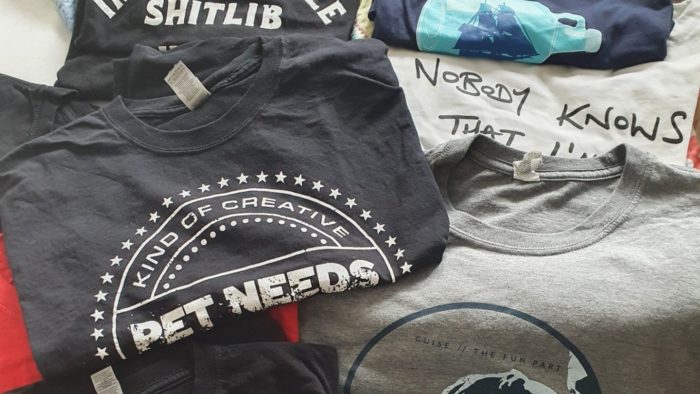 19:00 | I did turn on the TV after all, but mostly as a background noise while I was finishing "Invisible Women" and chatting with my friends in the UK about… stuff.
I've been feeling a bit weird all day. Slightly restless, slightly worried, slightly lethargic. I really have to make sure I'm not sliding down a spiral of negativity tonight or tomorrow. But it's so freaking weird. It might stem from the "not being overly hyped about the Frank gig tomorrow" and "work being overwhelming". There might be a coincidence? I don't know. But I feel myself starting to berate myself for not being excited. It's Frank and the Sleeping Souls again. And Jess (for the first time). Get excited, FFS! And I am, I think. Just not as much as usual. I hate this. I re-tweeted this a few hours ago and I think I need to bring it up again to remind myself: Progress does look different every day.
I've started packing my suitcase for Berlin already, at least with some essentials. FFP2 masks and rapid tests and all that kind of stuff. Hoodies, gig-trusted cargo pants. Raingear? Possibly, the forecast is a bit dreadful for Friday. I've also did some of the basic chores around my flat (overdue) and in a few minutes will get into my car and a) fill it up with gas for the trip to Cologne tomorrow and b) pick up my pizza which I was finally able to order after the website had been glitchy for 30 or so minutes.
Tomorrow will be a better – definitely more exciting – day. I'm sure of that. And I need to be well rested, so I won't add anything to this post after the pizza.