Lyrics: "Lost Again" – Pet Needs, 2022
Not sure the title fits all the context of this post, but it fits my state of mind at the moment. So there you go.
Music | Check out Pet Needs new album "Primetime Entertainment", it's awesome. Some of their previous releases (EP, debut album) had crossed the edge of too loud/hard for me. Not on this one though. I've either gotten used to their style by now or they've toned it down a bit? I'm kidding, they clearly haven't. But with some songs in this one they've also ventured into slower and much rawer territory, which came as a pleasant surprise. For instance, I did not expect the title track to be this kind of song. All in all, some wonderful ideas for stories worth telling, sensitive and important topics to touch on and some great lyrics. "Dear Abi" especially caught me by surprise, because it's so raw and personal and I'm glad Johnny decided to share it with the world.
Just have a listen at your favourite streaming service or buy the album right away where you buy your music. [The links above lead to the band's bandcamp, where you can listen AND buy] Here's also a video for "Fear for the Whole Wide World", which gives you an idea of their shows and the band in general. Great guys. I'm looking forward to seeing them a few more times this year.
Let's switch from music promotion to more regular stuff. Although I don't know what constitutes regular here at the moment. When I set up this new blog about two years ago, I had hoped it would get me motivated into writing more posts; shorter ones, more regularly, whatever. That didn't really work out as I had planned. I'm still searching for the right content, I guess. How much to share or not to share? How to keep it interesting. If anyone is still following this after all. Until I find the big super perfect solution, I'll drudge on with my occasional ramblings, I guess.
God Save The King | Yes, it does feel weird to write / say / think or sing that. Like probably many people around the world these past few days I have pondered on what my views of the British Royal Family are. To sum it up: it's complicated for this white middleclass German. Part of the interest right now is probably the (social) media hype about the whole death of Queen Elizabeth II, the new king Charles III, the whole shebang of protocol and procedure and formalities. All the question: Should "The Crown" as institution even have any relevance today? In my social media feeds also were quite a few critical voices from the BIPOC community about all the terrible things that were done to their ancestors over centuries and even during Elizabeth II's reign. I'm not well versed enough in British colonial history or the British governmental system, to say for sure how much of it all had been her or her family's responsibility. But she was head of state and thus symbol for this nation and its politics, whether she liked it or not. I mean they still use the term "At Her/His Majesty's pleasure…" on so many occasions and it's not all just meant ceremonial, is it? So, I think those critical voices ought to be heard and I hate to see them been shut down with "But now is not the time" replies.
I miss my late mum quite a lot during these days and not because the Queen's passing reminds me of my mum's death last year. But following the British royal family (and other Europeans Royals as well) via yellow press or TV coverage of weddings, anniversaries, funerals was a thing we did together. My mum had a bit of gossipy but good natured interested in the Royals. I guess, because back in the late 1940s / early 1950s, the Royals were some of the few glamours celebrities available to a German audience; some of the few celebrities a young woman could have an interest in, if she was so inclined. I don't know, we never talked about why she was interested. She just was, and I joined her in it from small age. It was a thing we did. One of the few things we actually did together, come to think of it and THAT now opens a whole other can of worms. I should make note of that and mention it to my therapist. Anyway, it feels so very weird to not talk through all that's happening in the UK right now with her and to not watch all the TV coverage with her. It's just not the same to do it alone in my living room.
To lighten things up… here's a sort of random photo from Scotland. I've never been to Balmoral, but I think it lays somewhere in the distance of this view from Schiehallion.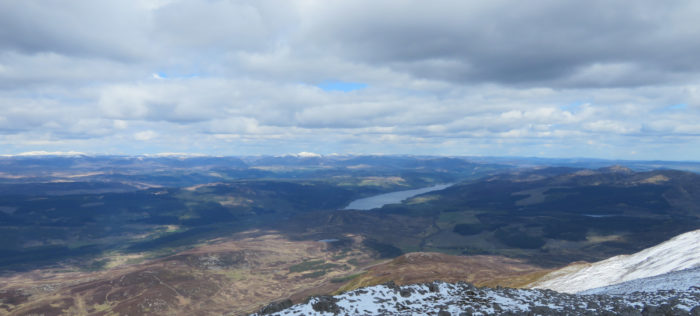 Therapy | Is still going well. I still haven't established better routines to the extent that I had hoped, but I'm getting there, I think. We're over half-way in and I need to make up my mind if I want to apply for more hours at my health insurance. It's still a fascinating process to me. On the one hand I think "You should have gotten into that much earlier; it would have saved you so much emotional pain". But I also know that I probably just hadn't been ready at any earlier point in my life to articulate and openly talk about some of the things I'm struggling with. So, it's all good, I guess.
Work | Is keeping me super busy and a bit stressed and all that at the moment. Because of unforeseen technical issues which take up so much time to solve. And because I think my counterparts in other departments could put more effort into our common projects and then I'm getting a bit pissed and ugh…! But I have lovely co-workers I can vent to over both issues, so that's good. I still brough home some work to do on the weekend, because otherwise it's going to be too nuts next week, where I'm taking off three days (Thursday – Monday) before a big work-event the Wednesday (after the Monday). I had planned that time off and booked things many months ago and I wouldn't have scheduled that work event on that date, because of my other plans. But scheduling wasn't up to me. I'll have to deal with it, and I'll probably check in with work for a short time each of the days even if I'm officially out of office, because I care about my work and this project and this event. Not as much as to cancel my personal plans – Ehm Lost Evenings in Germany, Hello? – but still. Sometimes I wish I could be more like those people at work who just don't care as much. Though I really don't want to be like them, because in that regard they suck. But still… the volume of the critical voice in my head was turned up a notch these past few days because the situation seems so overwhelming, and I don't like it. I want that voice to be quiet! Hence the therapy. Among other things…
Let's see how long it will take me to write another post. You can find me on Twitter for more regular updates and on Instagram (even though not as much).