Lyrics: "Punches" ~ Frank Turner, 2022
FTHC | As mentioned in the two previous posts: My absolute favourite artist Frank Turner released his new album on Friday and it's great. Not all of the songs, but most of them. And some are so brilliant, they make up for the few songs I don't enjoy as much. I mean proper bloody brilliant. I'm a fan. Obviously. But my personal curated playlist of the album has been on almost nonstop these past few days. It will be hard to get back to normal music-less office hours tomorrow. Yes, I know I could listen to it at while working from home, but I won't. Because jamming along will be too distracting! I won't be able to focus on work. And I really need to. I had to stop the playlist now as well, because listening made it impossible to gather my thoughts in a comprehensive manner for this post.
"Punches" | I was once again surprised how much Frank found words for situations or emotions I can relate to so very much these days. The song "Punches" for instance, about feeling like a complete failure at life in general. And trying to get through it all by at least remembering the good days some time ago, where everything went well and we succeeded with the things we set out to do. We all have those victorious days. I know I did, but to be honest I have a hard time recalling them right now. I'm more or less deep in the trenches of "stressing all the little stuff" or "walking into glass doors since 7 am". I picked these lyrics above as a title for a reason. They feel so spot on these days. I often start each new morning / new week with the best of intentions to follow through with this or that kind of habit / behaviour. To take care of this or that on my to-do-list. And more often than not I get side-tracked or bored or loose my drive and end up feeling miserable and demotivated and wondering why I tried at all. Beating myself up for living up to my own (minimal or too high?) expectations. And bit by bit all the good intentions get chipped away over time.
Unfortunately I think work might have quite a lot to do with dragging me down at the moment, because it's busy and overwhelming and doesn't go as smoothly as we had hoped. I'm dreading the next week a bit to be honest.
Not much point to this paragraph, I guess.
Doing Stuff | I'm quite glad and grateful for having a best friend who manages to drag me out to do things every once in a while and thus gets me out of my head as well. Yesterday was one of the first lovely days around here. Still freezing cold, but with blue sky and the sun was shining, so we met up at a reservoir for a leisurely walk around. It was lovely. Today I got out on my own – after a lot of internal hemming and hawing – for a short walk around a local lake and a stop by the graveyard. It only took 30 minutes but it was 30 minutes being active outside. It's better than nothing, right? Small steps.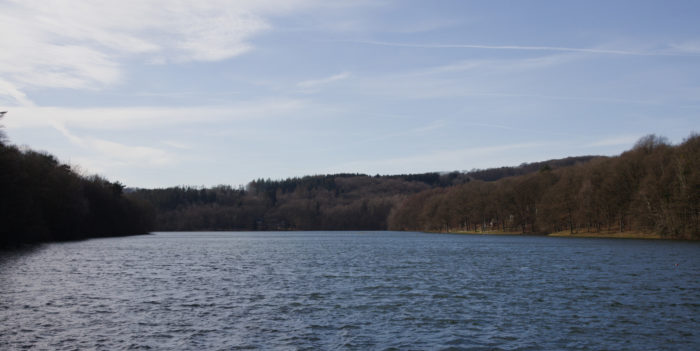 I also finally picked up my guitar again. I tried that a few weeks ago and than managed to cut two different fingers shortly after another, which both needed band-aids for a while, which made playing guitar rather hard to do. And then it sort of slipped my mind a bit again, which is a weird thing to say, because the guitar is very much visible in my living room. I guess more true would be to say that I lost the will to try again. I did today though and even though I'm once again back at the start of the online lessons, it felt easier to do than weeks ago. Now let's just hope I'll keep that up.
Friends | A couple I'm friends with dropped by unexpectedly yesterday afternoon. Which was a lovely surprise. We share a love of all things LEGO and she wanted to have a proper look at the world map to make up her mind if she might buy it as well. We don't see each other often – they are actually more friends of Bro3 – so it was nice to catch up a bit. They left their masks on all the time, which I thought was very considerate and lovely. I don't think I would have asked them to mask up to be honest. But so it felt quite safe to have them around for 20 minutes or so.
Memories | I think I'm moving from "grief" into "wistful memories" with this category here. Aren't you relieved? While walking around the reservoir I recalled a family anecdote about me as toddler, who refused to be put into the shoulder carrier my dad had carried all my brothers in when the family was out hiking. My mum ended up having to carry me around the whole reservoir. I don't know if it was the same one we went to yesterday or another one in our area. And I can't ask her anymore to clear that up, which made me a sad for moment. Still does to be honest….
I put my FTHC playlist back on, because I only had to edit an image from the walk yesterday. "Fatherless" comes on and I'm reminded of how I need to write about this song – in context of my relationship to my mum. I mentioned it in the album review, but there are a few lines in that song, which I just feel with every fibre of my being. I will delve into this with an extra post though, I think.