Lyrics: "Sail On, Boys" ~ Operation Mincemeat, 2019
Sleep | It turned out to be a good thing that I went to bed relatively early so I could get a decent amount of sleep in before I woke up in the middle of the night. Went to the bathroom and hoped to be back at sleep in no time. My mind had other ideas obviously, to the point where I thought I might need to just get up and do something 'useful'. Sleep came at some point, not the most restful and still with the odd awake moment, but I took it.
Pets | These past few weeks I found out that if I ever might get a pet I need it to be vegetarian, like myself. There is a story behind all that of course. My neighbour who lived in the flat next door for a few years had cats of her own but also fed the stray cats of the neighbourhood and possibly sheltered them at times and maybe even raised the feral kittens and sold them… It's all a bit hazy. A local cat welfare group had always tried to get her to let them catch the feral cats, spay and chip them, maybe rehome them. At least make sure they won't have dozens of kittens each year. And then my neighbour moved out rather quickly and didn't even talk to the cat welfare people anymore. Our landlord allowed the cat welfare group to put up a "live trap" behind the house to catch the feral cats. In order for that to work, they need most of the week, so they will return to the feeding place. One day before they are supposed to be caught, they should go hungry, so they will come more quickly when they smell the extra delicious food in the trap. It sounds cruel, but spaying cats and actually giving them a checkup is actually a good thing to do. I came home one day and ran into the ladies from the cat welfare group and they asked if I could take over putting out the cat food a few times a day. I said yes, because I'm a softie and I'm home all the time anyway.
They can only can take 3-4 cats with them each week. We've been doing this for 3 weeks now and they've got 11-12 cats so far. The former neighbour really must have been a 'crazy cat lady'. They will – probably one last time – come back tomorrow to catch the remaining two cats. At least we think there must be one or two cats still around. Back to the vegetarian pets issue: Handling even dry cat food (which is a mix of dried meat and grain, I think) makes me gag a tiny bit every time I do. I don't mind really, because I'm home all the time and it's no big deal and I like animals and I think I'm doing those cats a favour. But… I won't miss handling cat food for a while.
Work | Busy, but focused. At least I felt focused for most of the time, which is not always the case.
Dale Detectives | About 2/3 through the audio version of book 4. Compared to the first three it's getting a bit dark, plot wise. Still great storytelling which keeps me on the edge of the seat quite a few times.
Scotland | A tweet from my favourite – and also "multi award winning" – musical "Operation Mincemeat" made me wistful for Scotland. Once again.
A submarine in Scotland in 1943 plays a huge part of the plot and even back in 2019 when I saw the musical for the first time, I was reminded of a memorial for a special Scottish submarine flotilla stationed way up in the Highlands, which I passed by on my North Coast 500 Tour in 2016. The writing on it made me well up a little, when I read it. In case it's too ineligible:
The security of these top-secret operations was guarded by the local people of the district, who knew so much, but talked so little.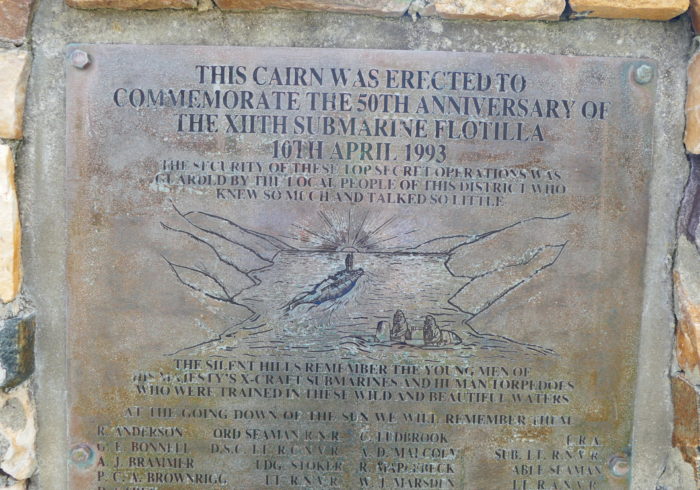 Here is the loch in all it's beauty… I miss Scotland.