Lyrics: "Little Changes" ~ Frank Turner, 2018
Be More Kind… (to myself) | I reminded myself of that intention this morning when I woke up. I might need to remind myself quite a few times this year, I'm afraid. I spent a lazy morning, had coffee and breakfast, watched a bit of the Q&A from the Buddhist retreat, but than decided to go out for a walk. I didn't include "Be More Active" in my intentions for 2022, because I feel it's included in the "Be More Kind". I took my camera, because I know that I spent less time in head thoughts (thinking unproductive / often negative / spiralling thoughts) when I go out with the intention to take some photos. Because my mind is then more focused on my surroundings. I also tried to be more kind to myself, when I realized I was a bit out of breath on the last part to home and the bad gremlin in my mind was putting me down for being so out of shape. Well yeah, dude, but here I am, out and walking. A first step to get back into shape. Hopefully…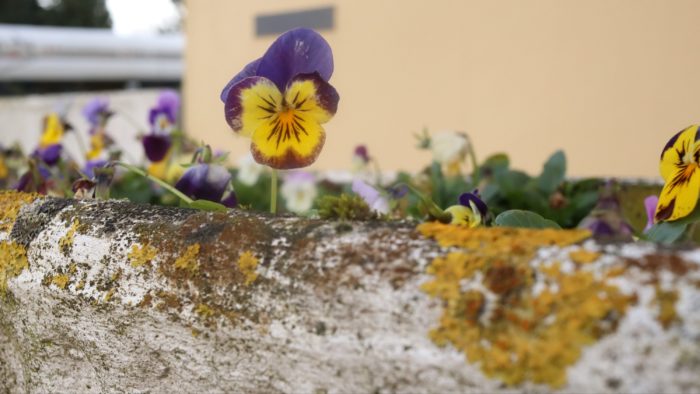 Community | For the Buddhist retreat I also signed up for the "sharing" part, which means for three afternoons the same group of people get together and share their experience with the (mediation) practice or anything from their lives which they might seek guidance for. I wasn't really sure what to expect, but the first two sessions have been quite lovely so far. It's surprising – but in a good way – to see about 20 people from all over the world, male / female, all ages and from very different stages in life come together and share and more important just listen and offer compassion for each other. Humans are social animals for sure.
Anger | During the sharing this afternoon we were asked about out "inner weather" aka mood. I said "turbulent", because even though the walk was nice and relaxing and motivating, I got a bit angry at some point, when I passed the new-ish nursing / care centre on my corner. It provides sort of "day care for elderly people with nursing needs", who are usually cared for at their own home, but benefit from socializing with others. Or are cared for by relatives in the morning / evening, but need care / supervision during the day.
In the whole long saga with my mum, when it was clear that she would return to her home, there was a point where we looked into the possibility of getting her into one of those centres for a day or two of the week, so my brothers and I didn't have to be assisting at her home all day. But she was only home for three weeks before her situation got worse and she then needed much more care in a nursing home. When I was passing this care centre today I got a bit angry on my mum's behalf (and on mine and ours) because she never got the chance to get a bit better and get into a routine to go to one of those centres for a day a week and see and talk to other people for a day. But instead she ended up bed bound in another nursing home for the rest of her life and it just didn't seem fair. It still doesn't. Grief is weird and hard….
Entertainment | I've been watching a lot of "Superstore" these past few days. The right kind of (short) happy, warm, funny storylines I can deal with right now. Thanks again to my friends for recommending it. I try to not binge it as such and do other things (like continue to read a novel) at the moment, but that is not easy. I also haven't picked up my guitar today either and now I feel too tired to focus on that. I need to work out what the best moment in the day is for that. Little Changes and all… It's only day 001 of 2022.