Lyrics: "Sailors Boot" ~ Frank Turner, 2011
In new places I rarely sleep well on the first night. I hope it was only that and not the just slight, but still noticeable – when awake in bed anyway – rumbling outside on the water, when the ferries and freighters are on their way up north into the Baltic Sea. I noticed it once before I fell asleep and once more around 4 in the morning. I think I was awake then, but maybe the rumbling woke me? Anyway, I tried my best to fall back to sleep, but no such luck, so I got up shortly after 5. Another morning with lots of coffee.
It gave me a window for my first trip to the beach. About 10 minutes walk, either along the promenade or across the park and through the woods. Which was a nice start to the day, albeit quite cold. But it's December by the sea, so I can't complain.
The guy with the tow truck called early than expected and we left here around 9. It was 45 minutes drive to the garage and it was interesting. The guy was friendly and all, but used his handheld cell phone much too much for my taste. I didn't really worry about potential accidents, but I just thought: "Driving a vehicle is your job! Why risk being banned from driving for some time by using the phone this way?" I admit I don't know after how many infractions you have to hand in your license for a month or or longer. None of my business anyway.
The breakdown service seems to be in high demand these days, judging from the many calls coming in. Most callers were told they had to wait 60 – 90 minutes and I was so glad I got my request in with a fixed early time already yesterday. They had towed a guy's car to the nearest garage at 2 in the morning last night – as were the (usual) terms of his breakdown assistance coverage. This morning the guy tried to make them tow the car to Hamburg, which is about 50 miles away and would cost about 500 €. But he wanted to use a garage there. I learned all that from just listening in on this side of the phone calls. The guy expected / demanded it to be covered from the breakdown assistance. What followed were several phone calls between my mechanic, his coworkers and even the service company. Towing the car to Hamburg wouldn't be covered as we all *g* knew. So he made an executive decision and told his coworker: "If the guy calls once more, just hang up on him. Don't bother explaining or negotiating." *g*
The whole "fixing the tyre" took less than 30 minutes, I hadn't even time to finish the coffee I was offered! Absolute stellar costumer service and work. I'd highly recommend. Except for the cellphone while driving!
Afterwards I drove to the camera shop, bought the strap and some more stuff *headdesk*, went into the supermarket across the street and decided to not spend anymore time in the city, but head back to the apartment. I wasn't in the mood for people and just driving through the city centre it seemed there were quite a few out and about. It was a Saturday so it wasn't unexpected.

The afternoon was quite uneventful. I thought about lying down for a nap, but had scheduled a phone call with Bro3 for a bit later, so that wouldn't work. I assembled the hand strap to the camera, which was more difficult than expected. Especially since I long time ago had taken off the triangular metal thingies to hold the "around your neck" strap, because I don't use one of those. But now I would have needed the thingies. I made do with a circular metal ring and it's not perfect but will do for the time being. Less risk of dropping and ruining my expensive camera kit.
Around 2:30 I went back to the beach for a longer walk up and down.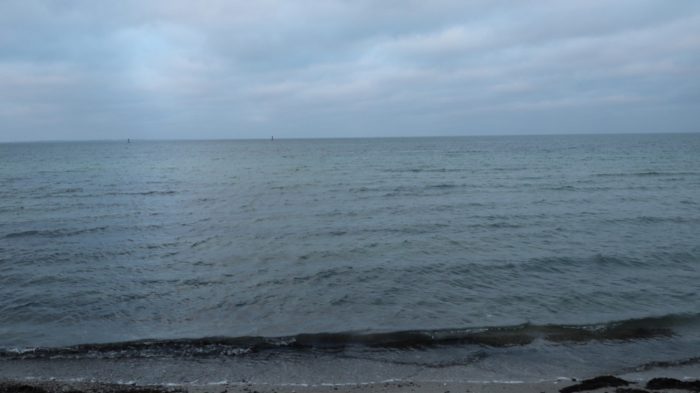 It was nice enough, but freezing and I felt my clothes werent' 100% a match to these temperatures. I definitely could have used a longer scarf to tie around the lapels of my puffer coat instead of tucking the scarf in. My scarf is too short to tie round. Luckily for me in the 2nd (and last *g*) shop which sells clothes here on the promenade I found a nice long scarf. A bit expensive but it's made from recycled merino wool, which I approve two folds. Sustainability and …. merino wool! Instead of the 80% polyester 20% wool [insert expensive clothes brand name here] available in the other shop.
Back in my apartment I did what I had wanted to do since I got up so early. I lay down for a nap. Then had some late lunch / early dinner, sorted through the few photos, read a bit of the weekly paper I brought with me. I was tempted to go back to bed early and not sit down and share these random musings from my day. But I want to establish a bit more of routine to write here so I got my ass in my chair and typed away.
I just read that the Netherlands are going into a strict lock down again. Let's see how much longer it will take the German government to follow with something similar. Too long probably. It's so frustrating. Positive news re: pandemic though. My mechanic of course put on a mask when he got behind the wheel with me next to him (I had mine on already). In the camera shop and the shop where I bought the scarf they were very diligent about checking for proof of vaccination and checked the ID. Thumbs up!