The 5th of the month is "WMDEDGT" day for some bloggers in Germany. Abbrevation translats to "What do you actually do all day?" Diary style sort of. I remembered it and even though I'm tired (as usual by the end of the week) I'll try to make sense of some of my notes from today.
I woke up before the alarm. Once again, but I felt rested enough, especially as I must have been in a deep slumber right before I woke up, so I felt ok this morning. And then I dawdled the morning away my usual style. Sipping my first coffee while scrolling through social media and news feed on my phone. Adding books, I see mentioned on Twitter to my neverending Goodreads list. Getting more and more frustrated with the way Germany handles or rather not handles the ongoing COVID pandemic. Highest number of cases ever! Do we do anything about it? Nooooo. Hibernation feels very tempting again.
Around 8 I logged into work and was rather productive. For a Friday anyway. But I started some of the tasks I postponed for a while, because they make me feel a bit bad. I needed to tell someone that we can't hire their company for some project work right away, as much as I'd like to do it. But I work in the public sector and there are certain rules about procurement. Those rules are flexible to some degree, but we need to do a proper procurement process, which will take some time and is so much work *sigh*. But… tax payers money and all. Still made me feel a bit uncomfortable.
9:30 was a phone call with a younger colleague in another department, who just started working there and is supposed to be working on climate action etc. projects for that department, which of course means they will also need to be closely working with our team. Lot of mentoring going on these day in my job. I'm not sure how to feel about that yet. I like doing it but sometimes I still feel like a fraud. Check out Grace Petrie's wonderful song about that.
11- 12 was a video call with colleagues from another department and a few external consultants about some public participation we plan to do next spring. We fairly soon agreed that planning to do it online is the safest bet, because COVID is such a unknown variable and I'm afraid still will be in March 2022. So, yes we could plan an event in real life, with real people meeting and discussing in a big room. We had planned exactly that for late March 2020 and… well, we all know what happened to those plans.
After 12 the Friday work day usually starts winding down. Another phone call to another external partner, scheduling a proper work meeting for next week and catching up on a more personal level. They used to be my boss for a few years in another job a decade ago, so we go way back and it's always nice to still be kept up-to-date what's going on. Some more work on the long procurement process mentioned above and then I logged off for the week.
I found some lovely mail in my mail box: Bracelets I ordered to replace the ones I have lost of the years (clumsy me) and a new one with a custom made inscription. As I can't get a tattoo or at least shouldn't with my compromised immune system, jewellery is the closest I'll get to wear Frank lyrics on my skin :-).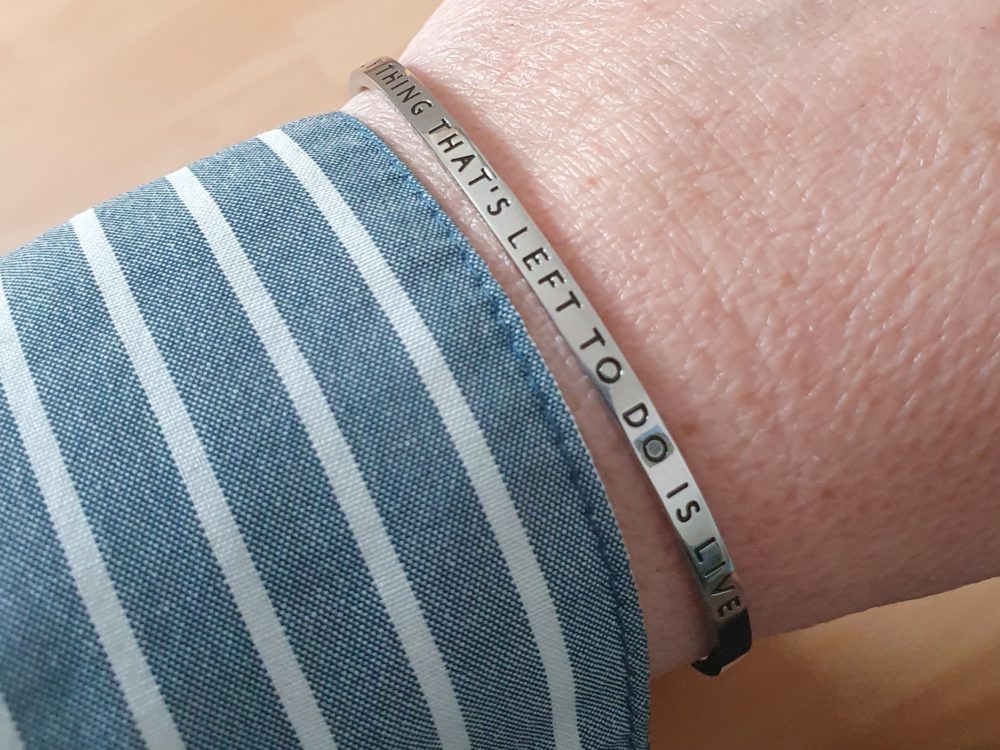 The afternoon was spent running some errands, doing a bit of shopping and also with a rather impromptu (in the morning) scheduled visit to the hairdressers. Ever since my hairdresser shut down her salon for personal reasons I've been using various salons of a chain all over the region. They are all doing decent enough jobs and right now I can't be bothered to go looking for the perfect one. It was the first time at this particular salon and I must say I was very impressed how the handled the COVID regulations. Very diligent about checking vaccination status and track & trace even though I think they aren't even obligated to do the latter. Nice anyway.
One of the errands was to pick up a package at the post office. When I read that I need to pay some fees I remembered that it must be the new Andrew Cotter or rather Olive and Mabel book I ordered from the UK, because it's not published outside the UK / USA yet. And yes it was. And yes, of course I had to pay a few more Euros for customs and "handling" fee, which is so annoying. Fuck Brexit! I was thinking about ordering some merch from smaller UK bands on Bandcamp Friday, but depending on what they put on the custom forms, it might have been the same hassle and I just couldn't be bothered today. Again… Fuck Brexit for screwing over the UK music industry.
Talking about music… nice segue, eh? A few blog posts ago I mentioned that I was feeling underwhelmed by the latest releases of bands I usually like. On the drive this afternoon I finally listened to the new Biffy Clyro album and OMG, that's soooooo good. Well, most of it at least even on the first round and I was so happy that there are obviously still bands who can make me feel that way. On the way back I started listening to the new ABBA album and I liked most of it so far as well. But it's ABBA, so what's not to like?
After yet another "Felix Friday" (with some ABBA, but also some other great tunes as well) I will now go to bed reading about Olive and Mabel.