Lyrics: "Wanderlust" ~ Frank Turner, 2011
I kind of liked the alphabetized prompts from yesterday. Let's see how long I can keep this up…
Berlin | This morning I booked a room in a medium class chain brand hotel for my stay in Berlin in September 2022 for Frank Turner's Lost Evenings V Festival. As a backup mostly. I then found out that the privately owned hotel, I had an eye on yesterday can also already be booked and has a good cancellation policy. So I right away cancelled my backup hotel and booked this one. I'm over the age, where I want / need so save money and sleep in budget ho(s)tels and such. I need a decent, at least queen size bed. My own room. With my own toilet, sink and shower. Not too much noise from other guests or the outside. A decent breakfast. At this hotel they also try to make the operation more sustainable, which is always a plus for me.
COVID #1 | One of the many many many things I miss in this whole stupid pandemic – besides the travelling and gatherings and just being relaxed around other people – is the fact, that we don't see people smile at each other anymore. Or rather that people don't see me smile at them (and for them to smile back). The easy, automatic, but still honest smile, when someone holds open the door or let's you cut the queue. The easy smile that comes with "No worries", when someone accidentally bumps into you and starts apologizing profusely. The one interaction I miss the most, is engaging with toddlers in the cart in front of me at the checkout line.
COVID #2 | A few days ago the biggest German tabloid revealed that 4-5 footballers of Bayern Munich aren't vaccinated. One of them, Joshua Kimmich (also on the national team), explained that he's neither a COVID denier nor a anti-vaxxer, but he wants to wait for studies on longterm effect of the vaccine. Quite a few people now argue, that we shouldn't judge him or diss him or be angry / mad. but rather try to convince him with better arguments etc. I'm not mad or angry, I honestly don't really care that much about him personally. But I don't get it and I do think it's stupid and I do judge him for it! I don't want to hear any explanation or try to convince him. My strict reluctance to give him the benefit of the doubt worries me a little bit. I'm afraid the way so many people reacted to the pandemic with ignorance, negligence or opposition made me more and more narrow-minded. I might need to ponder that for a while…
Eurostar | I finally made use of my vouchers from a cancelled trip (March 2019) and booked a train ride for January 2022 to see Frank Turner in Cambridge. I most probably won't go to see Frank in Cambridge in January – because COVID in the UK (!!!) – but instead cancel these tickets in January and rebook for another time later that year. Does that sound crazy? It is a bit. But I needed to use the vouchers till the end of 2021. By now Eurostar offers rather flexible booking options, so I plan to rebook and I hope that's still possible, even though I used vouchers for this first trip. I guess I will find out in January.
(A) Good Day | Being out and active mostly kept my mind from ruminating or worrying. I really should do that – be out and active – more often. I know that! Why does it often feels like such a hassle to me. But I need to stop beating myself up over that now, because if I keep doing that the good day would turn into a only ok day and I don't want that now, do I?
Outdoors | A bit on a whim I decided to "get out [….and ] breath some cleaner air". Go for a walk. Enjoy the sun. Be active. Take some more Indian summer photos. The original plan was to drive to a reservoir, where I've been many times before, but a quarter of the way there – on a coffee and waffle break 🙂 – I reconsidered, because I expected it to be rather crowded. So I looked on the map and instead drove to a park in a neighbouring city. A park I've never been to before in all my life, even though it's just a 20 minutes drive. Or maybe our parents took us when we were little? I have no memory. On the aerial view map it looked as if there would be ample parking available. But I guess the aerial photos were taken on a rainy weekday in wintertime.
Almost right after I turned into the small road to the park there was gridlock. Because of course I was not the only person who thought "It's such a lovely day, let's go to the park today". Far from it. Luckily I quickly found on-street parking on the main road. When I walked back to my car after exploring the park, there were still people arriving, still causing gridlock. 90% of the cars were registered in this city, so I would have expected the drivers to know better. But maybe they just went through the same thought process than I did… Anyway here's one photo, there is a gallery of more from yesterday and today below.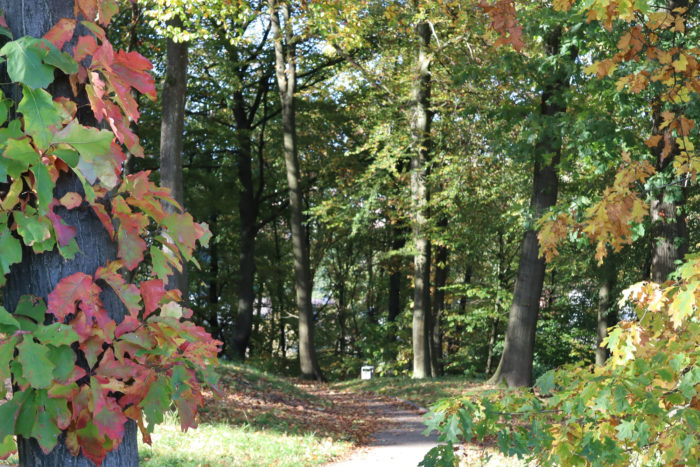 Worrier | One last thought on Berlin: I consider still booking another budget hotel as a backup just in case anything goes wrong with my preferred hotel. It's a bit nuts, I know. I will sleep on it. I don't even have tickets for the festival yet. I'm just a basketcase sometimes…
Here are more of my photos, click to enlarge, you know the deal…
[ngg src="galleries" ids="8″ display="basic_thumbnail" override_thumbnail_settings="1″ thumbnail_width="225″ thumbnail_height="150″ thumbnail_crop="0″]