Lyrics: "Start Again" ~ The Lottery Winners, 2021
It's been a week since my last post. Same old, same old, I could say… Busy with work. Feeling overwhelmed by work. Distracting myself from all of my worries with tearing through contemporary romance novels. The last two I picked from my seemingly never-ending list I really enjoyed, so that did the trick. I was tempted to just pick up another one, but I might also be a bit "romanced out" for now and might pick one of the many non-fiction books from my shelf next.
When I said goodbye to a colleague on Friday she said "You look exhausted! Sorry, if that sounds rude, but you do" in the most loving way. And I was. Still am, maybe. Our senior family member was transferred to the care home on Monday and it all worked well so far. Typical transition difficulties for all of us, I guess. And still… it's hard to see them like this. Depended on staff for so many activities they could do on their own less than six months ago. So fucking hard. I'll have to stop typing, or I'll cry again. This past half year has turned me into such a blubbering mess….
On Friday I had planned to take a similar photo like this one at a different industrial heritage site around here. And probably a bit less colourful, as I took this one at special event.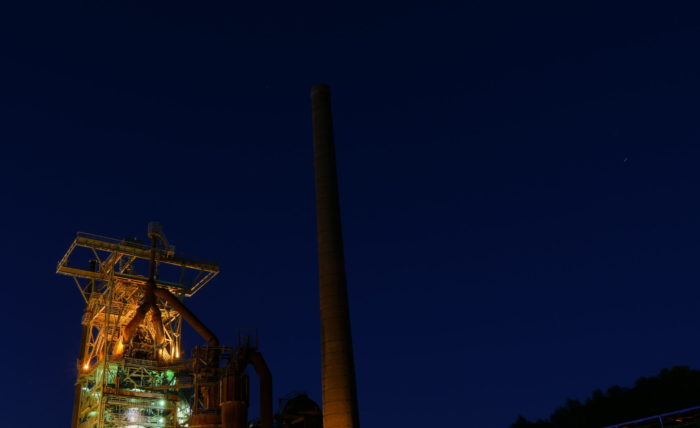 I had just planned to give the new camera a go with night photography. But once it got dark on Friday it also started to pour down, so I didn't leave my car after all and just drove home. Feeling a bit silly, but the rain wasn't my fault!
Is there anything else to talk about at the moment? A new month. New start of things. Possibly. Habits and routines and all that. I'm doing my best. Even though every once in a while I look, not around, but to some people in the public eye, like scientists, politicians, entrepreneurs… and notice that they are my age or more often by now they are even younger. And I feel so inadequate, because they seem to have achieved so much already in their lives and what have I done so far? And I know, I know that's a horribly unhealthy thing to think, but I can't help it. It makes me feel the way I feel. Not too often and not too soul-crushingly, but every once in a while. I'm also afraid that might just be a sign of me getting older. That the (over)achievers just get younger, which is just the natural course of life. But for someone with a wonky sense of self-worth it's not helpful to consider for too long.