Lyrics: "Wanderlust" ~ Frank Turner, 2011
My days blend into each other and it's sometimes difficult to remember which day of the week it is. I'm moderately busy with work, though to be honest, I could be even busier and maybe I should, but I can't put all my focus and energy into it while worrying about a loved one still needing lots of medical care and rehabilitation and all that. And not just worrying, but making phone calls and running errands and dropping things off at the hospital where they were admitted on Tuesday. The hospital is about 20 minutes drive away, so with parking and everything that's easy one hour out of my day.
On Monday I had decided to take half of Wednesday off, because they were supposed to be transferred from the nursing home then and I wanted to be available for short-notice-errands in that regard. It turned out they needed to and could be admitted on Tuesday already, which left me with a sort of free half day yesterday. I almost didn't know what to do with myself. In the end I drove to the hospital to drop some minor items off, as we're not allowed to visit yet (Covid and all), ran another errand for myself and then spent two glorious relaxing hours in the hammock in our family's garden. Listening to podcasts. Watching the clouds go by. Bliss….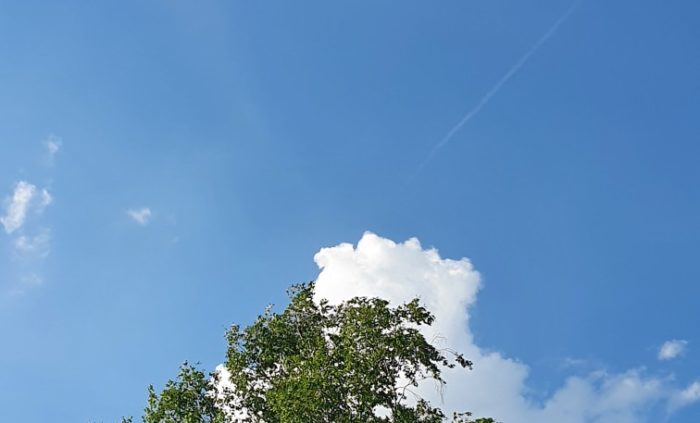 The one thing that might have changed is that despite being wary about the whole "let's open up all the shops and travel the world and ditch mask" debate over here, I'm very consciously making me venture out a bit more. Ok, I might exaggerate here, the debate isn't that simple and there are still lots of people acting reasonably. Last Saturday on a whim I drove to a mall because I wanted to buy a new – a bit less noisy – keyboard for my desktop. I almost turned around when I saw how full the parking already was, but I kept going. Went into this one electronics store and of course didn't find one I wanted to buy. Which resulted in the pick-up item yesterday by the way. I then also decided to have lunch there on the patio of a restaurant. Sitting down and taking off the mask next to other people out of my bubble. Woah! But it was ok, because it was outdoors and the table were spaced apart comfortable enough for me. It still felt a bit like a novelty.
I so need proper training to do this kind of thing on a more regular level. That's why I went ahead and booked an appointment at at hair salon in another mall for Saturday. Before 10 am, so I assume there won't be too many people around. So maybe I even venture into the bookstore there, just to browse a bit. Another novel idea for the moment and this feels so weird and strange, because I've done all that last summer and well into the fall, when the infection rate was similar or even a bit higher than it is here at the moment.