Lyrics: "Reasons Not to Be an Idiot" ~ Frank Turner, 2008
Nothing new to write about. I try to stay off the news most of the time these days, because whatever is reported there is just dragging me down. Well aware that not really having to care about the news all the time, shows my priviledge. I have a steady job, that can be done from home. I don't have to ask myself if I want or have to send my children to school or daycare. Noone of my extended family or circle of friends caught COVID yet. So I allow myself to tune out most of the times these days. In general used to be very interested in what's going on in my country and the world and in politics and all that. Right now it just frustrates me and that scares me a little bit. But I'm repeating myself I'm afraid. I'm just so tired of it all…
"Tired" is the perfect cue: I didn't suffer big side effects from my vaccination on Thursday. Yes the arm felt a bit sore for two days. But no headaches or such, just bonedeep exhaustion on Thursday evening. I slept like a log and still was a bit out of on Friday and also took it easy this weekend. Still feeling a bit sluggish, though that might be caused by my period, which set in yesterday. I don't know. It might also be the general pandemic fatigue, in mind and body.
Last night I went to bed around 8, but read for quite a long while. When I turned the lights off around 10 all of a sudden my mind started whirring with anxious thoughts about work and such. To the extend that I got out of bed, sat down at my desk and wrote a list and journalled for a bit. The more I do it the more I realize my handwriting got really really sloppy. Every once in a while I considered doing a writing meditation 'thing', where you just copy certain phrases over and over -mostly about self compassion and kindness and all. I can't find a good link for that at the moment. Anyway, I thought I could do that and also practice my hand writing a bit, because I'd write slower and more focused and such. That's the point, right? So I tried that last night and as I didn't find any good prompts to just copy down I turned to the wonderful, meaningful, soothing words of Frank Turner once again. And it did calm me down as funny as that might sound.
I did that once again this morning and decided to maybe keep it up for a bit. At least put the set of notebooks which were a merch item at the Be More Kind run in 2018 to good use. And there are more than enough meaningful (to me) lyrics I can copy down 🙂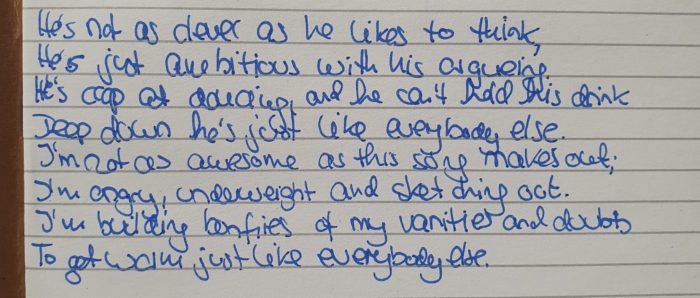 The impulse is to be negative on myself and this blog right now as in "how boring!" but… that's my life at the moment and I assume most of all of your lives. It is what it is.
I still could try to be a bit more focused and less dawdly (is that a word?) in my days. I know. I'm working on that…