Lyrics "Peggy Sang The Blues", Frank Turner 2011
So much for the plan to write more regular blog posts during the Christmas break. Oh well. After the first two days I realized there isn't really much worth telling and a recap of my lazy, dawdling days would be boring. So I didn't post anything here. I rambled on Twitter occassionally. I considered doing a regular Year 2020 recap kind of post, but I'm not sure I want to memorize the crappy crappy year here. We've all lived through it, no need to rehash it. Maybe I'll try to come up with a few good things to remember tomorrow.
Another reason why I didn't feel like posting much was Lockdown Project #01, which I titled "Be More Present and Focused" last week and which probably would have better named something like "Be More Kind To Yourself and Be More Mindful". I tried to pay more attention to my emotions and negative thoughts, which seem to be more "all over the place" this year than they used to. I guess part might be due to the overall pandemic – induced anxiousness and uncertainty. Anyway, I tried to be more aware of that and to explore why I think and feel and react the way I do. A lot of introspection not (yet) ready to share with the world. Still a lot of procrastination as well. Which is part of the problem. Or rather a sign for something else? I'm still 'investigating'.
A few days before I 'went silent', I saw an 'ad' in my Instagram feed where the FU Berlin was looking for test persons for a study on a mental health online app MindDoc. [Information in German] It seemed legit and I thought why not? It can't hurt. The answers in my questionare obviously qualified me – as in I have at least some issues which the app might help me with – to get me into the study group which gave me 6 months of free of charge use of all features. The main feature is a 3 times a day mood tracker and also to answer a few questions about my mental and emotional state that day or in that moment. Based on all that the app will then give me an automatic "evaluation" every 14 days. It's not a real psych evaluation or anything, it's done by algorithms (I assume), but the questions and prompts to think about so far have been helpful and insighful. And very spot on as well, so the evaluation will have some value. And even though I'm pretty sure what some of my issues will be (lack of self-confidence, too harsh inner critic…), I'm a bit anxious about that first evaluation tomorrow or the day after. Which is stupid, I know. It will be helpful, but I guess it's one thing to think you know about your mental health issues and another to see them spelled out in black and white on a screen. But I had a few of those moments with the "Mmmh, it seems you're feeling X or Y at the moment" prompts after the daily questions as well. So the app algorithm seems to work allright 🙂
Here is my mood for the last two weeks. My mood wasn't too bad all in all. Monday was a crappy day for unexplicable reasons.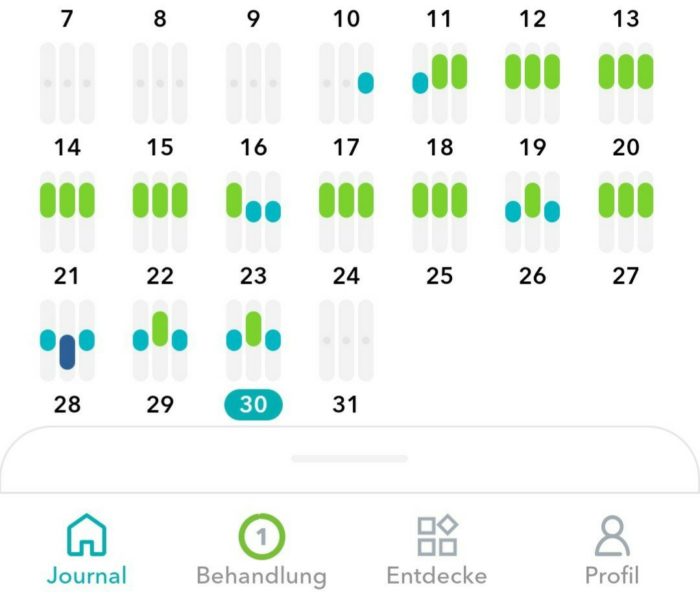 The other helpful (free of charge for study participants) feature are various lessons to dig a bit deeper into where the problems might stem from. Not too complicated or long, just a few slides with informations and recommendations and prompts to think about. I'm doing the one on the "inner critic" at the moment and it highlights once again all the stuff I've read in other selfhelp / selfcare books before. But in a more managable setting or with clearer tasks to handle it. For a start anyway. For the first time I have an idea where my harsh inner critic voice stems from. Things to ponder for a while longer…
Other things going on? I realize I need more routines in my days off. Haven't mastered that yet though. Another thing to think about 🙂 I've already started working on the LEGO Tower Bridge after all and will finish that tomorrow, I think. That was a classic procrastination maneuver. But I won't get to worked up about that now.
I went for a walk on Monday, when my mood had hit an all time low and my underlying stress level an all time high. I didn't walk as far as I had planned, because there were too many people around for my taste (not all that many to be fair, but I was in that kind of mood) and the weather seemed to get worse for a moment. It didn't in the end, but… I also realised I'm rather out of shape, so it's a good time, My Peak Challenge is open for 2021 registration. I didn't really follow any workout regime this year. I blame the pandemic lethargy plus my own. Not a good combination, so I intend to do better next year. Anyway, here's a photo from that short walk: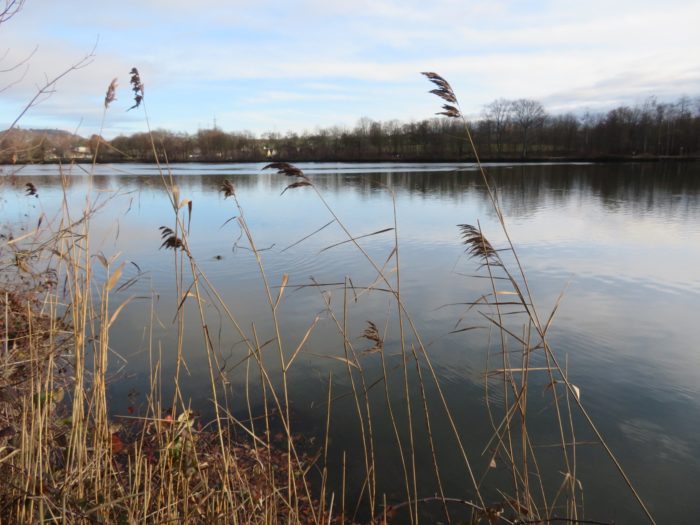 The title lyrics by the way? A helpful reminder from the Birthday live stream Frank Turner and the Sleeping Souls did on Monday. I've know that line from that song of course and always liked it in it's optimistic and uplifting spirit. But it really hit home that evening, after the crappy day I had. "Not just saving lives, but saving souls" (another song lyric) as usual.
Wow, so many words just about my mental state. I had actually considered ranting about how the various level of goverment mishandle the COVID pandemic here in Germany at the moment and rant about the thousands of stupid and irresponsible people disregarding advice, if not rules for their own leisure while numbers of cases and deaths rise and rise.
I'll rant another day. Maybe….