That's sort of a cop-out for a blog title. Frank Turner lyric, yada yada… I couldn't think of any other non- lyrical summary for this day. I was in a weird mood since I got up. I originally had planned to either work out or organize my week a bit more in the early morning. I did neither. Maybe I was still a bit gloomy from last night….
Out of the blue I was just hit full force with vivid memories of being on a nightbus back to Aldgate. I mean… WTF?! Because of course that was followed by a flood of amazing memories from that lovely weekend in January 2020. A lifetime ago ? pic.twitter.com/ibj6G9zDcd

— Susanne D (@dennasus) October 19, 2020
This afternoon Instagram Archive brought up photos from the first few Frank Turner in Europe tour I went to two years ago. Yep, that DID not help with my mood either. Especially when I remembered this online interaction….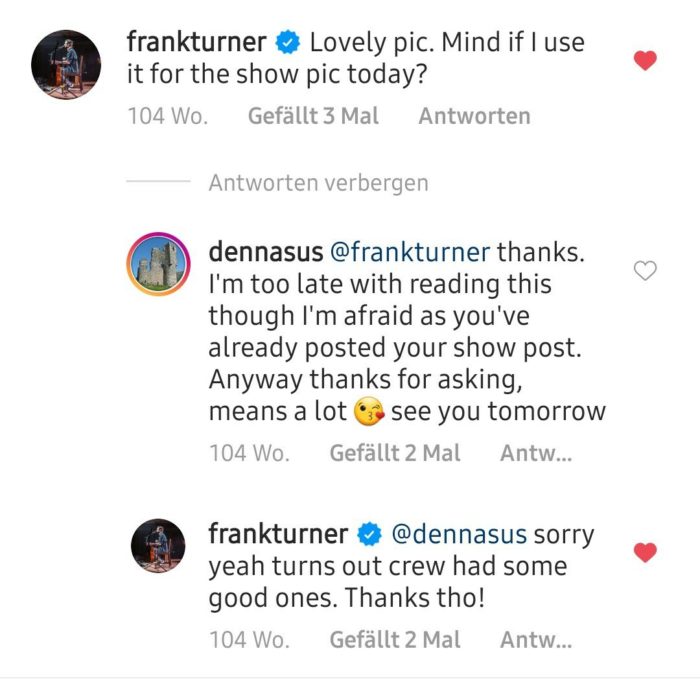 Livemusic and gigs and travelling to gigs and hanging out at the bus parked in front of the venue after the show and hugs and chats will happen again at some point, right? RIGHT?!?!?
My time at the office was semi- to low productive today. No surprise, really. I did some admin stuff, caught up on a few things. Still waiting to hear back from others so I can go on working on other more urgent things. Felt equally under- and overwhelmed. I blame that fucking pandemic.
In my spare time I called the car dealership to tell them I'd like to buy the car I tested last week. Holy shit, this is happening. Still need to make yet another list of what I have to get done / do to make that happen. I also need to sell my old car. Yikes. Adulting hard here.
In the spirit of adulting I also still need to think long and hard if I should really send a mail I might want to send. Or if I shouldn't, because it would only make me feel better, but bother or not even interest the other person. It's not all about ME, I need to learn that. I still might send it anyway. #cryptic
Pandemic Bulleting #03:
A) I checked social media before the COVID dashboard about the latest numbers. Go Me.
B) While I was looking for a scarf this morning I came across the light gloves I had bought in early March. When I was already a bit worried about touching surfaces, but still determined to travel to the UK for a gig! Absolutely crazy and irresponsible. I didn't go in the end obviously.
C) We're cancelling meetings and smaller gatherings at work due to rising numbers. Which is the right thing to do. I don't feel comfortable being in a meeting with other people for more than a few minutes at the moment either. My department head was kind of sweet this morning, when he wanted to check in if I would accompany him to a larger meeting (if that happens at all) or rather not, riskgroup and all. And he was wondering why I was at the office at all, as I am allowed to work from home. But we have an empty office at the moment and right now I still prefer to come in. Let's see how it will feel next week.
~ ~ ~ ~ ~ ~ ~ ~
Mmmmh, maybe I shouldn't keep the Positivity Stuff till the end, but start with it and end with the depressing Pandemic Bulletin? Next time, maybe….
#Positivity2020:
A beautiful sunrise this morning.
Getting an unexpected update on a … 'project' (?). I'll let you all know more, when it's time to talk about it. But I'm excited.
Another book delivery. I read the first few pages and already know I will enjoy it immensly. Cute dogs and Scottish mountains. What's not to enjoy?