Sleep | Late afternoon on Friday I lay down for a nap, because I felt so exhausted. The flu jab I got on Thursday might have contributed to that. And the lot of stuff at work. I woke up about when the my alarm went off two hours later. Luckily I had set the alarm or I would have slept through Felix Friday. But I obviously needed the rest. I got another solid 8+ hours in last night and I'm trying to not go to bed too late today either. I know I need 6-7 hours to be well rested. Why can't I just be sensible and get those on a week night? Adulting is hard, yo.
Coffee, Cake et al | I tried to cut back on my coffee intake over the weekend as well. No idea if it will help with the sleeping, because I fall asleep quickly and sleep through without any bigger interuptions. It can't hurt though. About the cake…. I was at a 50th birthday celebration today.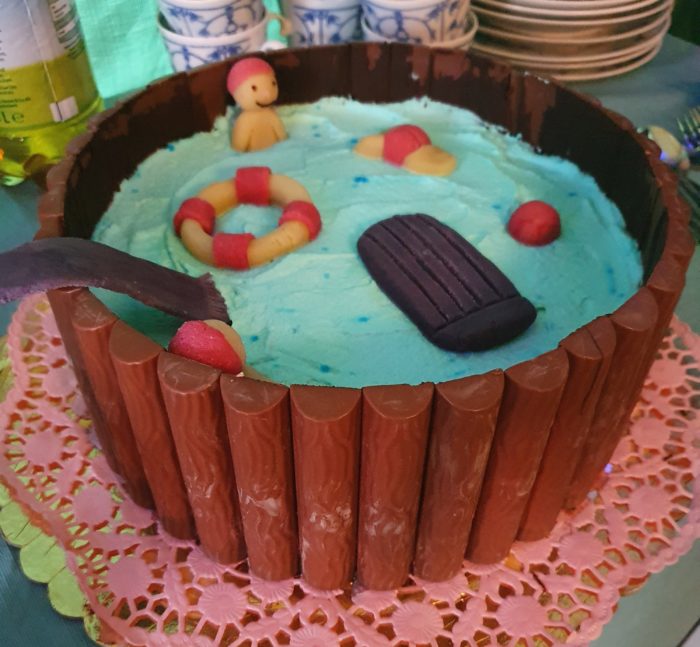 Outdoors, only close-ish family, which still came to 14 adults, two children, a baby and a dog 🙂 It was good to see parts of the extended family I haven't seen in a long time, even before COVID. A bit weird to not hug anyone or to not snuggle with any children, but it is what it is. The good thing was, that we were able to meet up in the first place, because the weather around here still permits gathering outside on the patio to have a barbecue and eat cake and all that.
Getting older | I caught myself turning into one of those people, I always rolled my eyes at when I was a child / teen. The ones who like to remind younger people, how small (and cute) they once were. Because when you've known someone since he was about 10 and in the past 20 years he's grown from a slightly chubby pre-teen into a tall, good looking almost 30 year old man, it's weird to not mention how he once was "little M". I'm 45 years old and felt like a grandma in that moment. Fitting to that was that quite a few people I hadn't seen in a while mentioned the (few) grey hairs on my head. 45 years old. Grandma. Yep! I'm kidding, I don't really mind the grey and it's really only in a few bits.
Being sentimental | Quite a few times in the past few day I was getting sentimental, bordering on heartbroken about the previously wonderful experiences we're missing out on at the moment. Most of it is Frank Turner / live music related in my case. I have a picture of my friends and me and Frank next to livingroom door and for the first time in ages yesterday it put me in a bad and sad mood to pass by it. Because I have no idea when I will see my friends in the UK or Frank again. And I miss those moments. Another wave of heartbreaking longing hit me while I was watching "Enola Holmes" on Netflix yesterday. Even though it was set in historic London and the English countryside and I don't know where it was actually filmed, I realized just how much I miss London. And the UK countryside. And again… no idea when I will be able to be back there again.
LEGO | In my desperate need of distraction from Frank Turner / London memories I decided to start with the remaining LEGO set, which I had but in the height of 'lockdown'. The White House. (Picture from earlier today, by now it was a roof and trees in the garden and all)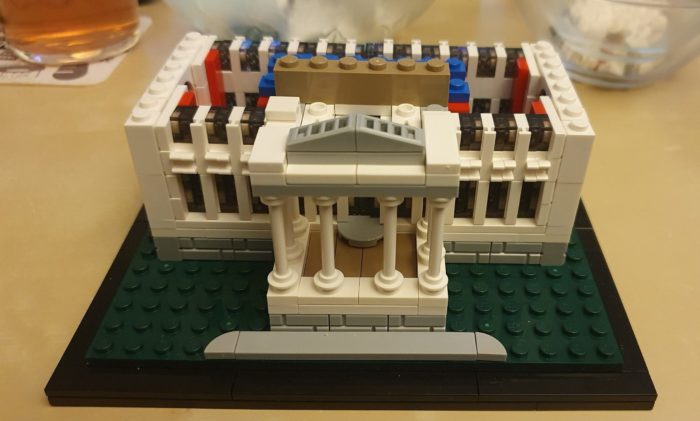 Following instructions to put tiny pieces together definitely helps to keep my mind of things. As I expect the winter to be long and solitary again with not much meeting of other people besides at work, because… global pandemic and flu season, I might need to stock up on some more LEGO to keep me busy. My go-to LEGO online store has the Tower Bridge in stock again. Expensive but probably worth it. The problem though… the coffee table in my livingroom on which I usually do my LEGO sets is too small. I might need to move into the kitchen with it all. Need to ponder that for a while.
#Positivity2020 | Getting enough sleep ♥️ Spending time with lovely people ♥️ A new interesting book series to keep me occupied ♥️