Early September 2013 in Germany was characterized by the return of a heat wave. Temperatures went up to around 30 °C or higher. At least that's how I remember it. And why do I remember it? Because on this date, Friday 6th September 2013, I got into my car after work and drove north to Bremen for over two hours to see my first ever "Frank Turner & the Sleeping Souls" gig. I had discovered and fallen in love with the music in June 2013, had already bought a ticket for the show in Cologne (mid September), but realized over the summer that I might like to do more than one show. I had only seen live footage on Youtube so far, but when the sold out show in Bremen was moved to a bigger venue and tickets were available again, I knew I had to do it. I hadn't travelled for any kind of gigs since my early 20s and even back then it was the rare occasion. Oh boy, I had no idea what that show in Bremen would do to me 😉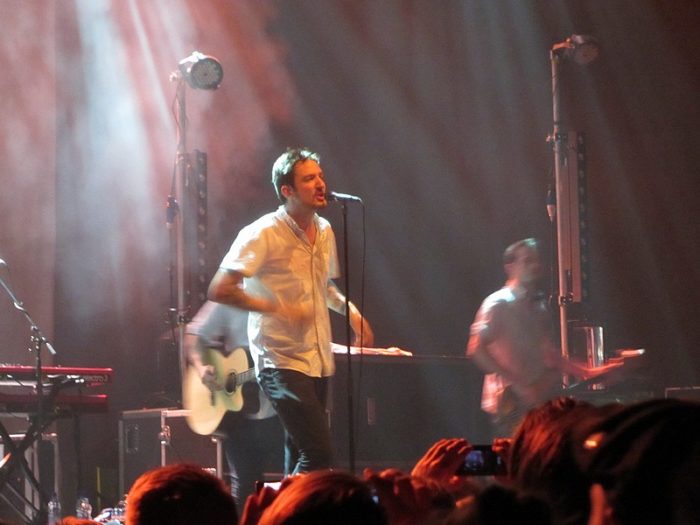 I remember the drive up there, with the AC in my car blasting and later standing in the queue outside the venue already soaked with sweat. If you've ever been to a Frank Turner show you know it only got more sweaty as the night progressed. I don't have any pictures of that gig and I would lie if I said "I remember the night like it was yesterday". Because I don't. Not in detail anyway. What I do remember though was the fun I had and the joy I felt and the feeling of community and of being around people who were / felt like me. Or at least I thought they must, because they were singing along with all their heart just the way I did.
The joy of the communal feeling of singing these words that meant so much to me and the crazy things that the tall, lanky guy on stage made us do as a community – Jumping Jacks, sitting down and getting up, clapping, dancing – is a feeling that stayed with me right from that first night. And it got me completely hooked and I wanted to experience that again and again. And I did at over 50 shows since. This stupid pandemic will only put that on pause, but I don't think it will ever stop.
It took me almost two more years to actually connect with some other fans, because I was often too self conscious and timid and all, yes even in my late thirties. And it also took me a while to fully understand, that there are no cool kids, who are the real fans and have every right to be there, whereas I'm just a middle-aged boring lady, who's accidentally crashing a party, if you get my meaning. We're all in this together! I've been listening to a bit more of Frank's music recently, after a phase where I couldn't, because I was getting too emotional about the lack of live gigs etc. Every once in a while a lyric gets to me more than before or with a different meaning. Earlier this week "Deep down you're just like everybody else" popped out to me as one of the lines that got me hooked all those years ago. It's such a simple statement and I've probably read / heard that in other form before. But I think it never had such impact on me as it had when it was put to music and part of that song. There are a few more very valid truths in that song as well.
Fangirly detour, sorry.
I'm glad that after a while I reached out to some people and made friends; so many friends all over the world. Many other things happened / changed in my life since then as well. Some of which I might contribute to being part of this fandom. Some might have happened regardless. I can't quite tell now, because being a part of this fandom is an integral part of my identity by now. And I wouldn't want it any other way.
So Happy Gig-versary to me, I guess. And thanks to Frank Turner for… everything.
Lyrics: Reasons Not To Be An Idiot, Frank Turner, 2008