I'm sure I mentioned, that the biggest change the pandemic has caused in my life is, that I'm even more "high strung" than I used to be. I was usually "high strung" in the way, that I worried a lot about how other people see me. How they react. Worried that I say / do something stupid. All those kind of things. At times that was borderline stressful, depending on how well I felt in general.
The first few weeks of lockdown I was very stressed, when I was out and about in shops and all. Worried about people with or without masks getting too close, worried about touching surfaces and all that. I was in medium to high – level alert mode ALL the time when I wasn't at home. This morning I started writing a version of this post and explained how this has changed, because on the few more occasions I run into other people by now, I don't worry all that very much anymore. Everyone is wearing masks (more or less correctly) and keeping a moderate to safe distance. I only spent time in this medium distance to masked people for less than 5 minutes in a check out queue or similar moments. There is no real reason to worry. But there still is an underlying low level alert mode going on, which often is unnecessary, because… see above. And I thought I had that in check. The whole post I wrote this morning was about that.
This afternoon I met a friend for a walk / hike for the first time in… ever and we had a lovely time catching up in person. We ended our fun afternoon out with sitting down in the outdoor part of a cafe / restaurant. We waited till the waiter had wiped down our table, all the staff were wearing masks correctly. We were brought track & trace forms to fill out. All in line with the regulations. Could the table have been spaced more apart ? Probably, but it was outdoors, so I wasn't worried. Or I thought I wasn't. I didn't feel worried. My nervous system seem to disagree though.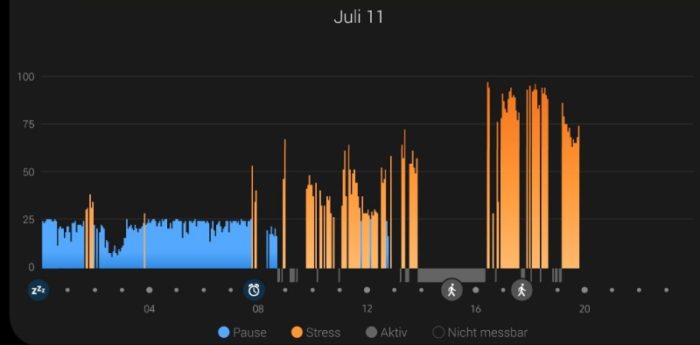 We hiked from about 2 – 4. When you're active there is no stress level recorded. We sat down at the cafe from 4.30 till 5.45. My baseline in the Garmin stress level is about 30-35 these days (which I consider high compared to regular days last year). This was almost off the chart! It has reached those levels the first week I was back at the office and at other occassions these past few months. But I really thought I had reached, you know… low level alert mode. I guess, not. I'm longing back to those days when that amount of stress was caused by things like "travel". To a work / Frank Turner event in March 2019 for instance. Because that all was mostly "happy stress". This… I hate this!
On a happier note: I plan another day trip to the sea tomorrow. The weather seems perfect for it. Dry, sunny with a few clouds, 17 °C. There won't be hoards of family on a bathing vacation and I hope I'll find a space to just be and breathe for a while. Bring my stress levels back down 🙂