Sleep | I don't sleep as much or as well as I would have loved to now that I'm on vacation. I'm glad that I fall asleep quickly these days and no, I don't want to investigate how much of that has to do with Richard Armitage reading Regency Romance (3 diverent ones on rotation) lulling me to sleep or if I'm just ready to konk out minutes after I lie down. I rarely recall any dreams, at least not longer than for the first few dozing moments of waking up. The one I had yesterday morning was quite vivid though and stayed with me. Because it was equally pausible – yes, I'm a forgetful klutz – and highly improbable. Because I dreamt I was travelling somewhere. Travelling. Remember that? I was on my way lots of luggage; big suitcases and several smaller bags and by the time I got off the bus at my final destination I had lost every single piece of luggage. In the end I realized I hadn't even packed my wallet. Analyize this, Dr. Freud.
Talking about sleep: I was tempted to lie down for a nap this evening, before Felix' Friday (All Request 4. Yay!) but I was afraid it would absolutely screw up my sleep pattern. So I'll soldier through and try to go to bed early-ish today.
Daily Digest
Read: Finished "The Heir Affair" (It was nice to meet familiar people from part 1, but the plot was utterly ludicrous, so… meh!) | Some magazines before I throw them out. Read, Edited and Wrote: Our Local Greens platform for the next elections in September. Ugh. So much still do to, so little time. Watched: Same old vintage Gilmore Girls during meal time. Watched & Listened: "All Requests 4" (Felix Hagan on Facebook) Listened: Besides that, mostly the Peaceful Piano collection on Spotify.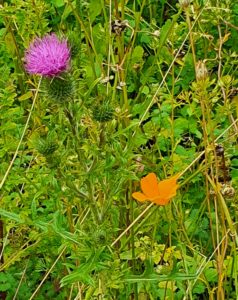 A thistle in my Mum's front yard. I miss Scotland.
Title lyric from "I Am Disappeared", Frank Turner, 2011